Humans of Harker: Pushing limits
Martin Bourdev (12) focuses on self-improvement
As he leans back on a couch in the Nichols Rotunda, one leg crossed over the other, a sparkle emerges in his eyes and his usually-deep voice reaches a pitch of child-like wonder, unable to contain his excitement. Mouth curving into an ecstatic smile, he motions with his hands as he blurts "It's also just really cool," describing yet another personal hobby — teaching himself Mandarin.
Like many of Martin Bourdev's (12) personal projects, learning Mandarin began on a whim. During the summer after his sophomore year, he was at the English Language Institute (ELI) at Harker and taught international students who hailed mostly from China, which inspired him to begin a Duolingo course in Mandarin. He was not allowed to speak Chinese at the camp — as that would break their immersion — but he continued to learn the language through junior and senior year. 
"My roommate at [a summer camp at] Brown was from Southern China and he was talking to his mom on the phone in Chinese, and I understood that he was talking about me. 'He's from California. He has WeChat,' things like that. I was really impressed that I could pick that up," Martin said. "If you have the motivation, then it becomes pretty easy."
Martin's motivation comes from a notion of pushing himself toward improvement, always "looking for opportunities" to better himself and doing "everything with a purpose." This principle of going above and beyond often emerges in Martin's computer science classes, where he often codes games for fun. 
"He's super helpful and also really hardworking," Ellen Guo (12), a close friend since freshman year, said. "Last year he recreated the Set game, which was pretty cool because I love playing that game. I remember during this one class period, we played it for a really long time."
Another area where this philosophy emerges for Martin is in English class, which Martin believes is often undervalued. Martin's appreciation for literature began in junior year with The Scarlet Letter and his literary criticism group essay. To plan and write the essay, Martin and close friend Jeffrey Kwan (12) took a walk at Rancho San Antonio.
"It was really pretty cool, having someone to throw ideas at, and have him be pretty critical sometimes, and able to judge, and able to give valuable feedback. He's been really amazing as an intellectual person," Jeffrey said. 
After reading several such literary works in his junior year, Martin concluded that his personal philosophy often disagrees with the views of authors like Emerson. When his friend group all decided to take an online personality test in junior year, Martin stood out as the most extroverted.  
"You read a lot of Transcendentalists' works and they really love to talk about self-reliance and separating yourself from society. But society's kind of where it's at, you know? It's other people. It's other ideas," Martin said. "You can't really do anything by yourself."
Whether he's taking laps around campus as he jokes with his friends or taking laps around the Blackford track while doing 400-meter repeats, Martin revels in making interesting conversation, exploring unfamiliar concepts, and simply spending time with "passionate, driven" individuals. As a cross country and track distance runner throughout high school, Martin found a community of like-minded peers committed to pushing personal limits to improve themselves. In running, he finds that the temporary discomfort of a race often leads to greater mental satisfaction later — much like in the academic realm. 
"It just feels good to go through something painful and then come out on the end of it," Martin said. "I get the same feeling after a period of Physics C. I just have a sheet of equations and math and it just feels good to have that, you know?" 
For instance, as a junior, Martin decided to play guitar in front of his English class for a creative project. Although he plays only occasionally and solely for himself, he committed to performing "I Could Have Lied," by the Red Hot Chilli Peppers. 
"By the end of the song I was trembling and sweating. My face was red. I was so embarrassed to have not played it that well. But I still went through with it, and I'm proud of myself for that," Martin said. "From that experience, I feel like a changed person."
Whether picking classes that will challenge him or absolutely refusing to use Slader or Sparknotes, Martin firmly believes in "not cutting corners," putting in effort for what he feels passionate about. 
"I don't really think anything really seems like work to him. Like they say, 'If you enjoy what you do, you'll never need to work a day in your life,' and I think that's what he's been able to do in high school," math teacher Bradley Stoll said. 
Ultimately, forcing himself to delve into the unknown has defined Martin's high school experience. 
"There's nothing like that feeling you get. You can't really put it into words. Just getting a new experience or learning something that completely changes the way you think. And you can't do that by doing the same thing over and over. You can't do that by staying in your comfort zone, you know? And I can't describe the feeling, but it's — it's something else," Martin said.
View Comments (1)
About the Contributor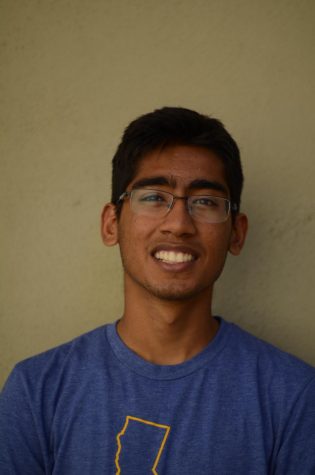 Aditya Singhvi, Managing Editor

Aditya Singhvi (12) is a co-managing editor of Harker Aquila. This is his fourth year on staff. Outside of journalism, he enjoys running and watching...