News briefs: Choir concert, Harker Car Show, and Evening of Medicine
Vocal groups perform in annual Fall Concert
Cantilena, Camerata, Signature and Bel Canto performed the Choral Concert on Friday, Nov. 15. This year's theme was "Breaking Down Walls." The concert was held at 7:00 p.m., and was free, although seats had to be booked in advance.
"I think [this theme] is really important, especially in the current state of our society. It's important to talk about unity and finding similarities and respecting other people's differences," Grace Huang (12), Cantilena's Alto 2 section leader, said. " I'm really excited about performing because our songs this year are all really good."
Harker journalism earns major honors
The Winged Post has been declared a Pacemaker Finalist by the National Scholastic Press Association (NSPA) for its 2018-19 coverage, one of only 49 high school newspapers in the country.  The online site, Harker Aquila, has been named a Crown Finalist by the Columbia Scholastic Press Association (CSPA) for the same.
The Pacemaker will be handed out at the NSPA's November convention in Washington, D.C., and the Crown will be awarded at the CSPA's spring New York convention. This follows Harker Journalism's wins the previous year, earning two Gold Crowns and one Silver for Winged Post, TALON and Harker Aquila respectively.
Annual Shah gallery displays first exhibition
Students of the Honors Directed Portfolio class have begun their yearly exhibitions of their work.The first installation in the Shah Gallery will be on Nov. 18, and will feature Ashna Reddy's (12) work. Each installation will be up for one week, and all students in the semester-long course will be featured.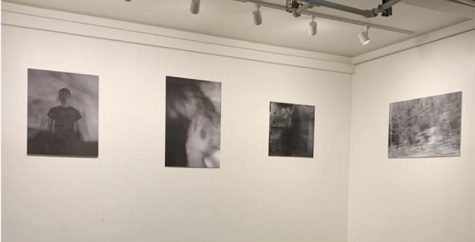 "I feel like on the one hand I'm unlimited, I can do whatever I want, but there's so many things I want to do. It's exciting but also scary because you don't have anyone to guide you — it's you on your own. It's straight up you." Ashna said.
SFGMC visits choirs and performs at upper school
Mitch Galli, associate director of the San Francisco Gay Men's Chorus (SFGMC), worked with various middle and upper school vocal groups on Nov. 7. He also met with upper school's Gender and  Sexuality Alliance. He will be returning to the middle and upper schools last Friday for an assembly following fifth period with RHYTHM, the educational outreach program of the SFGMC.
Galli worked with Dynamics and Harmonics on the middle school campus in tone production and spent the second half of the day focusing on good vocal techniques with high school students.
New DECA members attend fall conference
Fifty-three Harker DECA members traveled to Anaheim to participate for the first time in the Fall Leadership Development Conference, hosted by California DECA, where students were able to network, attend speaker talks and interact in workshops. Attendees were split into three tracks: hospitality, entrepreneurship and leadership, and then presented short pitches related to that track.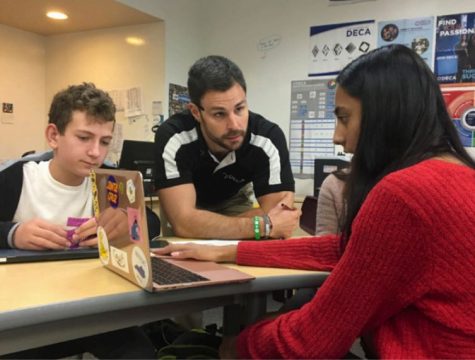 "I think it was a great opportunity for the freshmen to exercise their testing skills and their presenting skills," said DECA director of membership Clarice Wang (10).
Academic competition deadlines approach
2020 AMC sign-ups are due by Friday, Dec. 6. The deadline for the actual AMC A exams will be held on campus on Jan. 30, 2020 during a special schedule. For details on the Tests of Engineering Aptitude, Mathematics, and Science (TEAMS), contact Anthony Silk or join the TEAMS Schoology page.
The signups for the USA Biolympiad (USABO) were due last Friday, and the test will be administered on Feb. 5 during long lunch in Nichols 332.
Writing pieces are due for the Scholastic Writing Competition by Dec. 12, and art pieces are due by Dec. 1. Art club, in accordance with HELM, held an art and writing workshop session on Nov. 15 in Dr. Douglas's room.
Regeneron entries were due last Wednesday.
WiSTEM hosts club week, raises funds for nonprofit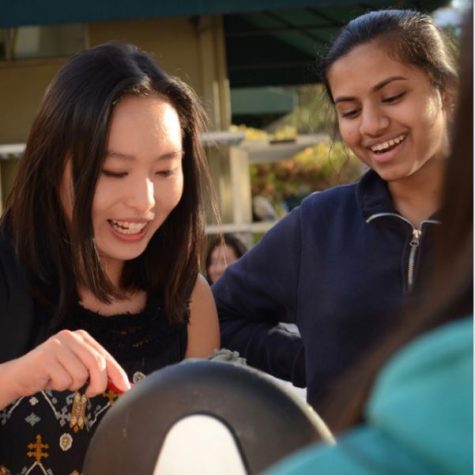 The Women in STEM (WiSTEM) club held their club week during the week of Nov. 11. All profits made from selling iced coffee, boba and baked foods will be donated to the nonprofit WISER, which provides healthcare and education to girls in rural Kenya.
The club also showed the movie "Humanity Needs Dreamers: A Visit with Marie Curie" on Thursday, Nov. 14, and moderated a discussion about gender bias in science.
WiSTEM ended the week with a panel featuring college students and professionals who spoke to the Harker community about their personal experiences in STEM.
Car club set to host first Harker Car Show
Car club is hosting The Harker Car Show in the upper school parking lot on Nov. 23 from 9-11 a.m. Students, faculty and staff may sign up at harker.io/carshow to showcase their cars, and watching the show is open to all groups and ages, no sign-up required.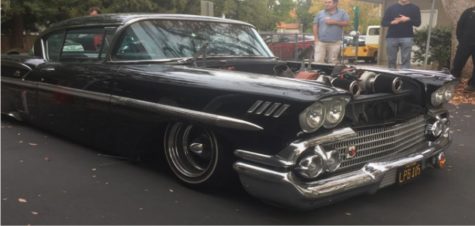 "I want to make sure that anyone interested in cars has a means of exploring the hobby. Car culture has a reputation for being exclusive, and I want to reverse the stereotype," car club president Thomas Rainow (12) said, "We will have a vehicle showcase to distinguish the rare and unique vehicles (such as vintage VW buses or electric sports cars), but equally as important, attendees will display their cars and mingles."
Military members honored on Veterans' Day
Veterans' Day took place on Nov. 11. The annual holiday honored military veterans for their service. Harker students did not get the holiday off.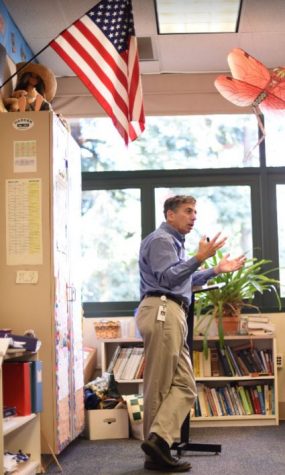 "When I think of Veteran's day, I think of two words — sacrifice [and] duty. Honor. There are so many adjectives that illustrate what that means. But if I had to rank those words, I would say sacrifice." Karen Haley, upper school history teacher who served as a Captain in the U.S. Army, said.
Medical Club's Evening of Medicine a success
The upper school Harker Medical Club held the first ever Evening of Medicine, with 56 sign ups, in the Nichols auditorium last Friday from 4 p.m. to 6:30 p.m.
One of the featured industry professionals and keynote speaker was Dr. Prasad Kilaru, a Harker parent. He is the Chief of Surgery at the Washington hospital, who spoke about his work as a plastic and reconstructive surgeon. Dr. Kilaru spoke about the advantages of reconstructive surgery based on the large range of injuries it can remedy.
The presentation was also eye-opening to Elvis Han (10) as an exploration of the diverse uses for plastic surgery, and he specifically remembered about how plastic surgery intersected with cosmetics.
"I was always curious about how [plastic surgery] could help outside of the cosmetic industry, and hearing his speech was very enlightening," Elvis said. "It was also the first medical presentation that provided actual photos of the procedures and surgery incisions."