Finals to be taken by freshmen, sophomores and juniors before winter break
Starting tomorrow, finals for freshmen, sophomores and juniors will start, following the special schedule today. Seniors will not take finals.
Math classes up to and including the APs will have finals tomorrow morning, followed by AP Computer Science, Behavioral Economics and Economics in the afternoon.
Wednesday morning will see students taking science finals barring AP Physics C. Foreign languages will be tested in the afternoon. History finals will take place Thursday morning, and AP Physics C will be the only final that afternoon.
On Friday, students will take English finals, after which students will leave for winter break. Buses will not be available on Friday.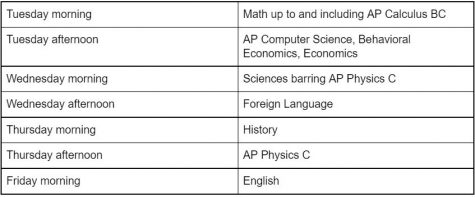 While finals are taking place, lunch will be from 12:30 to 1:30 p.m.. The library will be in Dead Quiet Study Zone until after finals on Friday. The testing site of any given exam will be announced and posted the morning of the test. Seat numbers will be emailed to students the day of.
Students will resume classes from the two-week break on January 6, which will be an A schedule.