Fall play "Almost, Maine" displays the trials and rewards of love
With all the explosive arguments and touching confessions that a classic love story presents, this year's fall play, "Almost, Maine" celebrates the beauty of human relationships by displaying the tribulations and rewards love has to offer. Directed by upper school theater teacher Jeffrey Draper, the annual fall play is the first production of the school year to hit the upper school performing arts stage and is open to auditions from across all grade levels. 
On September, Thursday, Sept. 5, the play was officially cast after the open-call auditions and is currently in production. The cast will continue to rehearse until the final dress rehearsal on Oct. 23. Tickets will go on sale two weeks before the performances on Oct. 24 through Oct. 26. 
Due to the abundance of students that auditioned, there is a swing cast composed of freshmen and sophomores that have only one performance on the Saturday matinee show at 2 p.m., where actors can invite any of their friends and family, while the evening cast have three official performances on Thursday, Friday and Saturday at 7 p.m. The final shows will take place in about four weeks.
"Mr. Draper wanted to give everyone a chance to perform, but since the play is meant for a smaller cast, he split them up as an opportunity for underclassmen to learn from the experiences of the upperclassmen and their acting choices," said Callie Mayer (10), who is in the evening cast.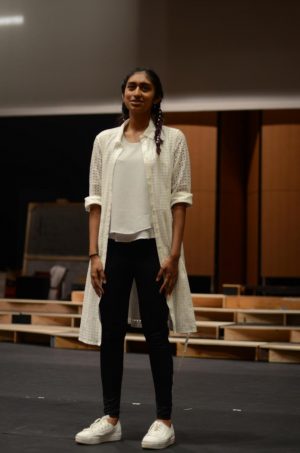 Set in the fictional town of Almost, Maine, the play exhibits a series of eleven vignettes depicting the various facets of love. Although there is no storyline connection between each scene, aside from the continuous storyline in the prologue, interlogue and epilogue scenes, each story takes place within the same ten minutes. 
"It's a perfect show. It rivals the greatest writing of the last century because it is so well designed," Draper. "It makes the audience smile and laugh and hug the person they're next to a little tighter … [and] does all the things great theater can do."
Directors Tanna Kienitz and Tony Kienitz, along with stage director Cordelia Larsen, were hired to help cast the actors and work directly with the swing cast, while Draper is the only director for the evening cast. 
Stage manager Geneva Devlin (11) appreciates the consistent practice and cohesion of the backstage crew so far.
"I'm overall just really happy with the choices that have been made so far, and I really love the way things are going," Geneva said.
In "Almost, Maine," the prologue opens with characters Pete and Ginette, who are played by Aniket "Nicky" Kriplani (11) and  Sarina Sharma (11) in the evening cast and Allen Boyce (10) and Paulina Gicqueau (9) in the swing cast. Seated together on a bench, Pete, who struggles to express his affection to Ginette, tells her that the only way for them to be close is if they are actually farther apart, resulting in her walking away from him so she can become closer to him from the other side of the globe. 
The play moves on to Scene 1, which showcases Glory, a young woman camping in a man named East's backyard, trying to see her dead husband's spirit in the Northern Lights. As they talk, East, a repairman, falls in love with her and promises that he can fix her heart, resulting in Glory finally learning to let go of the past. Titled "Her Heart," Scene 1 is played by Maya Franz (11) and Benjamin Gicqueau (11) in the evening cast and Lucy Feng (9) and Josh Field (10) in the swing cast. 
Scene 2, called "Sad and Glad," tells the story of Jimmy, Sandrine and a waitress, who are played by Calais Poirson (11), Evan Bourke (11), and Sarina in the evening cast and Arely Sun (10), Ishaan Parate (10), and Paulina Gicqueau (9) in the swing cast respectively. 
Accidentally bumping into his former lover Sandrine in a bar, Jimmy becomes broken-hearted when he discovers she is getting married the next day. However, Jimmy, who has a tattoo with the purposely misspelled word "villian" on his arm, is comforted when the waitress, whose name she reveals is Villian, offers to keep him company.
"This Hurts," Scene 3, centers around the love story of Maralyn and Steve, respectively played by Alissa Gao (11) and Benjamin Soraire (11) in the evening cast and Teresa Cai (10) and Jacob Fernandez (9) in the swing cast. Steve, who claims to have a medical condition keeping him from feeling physical pain, meets Maralyn in the laundromat and tells her he'll never know what love feels like because he believes love is pain. When Maralyn kisses him and leaves, she accidentally hits Steve with an ironing board, causing Steve to realize that he is in love with her as he experiences pain from the collision.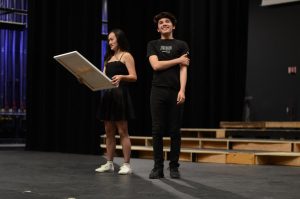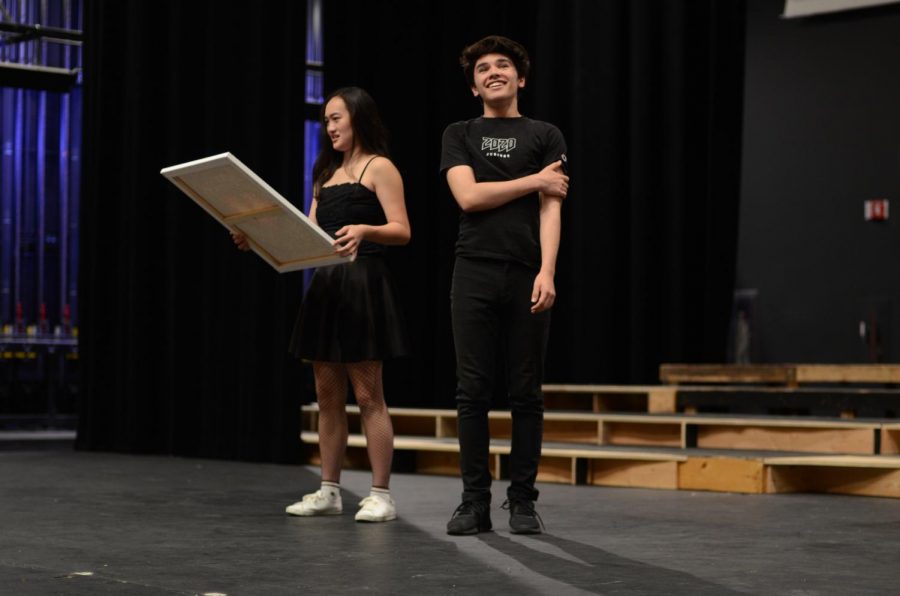 The play moves on to Scene 4, titled "Getting It Back," which shifts focus to a more argumentative scenario between characters Gayle and Lendall. Gayle, played by Sarah Raymond (11) in the evening cast and Annmaria Antony (9) in the swing cast, angrily demands a breakup with Lendall, played by Austin Killam (11) in the evening cast and Zubin Khera (9) in the swing cast. When Gayle piles all the items of 'love' to give back to Lendall from their 11-year relationship and asks for Lendall to do the same, it's revealed that Lendall only has one small pouch containing an engagement ring, implying a happy ending to their rather tumultuous opening argument. 
After a brief intermission, the play moves on to Scene 5 titled "They Fell," which tells the eventually falling-in-love between two women who complain to each other about their past heterosexual dating experiences. Evening cast actress Aditi Bharti (11) and swing cast actress Samvitha Gautham (9) play Deena while evening cast actress Vaishnavi Murari (11) and swing cast actress Imogene Leneham (10) play Shelly.
Scene 6, "Where It Went," also opens with a heated argument between characters Phil and Marci, who both realize that they are no longer happy in their relationship. Marci, played by evening cast actress Arianna Weaver (10) and swing cast actress Aastha Mangla (9), eventually leaves Phil, played by Callie Mayer (10) in the evening cast and Josh Field (10) in the swing cast. 
"Story of Hope" is the seventh scene and tells the heart-wrenching story of Hope, played by Kathy Fang (12) in the evening cast and Ysabel Chen (10) in the swing cast. After several years, Hope finally agrees to an engagement proposal by her former boyfriend Danny, played by Harper Brada (9) in both the evening and swing cast. Sadly, when Danny, who had already moved on after losing hope, finds her at the door, she realizes that he is already married to another woman. 
The last scene of Act 2, titled "Seeing the Thing," is performed by Katelyn Chen (12) and Joel Morel (12) who play the characters of Rhonda and Dave respectively. The scene ends with Dave finally convincing an unsure Rhonda that they, with the unanimous support of all their friends, are meant to be. 
"Almost, Maine" ends with Pete and Ginette in the epilogue, with Ginette finally reaching Pete's side again after walking in the opposite direction around the entire globe to become "closer" to him.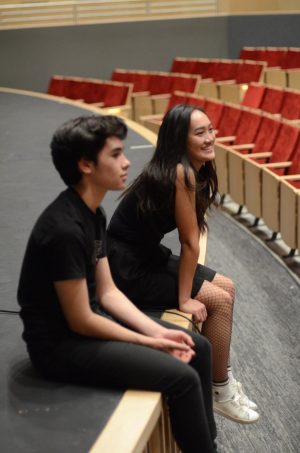 As the show date rolls near, Draper hopes to enact his vision of creating joy in the audience and leaving them grateful that they were able to witness the performance of so many passionate young actors in the play.
"They are going to do a fantastic job," Draper said. "I'm working with them, those same actors, many of them in Study of Theater right now, and I know they're going to be fantastic."