Humans of Harker: Narrative nuances
Prerana Acharyya displays her love of storytelling through various activities
Her colorful rings shine brightly, glinting in the sunlight. Their gleam is matched only by the glow in Prerana Acharyya's (12) eyes as she runs her fingers along the spines of the books in the Harker library, where she has spent countless afternoons losing herself in the pages of novels. As she systematically scans the shelves, her gaze falls upon a familiar title. She pulls her selection off of the shelf and sits down, grinning at it almost proudly, then begins to read. 
"I absolutely love exploring new stories," Prerana said. "It makes me feel connected to people and humanity in general and at the same time it's a way for me to escape and go on an adventure."
Having read over 1045 books in her 17 years of life, Prerana's love for stories carries on to her various other interests. Prerana began dancing classical Indian Kathak at 2 years old, and her experience in the art form has helped shape her as not only an artist, but a storyteller as well. 
"I love being onstage. I don't really get stage fright," Prerana said. "For me, performing is an exchange of energy. I love vibing off the audience and I love inviting them to take some of my energy too. It's just really hopeful and fulfilling."
One of Prerana's greatest accomplishments in her career as a dancer is her employment as a Bollywood dance teacher. At just 12 years old, she was fully employed, teaching adults and children alike. 
"I think teaching dance is a really big part of my dance journey. It really did help me bring out the best in my students and myself," Prerana said. "Whatever it may be, I love interacting with my students and love interacting with dance in another way,  looking at other people's stories in the way they dance."
A large part of Prerana's life is her connection with other people, whether they be her students, teachers or friends. 
"She has this really great balance of wit and personality," Mark Janda, Prerana's sophomore year history teacher, said. "In class, she had this beautiful ability to get along with all of her peers, but she was also always present in every way possible."
Prerana's amicable personality fuses perfectly with her drive and ambition, and she never lets setbacks drag her down. 
"She's honestly one of [the] most kind and most ambitious people I know," Amla Rashingkar (12), one of Prerana's first friends from Harker, said. "She's a huge go-getter, but even when things don't go her way, she maintains her calm. She always has her and her friends' best interests at heart."
However, as animated and lively as she is now, Prerana was once more introverted. Having come to Harker from a Challenger campus with only 28 students in her grade, it was difficult for Prerana to adjust to such a large community.
"I used to be a lot more reserved about what I wanted to do and how I spoke up in life. After interacting with so many other people, I've had to learn to be more accepting of new ideas," Prerana said.
With new opportunities that come with a new school, Prerana was able to open herself up to new experiences. Specifically, after joining speech and debate at Harker, Prerana was able to find a platform to express her own ideas while simultaneously learning from others. 
"I get to advocate for topics that I care about with an audience that's willing to listen," Prerana said. "There are so many things that need to be talked about in the world, and speech is the perfect place for me to express my thoughts."
Her eagerness to make the world a better place not only applies to activism through speech, but also to her other interests. 
"Prerana's super determined, and she's really passionate about what she does," Prerana's close friend Vishnu Jaisim (12), said. "Once she starts talking about something she's emotional about, she won't stop."
Prerana believes that it is not only important to know what to say, but also to know why you are saying it. She holds the ideal that integrity is one of the greatest approaches to living a full life.
"I always stand up for what I believe in. I like to be as honest and open as possible about who I am as a person," Prerana said. "If I'm not being myself, I'm going to live life kind of halfheartedly."
Keeping this ideology in mind, she has often had to sacrifice some of her extracurriculars to make way for her passions. Prerana's choices, while difficult to make, have ultimately helped her express herself accurately.
"Everything I do now I love, from speech to reading to dance. It all sort of boils down to the interaction that comes with them," said Prerana. "Whether verbally or artistically, I always appreciate being able to tell my stories through my passions."
About the Contributor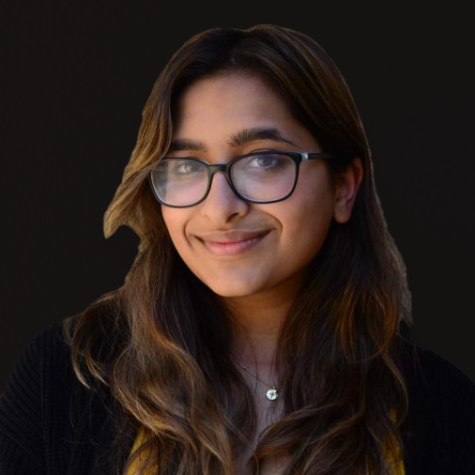 Esha Gohil, HoH Co-Editor-in-Chief and Aquila Photo Editor
Esha Gohil (12) is the co-editor-in-chief of Humans of Harker and the photo editor of Harker Aquila. This is her fourth year on staff, and this year she...