Humans of Harker: Giving voice
Katherine Zhang radiates empathy
Confident. Empathetic. Energetic. Down-to-Earth. Genuine. Authentic. Sensitive. Kind. Funny. Words can hardly illustrate what Katherine "Kat" Zhang's (12) exemplifies to her friends and teachers. But they tried.
"She has found her voice and she does not seem afraid," AP United States History teacher Julie Wheeler said. "Sometimes we pretend to be confident. But I really believe that Kat, she works hard and she knows it because she's earned everything she's gotten."
Whether she is speaking on behalf of student council and ASB during school meeting or is designated as the outspoken girl in her Spanish class by her friends, the Harker community sees Kat as a confident leader in their community.
But for Kat being outspoken was a growth process. Although known as the extrovert of her friend group, Kat stumbled with her voice in the class environment in the past.
"[W]hen I was in front of classmates or teachers and especially people I looked up to and tried to make an impression, I felt really closed off to the point where I didn't really have a voice anymore. I stopped trying to vocalize my opinion because I was always too scared to do so." Kat said.
As a result of her fear, Kat stopped finding her own opinion. After being elected to a representative position on student council and joining journalism, Kat found herself in an uncomfortable and scary dilemma. She carried a lot of responsibility and felt as if she is "wasting this opportunity if [she] let [her] fear of speaking in front of these upperclassmen, these administrators get in the way". So she committed to a one-step-at-a-time plan.
"I ma[d]e myself speak up, like we're gonna answer one question, we're gonna offer one opinion. I just needed to say one thing in this meeting, then if I can do that, then I'll be happy. I progressed to become a lot more vocal about my opinions," Kat said. "I'll need my own personal reasons to agree, even if they align with someone else's or they don't."
Through her experience, Kat emphasizes where there is a place for her to be heard, there is also a space for others to be heard. She understands the importance of a middle ground, where differing opinions both have a stage.
"People made a place for me on student council and on journalism. . . I want to make that place for other people as well. I think anyone can be a representative, anyone can write for the school newspaper, any can put their voice out if they want to. It just takes time and nurturing and the reassurance that you're able to do it," Kat said. "I hope that as a leader I can bring that to other people. There are different types of leaders out there, and everyone deserves a chance to develop their own leadership style."
To Kat finding her voice also means understanding her position in the community. From giving a platform for quieter students on student council to share their stances to answering questions for freshman journalism cubs, she is a leader who listens.
Friend and Winged Post co-Editor-in-Chief Prameela Kottapalli (12) notices all the thought and care Kat delivers to people she interacts with.
"[W]hen it has to do with Winged Post, Kat goes, 'okay are we being the best leader that we could be for our staff?'. Kat never fails to bring up, like let's remember how we felt when we were this age or in this position. She has a really strong sense of that of see things in other people's perspective." Prameela said.
Kat values her interactions with each person. She stresses the importance of understanding the impact of words and actions have on others.
"When I say my life is so hard I wish I was anyone else right now, . . . there are people who would give up anything to be where I am. Be aware of that and always being grateful for the people around you and the opportunities you're given." Kat said, "Once in a while look around yourself and say this is what I've been given and I am grateful, and being able to say, 'How am I impacting other people's lives right now.'"
Fellow "lifer" and friend Katherine "Kat" Tian (12) recognizes Kat Zhang's sensitivity and empathy are the elements behind both her welcoming character and her drive for social change. Last spring Kat, student council and student Esha Deokar (12) organized a schoolwide vigil dedicated to the victims of the Marjory Stoneman Douglas shooting.
"Sensitivity and empathy basically makes her someone who can make anyone around her comfortable. That combined with her working on speaking more makes her able to be aware and care about a lot of social issues." Kat Tian said, "She's been really dedicated to gun control. She has put in a lot of effort and thought into how she would approach raising awareness and raise activism for this issue."
From nationwide news to local Bay Area issues, Kat communicates awareness. On the culture of Silicon Valley, she comments on improvements for student mindfulness and health, starting at the basics of daily life.
"There's so much of culture of 'I didn't study at all' and 'I didn't prepare for this class at all' and 'That class is so easy for me.' I think that goes back to, A, what this community should be more like and, B, also being able to sympathize with people—that is so important to me. It's not empathetic at all if someone tells you, 'I'm having trouble with this class' and you say, 'Oh well that was easy for me.'" Kat said. "I hear that so much. I know that you work hard for this. I don't understand why you don't want to acknowledge that. That is something to be proud of—that you've worked hard for it."
About the Contributor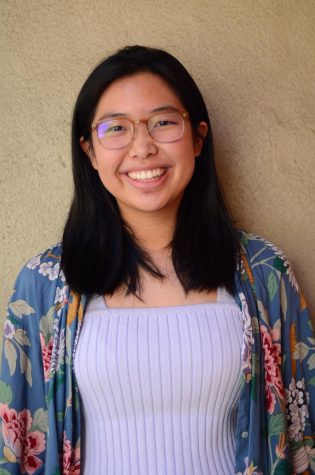 Gloria Zhang, Winged Post Editor-in-Chief
Gloria Zhang (12) is the co-editor-in-chief for the Winged Post. This is her fourth year on staff. She hopes to continue her passion for sharing stories...