Bay Area air quality on alert due to smoke from Camp Fire
The smell of smoke permeated the upper school today as air from the Camp Fire in Butte County, north of Sacramento, blew south toward the campus.
As a result of the smoke, sports practices for boys and girls soccer, wrestling, JV boys basketball, tennis, cross country and after school workouts are cancelled. Varsity and JV girls basketball will practice together from 3:30 p.m. to 5:30 p.m. in the athletic center, and varsity boys basketball and yoga will be held as planned, according to an email from athletic director Dan Molin.
Students and faculty are advised to stay indoors, and 'rainy day protocols' are in place, although students were allowed to eat lunch outdoors.
"The air quality is considered unhealthful but if you're simply stationary and eating your lunch, it's not an activity that going to cause you harm, at least that's our understanding," Assistant Head of Student Affairs Greg Lawson said. "It could get to a level where we might have to force everybody to eat indoors, but we haven't reached that point yet."
The air ventilation system in Nichols Hall, which does not have a recirculation option and therefore pulls air from outside into the building, has been shut off in order to limit the amount of particulate matter inside classrooms.
"It's different for different people, but generally speaking, all people in good health in this kind of weather might have a scratchy throat or sore throat, might feel kind of headache-y, maybe a little nauseous," nurse Clare Elchert said. "Try to stay out of the outdoor environment and get yourself into an indoor space, preferably one that has air conditioning."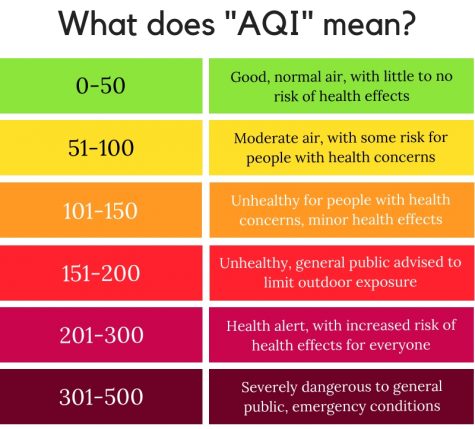 A Spare the Air alert is in place for parts of the Bay Area, and San Jose currently has an "Unhealthy" Air Quality Index (AQI) of 178, with a forecasted AQI of between 100 to 134 ("Unhealthy for Sensitive Groups") between today and tomorrow, according to AirNow.gov as of 2 p.m.
Because the forecast for the following week is still uncertain, administrators are not able to determine whether upcoming school events will be affected by the air quality. Lawson said that cancellation of classes could be a possibility if the AQI reaches a dangerous level.
The Camp Fire was ignited yesterday morning in the Sierra Nevada foothills and has been classified as a vegetation fire, according to an incident update from the Butte County Fire Department. As of this morning, the fire is 5% contained and spans 70,000 acres, which is the equivalent of almost 2.5 times the size of the city of San Francisco, with strong northeast winds pushing both the fire and its smoke southward, towards the Bay Area. The fire has already burned through the towns of Paradise and Concow, and evacuation orders have been issued for the region, including the nearby city of Chico.
This article was last updated at 6:11 p.m.