Varsity girls tennis competes in WBAL tournament, players advance to CCS
The varsity girls tennis team played in the WBAL Individual Tennis Tournament, which took place on Monday and Tuesday at Menlo.
Doubles partners Fonda Hu (10) and Sachi Bajaj (10) took second place to a team from Menlo, qualifying for the CCS Individual Tournament.
"The day's been pretty tiring since we played two matches and they were both pretty close, but otherwise it was good because we won. I think our team did great. We played a bunch of competitive and hard opponents in close matches," Sachi said after her first day of matches.
Singles player Lisa Egorova (12) ended in third place, narrowly missing qualifying for the tournament while Santoshi Tirumala (10), along with partners Amanda Cheung (11) and Gina Partridge (11) fell in Monday's quarterfinals.
"The first match was pretty easy," Gina said after Monday's matches. "The second match lasted a lot longer than we thought it would. [There were] a lot of ups and downs, I think. For us, [in] our first match, we definitely worked better, [in the] second match, the start was really shaky. We [the team] did pretty well. I think we have two teams going on tomorrow, so it's pretty good."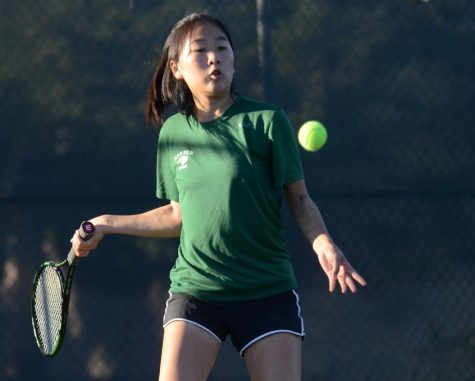 Head coach John Fruttero emphasized the team's positive results after six players qualified for Tuesday's matches.
"[Today was] overall another great performance from many great ones we've had over the last few years." coach Fruttero said. "We have a singles and a doubles in the semifinals, which is becoming customary, but it shouldn't be. It's a big deal."
Fonda and Sachi will participate in doubles competition at the CCS Individual Tournament on Nov. 13 and 14.