Varsity Girls Golf wins against Sacred Heart Prep, maintains streak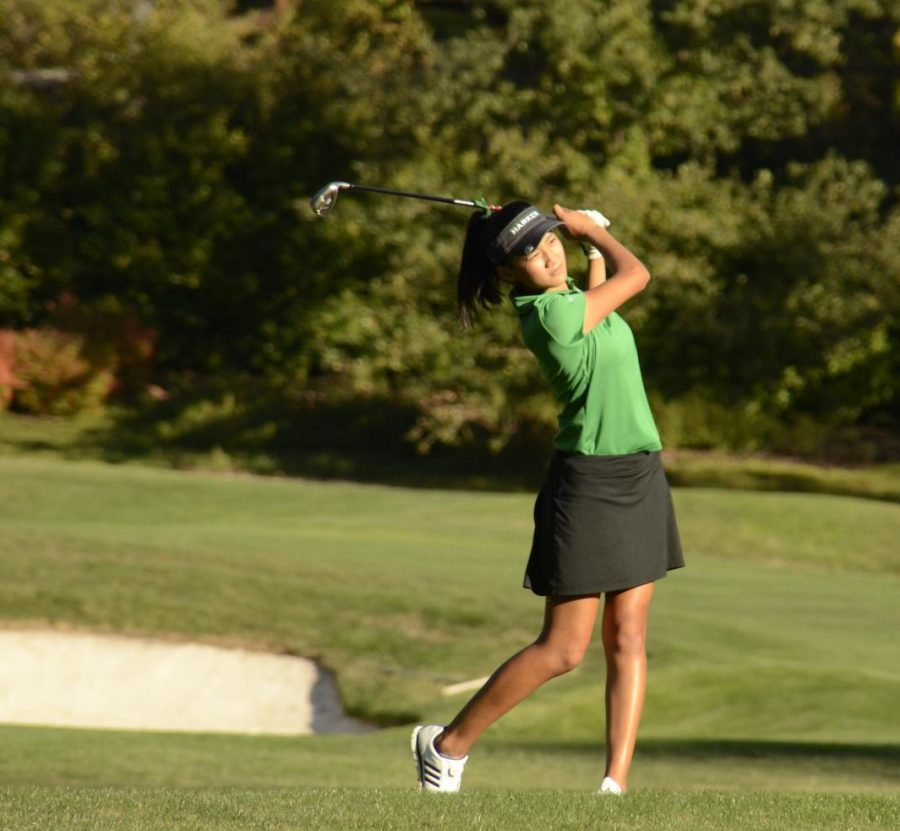 by Anthony Xu, TALON Co-Academics Editor
October 1, 2018
The varsity girls golf team won its match 196-261 against Sacred Heart Preparatory at Sharon Heights Country Club last Monday, bringing their overall record to 5-0.
The girls were coming off of a 4-0 record and looked to notch another victory against the Gators. Despite not having played on this course before, the Eagles came through with a victory.
Led by captain Katelyn Vo (11), the girls won a convincing 196-261 victory. Freshman Sophie Zhang Murphy shot par at 36, the best individual Harker score that day.
This year, the girls added some strong new freshmen on the team including breakout Sophie, who has really made an impact, racking up several medalist honors already. Currently, she has the lowest scoring average in the league (36.2 strokes per game), outshooting 2nd place, a junior, by 1.4 strokes.
"I played okay," Sophie said. "I had some good holes and some bad holes. The eighth hole was a good hole, and the first seven holes were okay for me. But I didn't really play very well in the last few holes."
Katelyn followed with a 39, and sophomores Olivia Guo and Natalie Vo both shot 40, while Tina Xu (9) shot a 41.
There were many things about the girls' performance that the coaches were happy with that day.
"It's a tough track out here, not an easy track whatsoever," assistant coach Zach Grozdanich said. "I think our team did well in driving on a course they had never played before. It was pretty impressive. I saw a lot of shots on the fairway. And for bad shots, I saw some good recoveries as well."
However, even with the win, there are some things that the girls think they need to work on.
"We did win, which is good, but at the same time it wasn't our best performance," Katelyn said. "In the future, we want to improve. The goal is NorCal, so we'll keep working hard, and slowly, once we get to later in the season, we'll be breaking records back and forth."
The girls also defeated both Notre Dame San Jose's score of 233 and Mercy Burlingame's score of 254 with a score of 184 this Wednesday at the San Jose Municipal Golf Course. Tina Xu (9), Natalie Vo (10), and Sophie Zhang Murphy (9) led the team, shooting 35, 35, and 36 respectively.
Overall, the season has started off very well for the girls, who remain the only undefeated team in their league. They placed second last season. 
But the team is looking to progress further than ever before, and this year, they believe that they can really win it all.
"We've come so close the last few years to winning the league championship," coach Ie-Chen Cheng said. "This year, our first goal is to win that. We haven't won the league championship since 2006, and we've come so close, so it's left a burning desire for us to get that award. And I really believe that this team has the hunger and grit to get it done this year. "