Upper school teacher arrested on charges of sexual misconduct at previous teaching position
Warning: The following story contains information about sexual assault charges and may be upsetting to some readers.
Updated: 10:04 p.m. Sept. 19, 2018.
An upper school psychology teacher was arrested and placed on administrative leave on Tuesday during the school day for charges of alleged sexual assault of a minor related to a previous teaching position in San Diego.
Dr. Jonathan Sammartino was arrested in San Jose on three felony counts including statutory rape and sexual misconduct with a minor during his previous teaching position at La Jolla Country Day School, according to a statement from San Diego district attorney Steve Walker. He has posted bail. Dr. Sammartino had been teaching at Harker since Aug. 24. Harker administrators were not aware of these allegations prior to the arrest.
"It's concerning that one of our new staff members allegedly has done things that violate our expectations as a community," Head of School Brian Yager said. "I'm sorry, too, I'm sorry it's happening because whether or not he's convicted, obviously it's a distraction to the business of learning and all the things we want to focus on."
According to students in his fourth period AP Psychology class, Dr. Sammartino left the room at approximately 10:40 a.m. during a break after administering a test Tuesday morning. Substitute teachers and upper school history teachers supervised his classes for the rest of the day.
Currently, substitute teacher Naomi Hwang will take on Dr. Sammartino's psychology classes and execute lesson plans developed by AP Psychology teacher Jeff Sutton and Academic Dean and former psychology teacher Kelly Horan.
Sutton and Horan will also grade recent assessments.
Upper school administrators are currently reviewing applications to find a replacement psychology teacher for the long term.
Freshman class dean Jeffrey Draper will take over Dr. Sammartino's advisory duties until a replacement teacher is found.
"It is something that we will move past," Draper said. "We will always be vigilant, we will always protect the students and keep a safe, nurturing environment. That's our primary job: it's in our mission, and because someone made choices that impacted that mission, it hurt. But we protect each other, and we continue, always, to protect the students and to build a community of which we can all be proud."
Yager sent a statement regarding Dr. Sammartino's arrest to upper school parents Wednesday evening by email. Faculty were notified at that time as well.
"We take the safety of our students very seriously, which includes hiring qualified faculty and staff who undergo state and federal fingerprinting and extensive reference checks," Yager wrote in the email. "In this case, the charges weren't filed until last week, which was well after Harker had done its extensive background checks, none of which indicated any cause for concern."
Dr. Sammartino was hired in the spring to join the upper school faculty this school year after Horan transitioned into her role as upper school academic dean. He had previously taught humanities courses from 2016 to 2018 at the French American International School in San Francisco as well as psychology from 2012 to 2016 at La Jolla Country Day School in San Diego.
The San Diego Police Department is currently investigating the case. Dr. Sammartino's arraignment has been scheduled for Oct. 23 at the San Diego Superior Court. According to Walker, if convicted of all three charges, the maximum sentence is four years and four months of jail time.
Members of the school community dealt with the aftermath of the situation in different ways.
"For every one incident that has happened–and unfortunately, there have been two incidents that have happened very close to each other–there are 180 days every year that nothing happens, where we come to school and everything is okay," Horan said. "It's a cluster right now, and therefore we react in panic; but in reality, every day we come to school and have great experiences."
Students are encouraged to speak to trusted adults on campus, including advisers, teachers, administrators and counselors, for support and about any concerns that they may have. The upper school counselors are Hui Hui Chang, Lyndsey Nelson, Lori Kohan, Rosalyn Schreiman and Josie Porcella.
"Put that faith in your institution, even though you're feeling like that faith is being rocked right now," Horan said. "You have teachers who care deeply about you. Know that we have your back."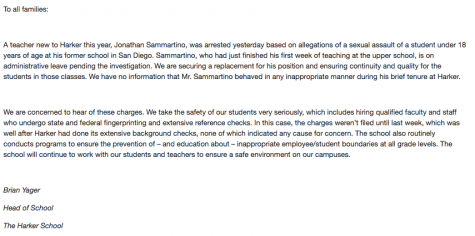 This is a developing story. Check Harker Aquila for updates and additional information.
Additional reporting by Prameela Kottapalli, Katherine Zhang, Eric Fang, Devanshi Mehta, Heidi Zhang