Girls varsity basketball wins against Crystal Springs Uplands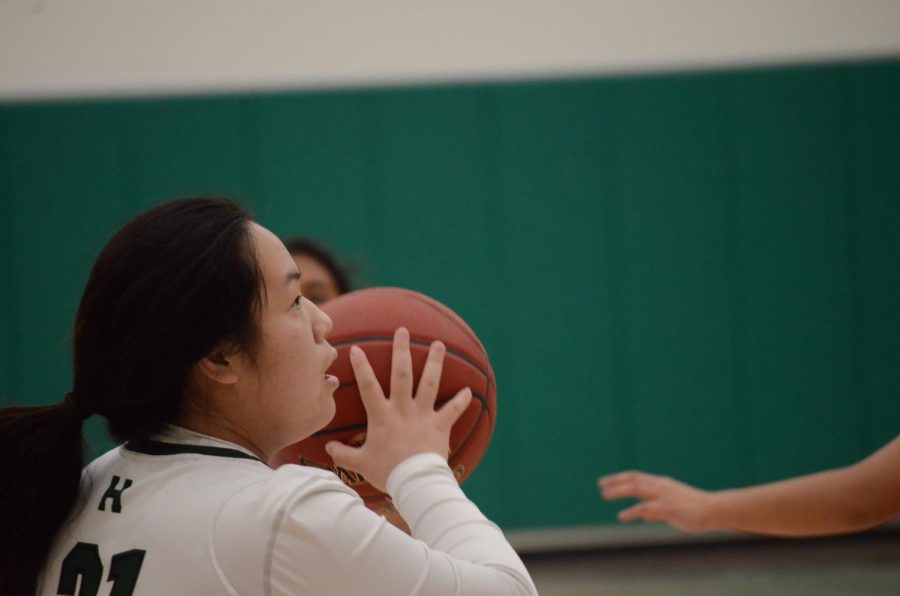 The varsity girls' basketball team won against Crystal Springs Uplands by 34 points on Tuesday in their 14th league game this season.
The Eagles maintained a lead throughout the whole game, earning 16 points in the first quarter, entering half-time with a score of 24-14, making 14 points in the third, and finally ending the game with a win of 63-29.
Co-captain Akhila Ramgiri (11) scored the most number of points at 15, followed by co-captains Satchi Thockchom (12) and Selin Sayiner (12), earning nine points each.
After the game, junior Lily Wancewicz notes how enjoyable and relaxed the game was.
"[The game] was a really fun game to play in and watch. Everyone on the team got minutes, and I think it was great for our confidence to go into the second round of league play with a big win," she said.
Satchi adds that the team has been pushing each other both figuratively and literally since the start of the season, yet there is still more that the girls can do to improve.
"Even though we won, this was definitely not our best game – it would have been perfect if we made easy layups, hustled for every play, and made our free throws," Satchi said. "But I'm super glad that a lot of people were able to step up and make really great plays."
The girls have faced both positive and negative changes this new season, especially regarding their new roster. Head coach Dan Pringle emphasizes that it has led to a difference in their playing on the court.
"They've come together tremendously as a group to compensate for the missing twenty five, thirty points a game from Jordan Thompson ('17), our 2000-plus career-scorer who graduated last year," he said. "We also do have an awesome new assistant coach, Joanie Marciano, and two outstanding freshmen, Dylan Williams and Maria Vazhaeparambil, who've helped start a new culture of competitiveness."
Joanie Marciano adds that this change in playing style has also resulted in a greater sense of togetherness and more team chemistry among the players.
"From the beginning of the season the girls wanted to be challenged, they asked to be challenged," Joanie said. "They've grown, where now they share the ball and it's not just one person playing, but it's all of them wanting to play defense, wanting to score, and wanting to be on the court."
With this victory, the team's overall record is now 6-8, and their league record is 2-4. Their next game will be against Notre Dame on Friday at 6:30.