Bay Area skaters shine at annual U.S. Figure Skating Championships
Figure skaters from all over the country recently competed in the 2018 Prudential U.S. Figure Skating Championships in downtown San Jose at Solar4America Ice and the SAP Center from Dec. 29 to Jan. 7.
Skaters in the levels juvenile, intermediate, novice, junior and senior competed in four categories—ice dance, pairs, ladies' singles and men's singles. To qualify for Nationals, skaters had to place within the top four at a regional competition and again at a sectional competition.
Since the Winter Olympics are next year, Nationals were especially important this year as the top skaters chosen would represent the U.S. at the Winter Olympics in Pyeongchang, South Korea.
Of the participating skaters, two are from the Bay Area: Vincent Zhou and Karen Chen, who both won bronze in their respective singles divisions.
Vincent has been named the intermediate, novice and junior national champion in past years. Last year, he won the silver medal in the senior division at Nationals. Karen has been named the intermediate and novice national champion in past years and won the gold medal in the senior division at Nationals last year.
For Vincent Zhou, the youngest member of the 2018 U.S. Olympic Team, going to the Olympics has been his dream for a long time.
"The Olympics are a once-in-a-lifetime experience… it's the world's biggest competitive stage, and I'm never going to experience anything [else] like it," Vincent said. "I just want to go out there and do what I love, which is ice skate."
The Figure Skating Championships groups skaters of the highest level together to compete against each other, incentivizing competitors to put the hardest possible jumps in their programs to ensure a high component score. As one of the few people in the world who can do several quad jumps in succession, Vincent put together a program with five quads and a triple axel.
"At Nationals, I fell on my fifth quad. After that, I skated the rest of my program cleanly. It's because skating is such a mental sport. The motivation to [keep skating] came from the knowledge that every single point counts—every hundredth of a point can make a difference," Vincent said. "It gives the mind enough incentive to drive your body to do what it needs to do."
Even for those not yet at the Olympics-qualifying senior level, becoming the national champion for any level is a great honor for a skater.
Los Angeles native Beverly Zhu, who was crowned the novice ladies national champion, posted on her Instagram to celebrate her win.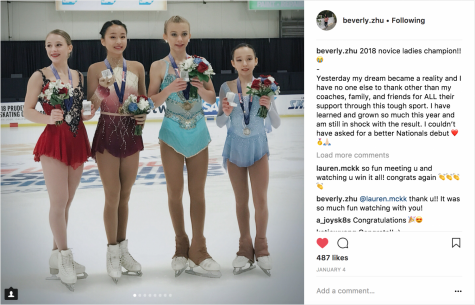 Skaters often spend their entire lives focused on skating to make it to the top. For younger figure skaters like 17-year-old Vincent or 15-year-old Beverly, it can be hard to find time to do other activities or go to school.
"I [have been doing] online school since fifth grade and my skating days. My training days basically go from dawn to dusk. When I get home, I still have recovery routines and dinner and all that, so there isn't much time to do homework. Balancing school and skating is very difficult," Vincent said.
In addition to practicing for hours on ice, skaters also execute various activities and exercises while training on dry land.
"I usually have some training off the ice. Off-ice we have two times a week for two hours. Ballet is once a week for an hour. They help you build muscle… and ballet helps with the elegance of skating and the performance," Beverly said.
Professional skaters usually spend hundreds of hours honing their routines to perfection before presenting them to the world for just a few minutes on the ice. Competitions are about fighting the pressure just as much as executing the program.
"[Skating's] like a mental game. Not getting distracted by the audience is the hardest part about skating in a competition. Endurance is really hard and you get super tired, [but] I just tell myself that this is going to be the last time I can present this program to everyone. And you only have one chance," Beverly said.
Beverly presented both a clean short program and a clean free skate, meaning that she did not fall on any of her jumps. She made history with a total combined score of 167.69, the highest score any novice level girl has achieved so far in the U.S.
For aspiring young skaters, Beverly encourages them to keep pushing themselves and believe in their potential.
"Just don't give up. Trust the process, because what will come, will come," she said. "Always put your best into what you do because once you get to a high level and you put a lot of effort into it, you should just go full out."