Signups for annual variety show HOSCARS open
HOSCARS audition sign ups opened on today and will continue until Jan. 29.
The talent show, which did not take place last year due to construction on campus, will occur on Mar. 23 in the new performing arts center. Auditions are open to any type of act. Approximately 10 performers will be selected to take part in the hour-long show with acts around three minutes or less.
While previous years had specific themes for HOSCARS, this year will keep with the namesake of the show.
"The theme this year is just going to be Oscars; we're not going to have a special theme or anything this year," said junior class treasurer and head of Student Council Student Events Committee Shania Wang (11). "It's just going to be red carpet Oscars."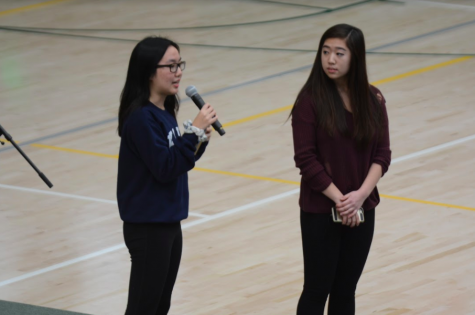 A majority of auditions will be contestants sending in videos of their act, for which the deadline is Feb. 23. Students can sign up at tiny.cc/hoscars2018.
"We welcome everything; it's just that we're not going to be able to accept all the auditions just because of time constraints," Shania said.
Senior Shea Tuli's Russian Literature class is considering auditioning for HOSCARS.
"Theoretically, we'd dress up in the same outfits and sway back and forth for four minutes," Shea said.
Because the performing arts center does not have enough seating for everyone on campus, the show will take place during two separate assemblies: one for underclassmen and one for upperclassmen.
Senior class treasurer Justin Xie (12) reflected on HOSCARS' role in the school community.
"I think it provides a platform to showcase the school's talent," he said. "We see talents we never knew about, and it's always a good time."
Shania discussed the process for student council bringing HOSCARS back after a one-year hiatus.
"The main concern was just that there wasn't a space on campus where everyone can fit, so that's why we were like 'let's just bring it back this year' because we do have space on campus now," she said. "They didn't want us to do both Valentine Grams and HOSCARS; that's why we're not doing Valentine Grams this year."