Global Reset
California faces wildfires
The recent California wildfires have destroyed over 504,600 acres of land; more than 100,000 people have been evacuated from their homes and at least 40 people died. 2017 is ranked as the ninth worst hurricane season according to Weather Underground resulting in debate over whether climate change is the cause of the natural disasters.
"We're pretty vocal in the fact that we believe that there is a correlation between climate change and increase in fire activity. We know that fire seasons now amount 70+ days longer than they have been traditionally," battalion chief and information officer for California Department of Forestry and Fire Protection Jonathan Cox said. "So that means more days that fires are burning in California – they're burning hotter, they're burning larger, and they're becoming more destructive."
This has been the third deadliest fire season in California's history, causing $3 billion in damages. Natural disasters such as wildfires can devastate lives.
"My dad was hosing down his roof, in case any embers were to fall, so they wouldn't start new fires, so everyone in his community just spent the day hosing down their property to make sure no new fires started," theater teacher Jeffrey Draper said. "So many people that I'm aware of have direct contact and have lost their belongings."
According to California Department of Forestry and Fire Protection, four of the recent wildfires have been ranked in the top 20 most destructive California wildfires, including Tubbs, which destroyed 36,807 acres of land and 5,643 structures in Sonoma county, and also caused 21 deaths. As a result, damages and losses from residential and commercial property, agriculture and watercraft totaled to 3.3 billion dollars according to the California Department of Insurance.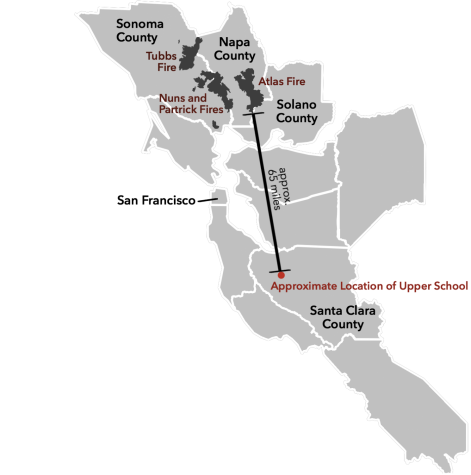 Over 100,000 people evacuated their homes as a result of the wildfires. A state of emergency was declared for the counties of Napa, Sonoma, Yuba, Butte, Lake, Mendocino, Nevada, Orange and Solano County.
"We evacuated a 100,000+ people over the course of the fire siege in northern California, and over 8,000 structures were lost, majority of those being residential homes," Cox said. "The correlation between climate change and loss of both property and life is pretty stark and real."
The smoke from the fires led to the worst ever air pollution on record for Northern California, with the air quality index score in Napa county hitting 486 (anything above 201 is considered very unhealthy). The polluted air also spread to the Bay Area, resulting in cancelled sports practices, indoor lunches and other affected activities at Harker and other several other local schools.
Unlike other natural disasters, wildfires are usually caused by humans, so measures can be taken to prevent wildfires with such large impact in the future.
"Check to make sure you don't have any trees growing into power lines, because I know that the power lines were considered to be the cause to the recent fires in Northern California," Moss said. "Also to keep brush down, foliage, extra things that are around, it's important especially in areas that have land around them, that you make sure you clear all unnecessary brush away."
Predictive services from the National Interagency Fire Center suggests that California will remain the focus of periodic bursts of fire throughout November and December, due to dry drought conditions.
This piece was originally published in the pages of the Winged Post on November 16, 2017.