Northern California wildfires: Smoke travels south, fires continue to burn
The upper school operated on a rainy day schedule this past week with indoors lunches and cancelled outdoor events, including the annual Family and Alumni Picnic, following directives that Bay Area residents should avoid outdoor activity due to unhealthy levels of particulate matter from fires that started last Monday in northern California.
Harker's annual Family and Alumni Picnic, which had been scheduled for Sunday, was cancelled on Friday due to the air quality. Some Bay Area school districts, including Marin and Napa Counties, have cancelled classes, while others have instituted new policies to guard against smoke blown south from the Napa, Sonoma and Solano Counties.
"The health and safety of our students is our highest priority," reads a Wednesday email from head nurse Debra Nott to parents of students. "We will be watching for directions from the county and state health departments regarding safety recommendations including evaluating the need to temporarily close the school."
The new safety policies instituted for all Harker campuses mirror similar precautions taken in other Bay Area school districts.
"The head nurse, Debra Nott, is currently monitoring the air quality, and she is also monitoring the public health entity updates," Head of School Brian Yager said. "She's making recommendations and requirements for the various campuses and coordinating the efforts for everyone on each campus."
Though school has not been cancelled in Palo Alto Unified School District or Fremont Unified School District, the districts have placed restrictions on outdoor activities, cancelled sports games and made accommodations for students with respiratory issues.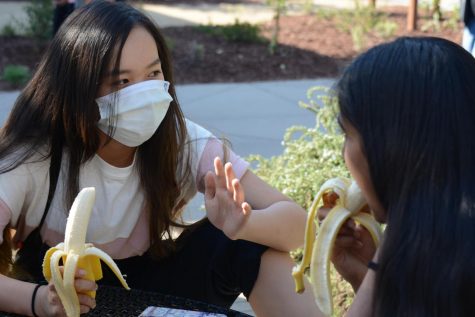 As reported by the Environmental Protection Agency, the air quality index (AQI) in San Jose was at a level designated as "unhealthy for sensitive individuals", a category that includes all children and those with heart or lung disease, based on the particulate matter in the air from Wednesday to Saturday. The AQI in San Jose also occasionally increased into the "unhealthy for all groups" range on Wednesday and Friday.
"I've been having a lot of trouble doing exercises recently," Kai-Ming Ang (10), who has asthma, said last week. "I normally can get through my exercises fine, but now I've been wheezing at the end, so [the smoke]'s definitely impacted me quite a bit. Day to day, it doesn't really affect me, though."
The AQI in more directly affected areas like Napa has peaked at hazardous, the designation for emergency conditions that will likely affect everyone, this past week.
"You didn't want to be outside. When I drove north [around] San Mateo, it almost looked like the car was going underwater; the air was like a thick, dirty water," chemistry teacher Dr. David Casso, who lives in San Francisco, said last week. "You're in a really dark, smoky area, then you come out, then you go into another smoky area."
Food pantries and shelters throughout the Bay Area have called for donations of key supplies like clothes and prepared food in order to help victims. Local and national fundraisers have also started in order to help victims.
To raise money for the relief efforts, Harker will be hosting a "Stuff the Bus" drive across the lower, middle and upper school campuses this Friday. Parents, students and faculty are invited to drop off canned goods, nonperishable food, clothing, dry pet food and gift cards to fill a school bus, which will be delivered to the Finley Community Center and Redwood Empire Food Bank in Santa Rosa. A card-making activity will also be held in Bucknall gym from 6 to 8 p.m. on Friday, and students can sign up to volunteer online.
The fires have left at least 40 people dead and more than 290 unaccounted for as of Saturday, making them the deadliest wildfires in California's history. Their cause is currently unknown.
The fires prompted evacuations of at least 90,000 people in northern California counties as well as wind advisories and red flag warnings for the fast spread of fires through affected counties.
"My dad's housing community—he lives in a retirement community—of the 250 homes there, 80 are destroyed from the fire, and I have no idea where they're going to go, but my father, his house was saved, and he's fine," performing arts teacher Jeffrey Draper said. "When I was your age, the Oakland Hills fires hit, and it just burned hundreds of homes in the Oakland Hills because it was overgrown with weeds that have dried out, and so that was just fuel for the fire to spread so quickly, and that's kind of what happened here, too."
According to Cal Fire, the largest fires in the area as of Tuesday afternoon are the Atlas Fire north and west of Napa, which has burned 51,064 acres and 77 percent contained; the Nuns Fire (a merger of the Norbomm, Adobe and Partrick Fires) north and west of Sonoma, which has burned 52,894 acres and 68 percent contained; and the Tubbs Fire between between Calistoga and Santa Rosa, which has burned 36,432 acres and is 82 contained.
South of San Jose, the Bear Fire near Boulder Creek broke out yesterday night. It has burned 200 acres and is five percent contained as of early this afternoon. The cause for this fire has not yet been determined.
The AQI for San Jose is currently in the "moderate" category, whereas areas along the Pacific coast of the South Bay, including San Francisco, are categorized as "unhealthy."
Additional reporting by Aquila news editor Tiffany Wong, Humans of Harker Videographer and Feature Photographer Ashley Jiang and reporters Karina Chen, Arya Maheshwari and Jin Tuan.