School meeting recap 10/10
by Anvi Banga, Aquila Asst. News Editor
October 10, 2017
Harker Journalism played a video featuring photos of students taken last week.
The school community held a moment of silence to honor the victims of the recent Las Vegas shooting.
GSA advocate Alissa Gao (9) reminded students and faculty that National Coming Out Day is tomorrow. She spoke about the history of the holiday and shared her personal experience with coming out as bisexual.
Anika Banga (12) and Satchi Thockchom (12), co-presidents of Green Team, Harker's sustainability club, announced that the school would no longer be implementing "Meatless Mondays" but will have increased vegetarian options instead. They urged students to keep in mind their environmental footprint when choosing what to eat.
Assistant Head of School Greg Lawson informed students that around 2,000 metal utensils are thrown away in the cafeteria trash cans every month. Lawson then went over emergency response protocol to an active shooter situation and reviewed pedestrian safety.
Research Club announced a lecture series that will be starting on Friday at 12:50 p.m. The topic of the upcoming lecture is gene editing.
This week is Chinese Culture Club's club week, and representatives will be selling boba after school on Thursday and Friday and holding a Chinese Mid-Autumn Festival meeting with mooncakes during long lunch on Friday. They were also selling after school today.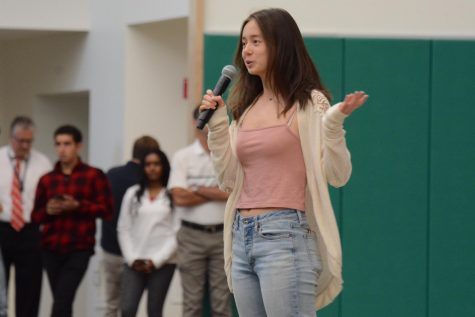 Academic Dean Evan Barth spoke to commemorate former Head of School Howard Nichols' birthday. Students enjoyed chocolate chip cookies after the school meeting in honor of him.