Varsity girls volleyball loses to Menlo in four sets
The varsity girls' volleyball team lost against the Menlo School Knights after four sets at the upper school gym last night. The set that Harker won is the first set that Menlo has lost in their league season.
"So far, the season has been really exciting, with a lot of close games," libero Katrina Liou (11) said before the game. "The game is about more than one person and we have to play as a team and one unit to not worry about the past point, but to focus on the now and on our next play."
The four scores of the sets were 25-13, 25-16, 30-28 and 25-10, with Harker winning the third set. Emily Cheng (10) was the first server of the game. The first timeout was called by head coach Theresa "Smitty" Smith when Menlo was leading 2-4, and another timeout was called when Menlo was in the lead 13-6. Tiffany Shou (12) served three times consecutively early in the game to raise the score to 14-9.
"We want to focus on getting touches on blocks—slowing down so we can get an easier touch," said Coach Smitty pre-game.
In the second set, the Eagles took a one point lead initially, but was down 1-6 soon after. Harker's first timeout of the set was called when the team was down 13-4. After Menlo won another point, Anya Gert (10) served four times consecutively until the team lost a rally at 15-8. Co-captain Lauren Napier (12) scored one kill in this set and in an intense rally, attempted two kills and then succeeded with a tip over.
Senior Melissa Kwan was the starting server for the third set of the game, which early on began with a two-point deficit for Harker until co-captain Isabella Spradlin (12) scored with a kill, making the score 1-2. Isabella later served five times, which boosted Harker to a lead of 8-5. After another kill later in the set by Isabella, she served three more times, which again led Harker with a score of 20-17. Harker called their fourth timeout when the score was 25-24, with Menlo in the lead. After a long period of back-and-forth rallies, with neither team gaining more than a one-point lead, Harker won the third set with a score of 30-28.
"We were our most impressive; we served the best in that game, we played the best defense, we were hitting aggressively, so I'm proud of them for putting that effort in," Coach Smitty said.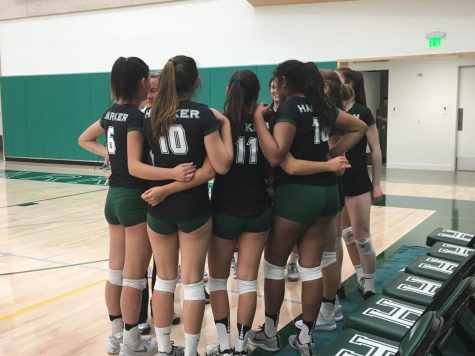 The fourth and final set began with Menlo serving, and the Eagles held an early two-point lead. Coach Smitty called a timeout when Menlo was leading 9-4, and the last timeout was called when Harker was down 7-18. The Eagles lost this match with a score of 25-10.
"We did a really good job just staying in the game and playing point by point, and I think what could've helped us is if we played like that from the very beginning of the game," Isabella said.
Co-captain Isabella Spradlin scored eleven kills throughout the game, and co-captain Lauren Napier scored eight.
The team hosts Sacred Heart Prep on Nichols Court on Tuesday at 6:30 p.m.