NHS holds annual induction ceremony
The National Honor Society (NHS) welcomed new members into its school chapter at their annual induction ceremony today at 6:10 p.m. in Nichols Auditorium.
NHS chapter advisor Mike Pistacchi began the event by welcoming this year's 79 NHS inductees and their families before delivering a brief history of Harker's NHS chapter. Pistacchi then spoke about the importance of upholding NHS' four pillars of leadership, scholarship, service and character.
Following Pistacchi's opening remarks, NHS president Kaitlin Hsu (12), secretary Mona Lee (12), community service coordinator Rose Guan (11) and vice president Tanvi Singh (12) each gave speeches on leadership, scholarship, service and character, respectively. Kaitlin reminisced about her experiences in Harker's journalism program both as a first-year reporter and now as a seasoned editor-in-chief of the newspaper and longform magazine publications.
"My journalism advisor… [once] told me that Apoorva [Rangan ('15)] was as scared as I was in front of a room filled with busy reporters. I was shocked—the Apoorva I mythologized in freshman year wasn't a hundred percent real, and the Kaitlin I present to the staff and to you guys today isn't a hundred percent real either," she said. "Leadership isn't a yes-no, binary trait. Some days, you'll be frustrated and not as effective as you wish to be; other days, you really will be a leader and you'll rise up to that occasion. You can grow into leadership, like any other quality."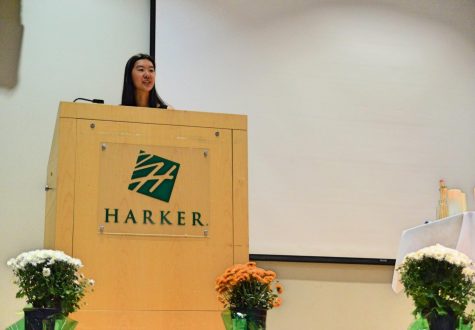 After a recitation of the NHS pledge, Pistacchi returned to the podium to thank this year's NHS faculty council of physics teacher Dr. Mark Brada, English teacher Ohad Paran, mathematics teacher Anthony Silk, chemistry teacher Dr. Smriti Koodanjeri and history teacher Mark Janda for reading and evaluating this year's NHS applications.
Faculty speaker Christopher Hurshman then took the stage to present his ceremony address, during which he acknowledged the value of NHS' four pillars and the efforts Harker takes to instill such morals in their students but challenged the promoting of each pillar as goals of equal importance.
"I question whether the metaphor of pillars is the right one because that image seems to suggest to me that these virtues are meant to be placed on equal footing, and I think that view is almost certainly wrong," he said. "When leadership becomes its own goal, there's little [left] but the will to dominate, to see one's name in places of honor, to be flattered and acclaimed. In the end, the pursuit of that kind of leadership and power doesn't even prove satisfying—[take] Ozymandias in the poem that bears his name, the unquestioned king of a vast, barren and devastated landscape."
For the distribution of the NHS induction certificates, Tanvi read off the names of this year's inductees, who walked across the stage to receive their certificates from Academic Dean Evan Barth. After all inductees returned to their seats, Pistacchi closed the ceremony by inviting the audience to enjoy a reception of coffee and desserts outside the auditorium in Nichols Atrium and encouraged students to light one of the many ceremonial candles on the stage to commemorate their acceptance into Harker's NHS chapter.
Application forms for NHS were sent earlier in the year to students via email by Pistacchi on Aug. 29 and were due a little over a week after on Sept. 8. All applicants submitted two letters of recommendation from two upper school faculty members along with their completed form and received information about their acceptance status on Sept. 27. Those already in NHS did not need to reapply.