Therapy dogs visit campus for finals week
ASB invites two golden retrievers in effort to relieve exam stress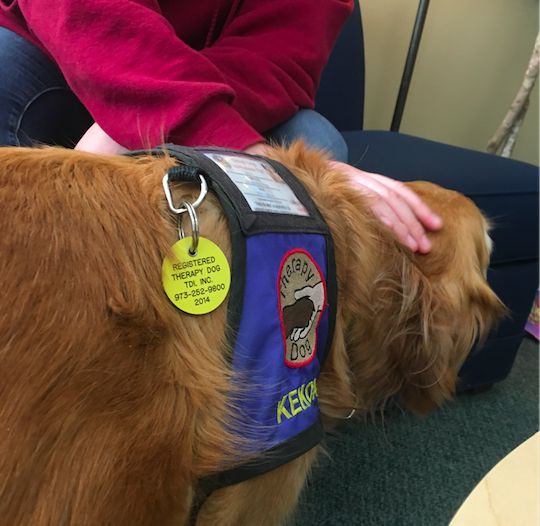 by Rose Guan, Winged Post Copy Editor
June 5, 2017
Therapy dogs Keko and Kula will visit the upper school campus tomorrow and Wednesday after being in the counseling office all day today.
ASB led an initiative to bring the two golden retrievers, licensed therapy dogs owned by head cross-country and track coach Scott Chisam, onto campus. They also came to the campus during winter finals week in December.
"We're trying to see how it goes to get more time with the dogs here. We have someone with a therapy dog who can bring him in more often; the students all seem to like it, so hopefully we'll continue this program in the future, counseling administrative assistant Lori Philipp said. "It seems to calm them—they forget about their tests in that moment and snuggle with fur instead."
Student government and the counseling office undertook the project in conjunction with shortened schedules today and Friday in order to reduce student stress during finals week.
"[This event was organized through] the efforts of ASB—mostly, it was me and Neil [Ramaswamy (10)]—and we were talking to Mr. [Butch] Keller, as well as Mr. Chisam, who heads the program, to see when would be a fitting time for the dogs to come over," ASB president Jimmy Lin (11) said. "With finals coming up and stressing out a lot of the underclassmen, who tend to have more finals, we thought this would be a great opportunity to relieve some stress with the dogs."
This year's final exams start tomorrow with tests for history, physics, programming and economics and end this Thursday with tests for mathematics.