Best sports movies of all time
Even if you're an athlete, there's something wonderfully inspirational about sports movies. Through these films, we are exposed to life lessons on perseverance, team effort and sportsmanship. It is always motivational to see the underdog overcome obstacles and reach victory through hard work and a positive spirit. Beyond that, the main message the films deliver is that life is not a solo event, but more about individuals coming together for the greater good. It is about teamwork, where you support each other through biting failures, encouraging each other to try again, as well as through hard-earned victories, celebrating with the men and women you've fought along with, side-by-side.
Here are a few heartwarming classics:
"Space Jam"
Mixing live-action sequences with popular animations, "Space Jam" effectively delivers the fun and motivational message of a journey through intergalactic basketball. The plot of the film revolves around Looney Tunes characters including Bugs Bunny and Daffy Duck who try to recruit retired professional basketball all-star Michael Jordan to help them win a basketball game against evil aliens. "Space Jam" focuses on the key facets of basketball, narrowing its audience to small children looking to learn about the sport in a humorous and silly way. The film also teaches viewers about the positive potential of loyalty and teamwork and the consequences of cheating and ruthless leadership. "Space Jam" hit charts with high ratings when it was released in 1996 and grew to become the highest-grossing basketball film of all time. While the film's budget was $80 million, it was a box office success, ultimately making $230.4 million. The studio has also confirmed a sequel starring the returning  Looney Tunes and newcomer all-star champion LeBron James.  
"Million Dollar Arm"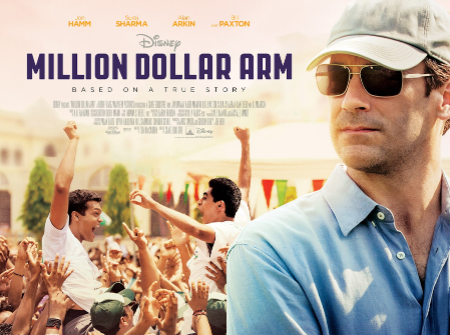 Based on a true story, the 2014 movie "Million Dollar Arm" follows sports agent J.B. Bernstein, played by Jon Hamm, who tries to recruit a star baseball pitcher from a group of Indian cricket players in an effort to save his job and company. With the help of other characters, Bernstein successfully finds two young Indian men and flies them back to the U.S. to begin their baseball training. Though the two are initially overwhelmed by the wealth, sights and sounds of America, they soon grow accustomed to the American way and form a special bond with Bernstein. Ultimately, an MLB team, the Pittsburgh Pirates, drafts the two talented men after they show off their training. The film's focuses include teamwork, relaxation, motivation and the act of having fun. It mixes humor with heartwarming messages.
"Rocky"
Set in the late 1970s, "Rocky" is a drama film revolving around a boxer portrayed by Sylvester Stallone who has no hope for his career. When famous all-time champion Apollo Creed sees the boxer's name, Rocky Balboa, in a magazine, Creed decides to challenge Balboa in an exhibition match on New Year's Day. While Balboa believes the match could be his chance to prove to the world that he is capable, he still loses hope and only trains a small amount. Ultimately, though, Balboa is able to put up a strong fight because of Creed's excessive ego, flabbergasting their audience. Although Creed wins by virtue of a split decision, Balboa becomes known not as a failed athlete but as one who almost won against a star of the boxing world. "Rocky" was a success at the box office and spawned six sequels.
All Images Courtesy of Wikimedia Images