Class of 2017 graduates in Saratoga Mountain Winery ceremony
The class of 2017 graduated in a ceremony at the Saratoga Mountain Winery yesterday from 5 to 7 p.m.
The ceremony featured the upper school's orchestra and graduation chorus and addresses from Upper School Head Butch Keller, valedictorian Kai-Siang Ang ('17), keynote speaker and Nvidia co-founder Chris Malachowsky and Head of School Christopher Nikoloff.
The orchestra performed prelude music as attendees filled the winery's seats and Edward Elgar's "Pomp & Circumstance" as graduates and teachers processed in graduation gowns at 5 p.m.
After the processional, the graduation chorus of upper school vocal ensembles Bel Canto, Cantilena, Camerata and Downbeat, conducted by Carl Oser, performed Francis Scott Key's "The Star-Spangled Banner," arranged by vocal music teacher Susan Nace.
Keller then gave a welcome address and introduced Kai, whose speech used analogies involving math and the story of the itsy bitsy spider to promote understanding, teamwork and unity.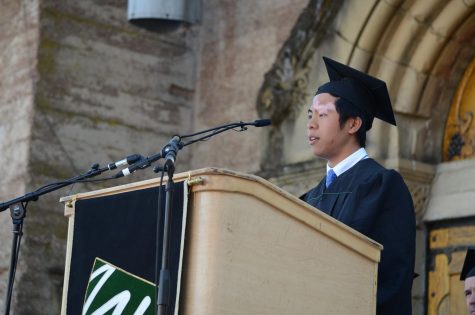 "We stand on the educational foundation of Harker that exists only because of the emotional and financial investments of our parents, the tireless efforts and devotion of our teachers, faculty and staff and the tender roasting of our friends," Kai said. "Although failure is an inevitability, that's okay. Even if perfection itself is impossible, striving for improvement may put us on a function whose limit is perfection."
The graduation chorus then performed Jim Papoulis's "New Beginnings," conducted by Nace.
Malachowsky, the senior vice president, a fellow, and co-founder of Nvidia, then gave his commencement address. Malachowsky spoke about his experiences as a tech executive and father and his hopes for the graduating class's college career.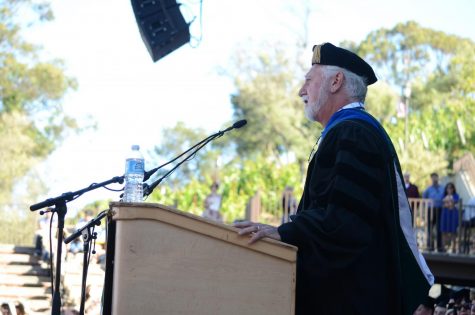 "Your enrollment here at Harker is testament to just how deeply your parents are committed to your success. As you move forward and enter college, that sort of responsibility will begin to shift to be squarely on your shoulders," he said. "Your college experience will be what you make of it, regardless of who foots the bill."
Following his address, Honor Council and National Honor Society representatives passed their leadership roles to their successors, and Nikoloff gave a farewell speech to the graduates.
"Today is a special graduation to me because we are, in fact, graduating together, although I am sure you are graduating with a higher GPA," Nikoloff said. "Even though we are leaving Harker together, its values of lifelong learning, commitment to excellence and service to others will not leave us."
Keller, Nikoloff and class of 2017 dean Jeffrey Draper then presented the 190 students in the graduating class with their diplomas.
The graduates threw their caps into the air before Nikoloff and Assistant Head of School Jennifer Gargano released doves, a customary gesture to symbolize the graduates' leaving the nest.
The graduates and attendees recessed as the orchestra performed Camille Saint-Saens's "Marche Heroique."