Soccer teams defeat Eastside College Preparatory in annual Kicks Against Cancer games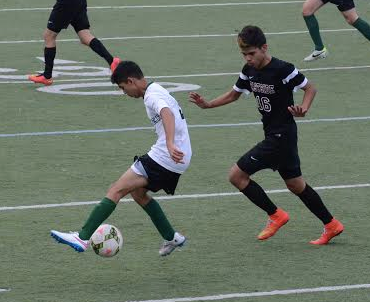 As a downpour of rain fell on a slick Davis Field, the Harker soccer teams defeated Eastside Prep during the annual Kicks Against Cancer event last Friday afternoon.
The varsity boys, varsity girls and junior varsity boys all won their respective games–the scores being 2-0, 10-1, and 6-2 respectively.
Varsity leftback Vedant Shah (11) commented on the team's performance and motivation against their opponents.
"We played with intensity and energy from the beginning and we made sure we pressed as a team. I think using those tactics we were able to get into the other team's head, which, as a result, made them lose confidence," he said. "I think we performed with a sense of purpose because we were playing for such a great cause."
The varsity girls set the tempo early on, defeating their opponent by an overwhelming margin of nine by sharing the ball.
"We played really well. Joelle [Anderson (12)] got the first goal really early in the game, even though it rained quite a bit," Stephanie Scaglia (11) said. "A lot of people got touches on the ball and we passed really well."
Despite the inclement weather, the teams played through the wet conditions, with the water drainage system on Davis Field working to remove large puddles and prevent them from inhibiting the games. The spectators, however, did not weather the storm like the athletes, as many students took cover in the adjacent Shah Hall.
"Even though the weather was kind of gloomy, I enjoyed watching the game," Anahita Far (12) said. "The fact that it was in support of a great cause made it even more humbling and fun to be a part of."
Student athletes sold t-shirts and baked goods to raise funds for Camp Okizu, a free summer camp designed for youth cancer patients and their afflicted families. Following the final victory of the night, the varsity girls team presented visiting Camp Okizu families with a check of $1,000 to support the cause.
The varsity girls now prepare to play against Mercy High School on Wednesday, while the varsity boys prepare to play against German International School of Silicon Valley tomorrow.