Forest fire erupts in Santa Cruz Mountains
The California Department of Forestry and Fire Protection (Cal Fire) is currently fighting a massive forest fire which erupted in the Santa Cruz Mountains at 2:45 p.m. today and has blazed through over 400 acres of forest across Santa Clara and Santa Cruz county lines.
The fire, which now threatens over 300 homes and structures, is still growing at a fast rate, with the potential to span over 1,000 acres. Rising above the Santa Cruz Mountains, a large mushroom cloud of smoke was visible across much of the South Bay in the afternoon.
Originating from a small structure in Loma Prieta, the fire spread to nearby brush, setting the surrounding forest ablaze. So far, the fire has destroyed one other structure.
The triple-digit weather throughout the Bay Area over the past two days has made the environment extremely dry and hot, allowing the fire to spread rampantly in the absence moisture. According to CBS San Francisco, the record-breaking temperatures have reached 10 to 25 degrees over normal September levels in some cities.
Cal Fire's Morgan Hill department reports that the fire's high rate of spreading has caused it to swiftly consume over 300 acres as of 4:55 p.m. The dry, forested and mountainous environment  of the region presents a serious challenge to emergency responders. As warm winds blow through the mountain ridge, fire-fighters can not predict the course of the fire as it the wind pushes it in many directions.
Deploying air support units equipped with fire retardant, Cal Fire is working to contain the inferno that continues to envelop more and more of the area. The San Jose Fire Department has also sent multiple fire engines to assist Cal Fire in their efforts.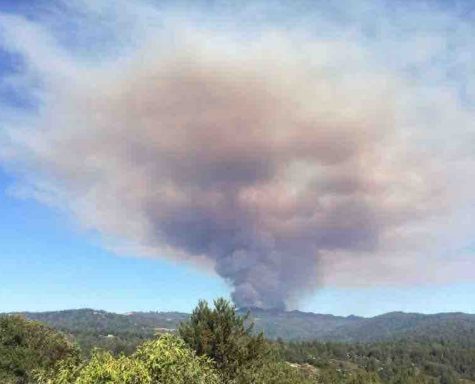 Mountain residents received evacuation orders at homes situated at Casa Loma Road, Loma Chiquita Road and Summit Road at 4:30 p.m.
Santa Cruz County resident and Soquel High School junior Max Peer shared his thoughts on the fire.
"[Fire authorities] are considering shutting down Old San Jose Road, where I live. The plume of smoke is massive; everyone is taking photos," he said. "I hope they can contain it as quickly as possible, and I am nervous about the whole situation."
As the fire continues to spread, Soquel High School and Loma Prieta High School have opened evacuation centers to offer refuge to those living in the area.
Check back with Harker Aquila for more updates.