Upperclassmen end Prom over the city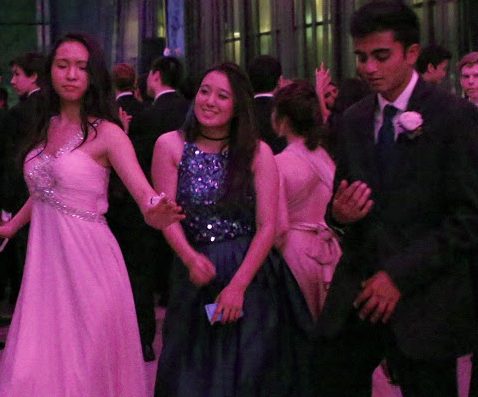 The prom committee held this year's prom at the GlassHouse in downtown San Jose on April 23 from 8:30 p.m. to midnight.
Upwards of 300 students attended the annual event in downtown San Jose. This year, the prom committee decided on the "after-party" theme, complete with a sleek decorum, fancy settings and a night-life ambiance.
Originally being held at the smaller Silicon Valley Capital Club, the increased attendance led to the location change. The GlassHouse is larger than the previous venue, capturing the essence of the hollywood, late-night theme.
Layla Walker (12), student leader for the prom committee and Spirit Club president, described the event.
"Being the senior's last high-school dance, it took a lot of focused planning and many months to give them a truly amazing dance to remember," she said. "I really think we accomplished our goal, and the event was an awesome success, I had a great time. The venue alone really invigorated the experience, truly embodying our desired theme".
Eric Kallbrier, Assistant Activities Coordinator, reflected on the event as a whole.
"We had an extraordinary Prom, a new venue, a great DJ, the best part was that everybody left with smiles on their faces."
This year, a great number of students took photos and mingled with their friends at home pre-prom parties. In addition to this, attendees had their formal pictures taken by a professional photography company, while also enjoying a photo booth complete with various accessories such as masks and glasses.
While there was no full dinner served at the event, students indulged in an array of drinks, snacks, desserts, and a chocolate fountain provided by Lovebites and the GlassHouse catering team.
While dancing consumed much of the night, other activities included card games, mingling with friends, and participating in a raffle. The DJ, from Elite Entertainment, played top hits throughout the night, mixing a variety of genres and tempos on the dance floor. Students danced to music from popular artists such as Beyonce, Justin Bieber, and Rihanna.
Many students were excited for and pleased with the event, which was the last dance for many of their high school lives.
Parth Pendurkar (11), who attended prom for the first time, commented on his experience.
"Prom was an awesome experience and was worth all the planning and effort," he said. "I had a fantastic time with all of my friends, going to pre prom and taking a million photos, dancing at the GlassHouse which was an incredible venue, and just chilling after and grabbing some food."
Looking into next year, the prom committee sent out a survey asking the student body whether or not the GlassHouse will remain the venue for Harker's prom.
This piece was originally published in the pages of the Winged Post on May 4, 2016.