Seniors commit to collegiate athletics
Four seniors, Shannon Richardson, Johnathon Keller, Oisin Coveney and Dakota McNealy, have decided to pursue athletics at their respective colleges. These athletes have been playing their respective sports since they were young, from as early as two years old. Shannon, Johnathon and Dakota have committed to their college sports, while Oisin will try to join the team as a walk-on. Each of these seniors captained his or her varsity squad this year during the regular season. These seniors feel that playing at the upper school has provided them with opportunities to bond with their teammates and build a strong foundation in their sports.
8-year volleyball career heads to Stanford
Shannon Richardson (12) committed to playing beach volleyball at Stanford University. In addition to leading the girl's volleyball team as a co-captain this year, Shannon also served as a director of the athletic affairs committee. Shannon trained for beach volleyball at the City Beach Volleyball Club.  "I have played sports at Harker for as long as I can remember," Shannon said. "I started volleyball in 4th grade, where my passion for the sport began. The opportunities I received in lower and middle school provided the foundation for my love of athletics." During Shannon's high school career, she eclipsed the national averages with 858 kills, 161 aces and a .178 hitting percentage.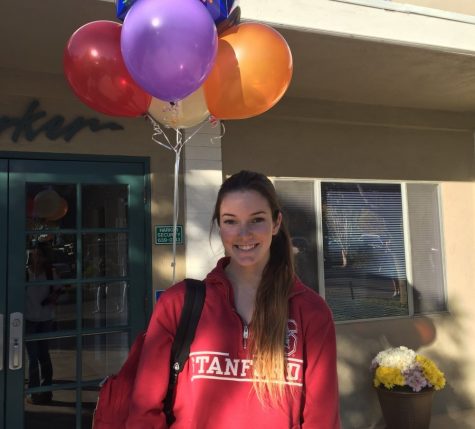 Wide receiver reaches starting lineup
Johnathon Keller (12) joins Claremont-McKenna University's football team as a wide receiver this fall. In his senior year, Johnathon accumulated 39 receptions for 454 yards and 6 touchdowns with an average of 50.4 yards per game. "Harker has helped me throughout high school a lot with a lot of one-on-one specific training," Johnathon said. "Because Harker is not such a big school, there has been a lot of opportunities for me to really learn from the coaches and individually learn what I was doing right and wrong. Harker has helped me create a strong work ethic not only on the field, but more importantly, the classroom." Johnathon will start his career off with the Claremont Stags against the Lewis and Clark Pioneers on Sept. 10.
Soccer player seeks to compete at SMU
Oisin Coveney (12) will attempt to join Southern Methodist University's (SMU) soccer or football team as a walk-on tryout. "After the football season this year, I think I did well enough that I could make a case for myself at a football team, and if not, I'm going to work on stuff this summer and see what I can do with the soccer team," Oisin said. Oisin captained the varsity soccer squad this year as well as playing for the football team and serving as a director of the athletic affairs committee. As kicker and punter on the football team, Oisin scored 49 extra point attempts and accumulated 2974 kickoff yards. Oisin played on the varsity soccer team for all four years, and started his soccer career at the young age of 2.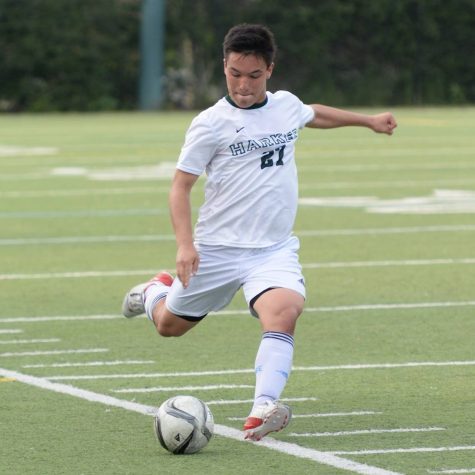 Black belt, hockey captain tees off at Stanford
Dakota McNealy (12) will attend Stanford University in the fall to play golf. In addition to playing golf, Dakota also captained the Junior Sharks AA hockey team for four seasons and received his first-degree black belt in taekwondo. "[My favorite part of golf at Harker] is just the overall experience of being with guys that you know and playing on the same team as them," Dakota said. "It's rare in golf because it's an individual sport, so I really enjoyed that part of it." This year, Dakota played on Harker's golf team with his younger brothers Colt McNealy (11) and Scout McNealy (9), and will join his older brother, Maverick McNealy ('13), another Harker alumnus, on the Stanford golf team for the 2016-2017 season.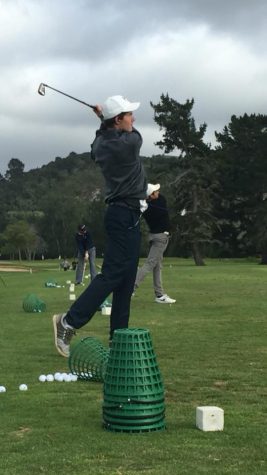 This piece was originally published in the pages of The Winged Post on May 4, 2016.