Varsity boys basketball ends CCS run in first round against San Lorenzo
The varsity boys basketball team began CCS playoffs games on Feb. 23 with a 4-10 league record but lost 47-67 against San Lorenzo Valley last Thursday.
Head varsity boys basketball coach Butch Keller expressed his uncertainty about how the team will perform in CCS playoffs prior to the match last Thursday.
"I don't know how we're going to perform, because one night we're Dr. Jekyll, the other night we're Mr. Hyde: I just don't know which team's going to show up," Keller said. "If we play like we did against King's and Sacred Heart and Pinewood, we're going to make a deep run into the playoffs; if we play like we did [against Menlo], it'll be a short run."
Last year, the boys had an 8-6 league record and were eliminated in their playoff quarterfinals game against Pacific Grove High School, which was eliminated in the semifinals.
"From last year the team's a lot more different because we lost a lot of seniors, so I don't know what to really expect from CCS this year, but hopefully we'll get far," co-captain and point guard Justin Jia (11) said. "Most of the teams that are going to be in the tournament are teams that we haven't played all year, so we'll have to wait and see how we match up against them."
Elijah Edgehill (12), a current team co-captain who joined the team last year, also commented on how the team has adjusted to the graduation of seven seniors from last year's team.
"We qualified [for CCS] in the pre-season, with the games leading up to it," Elijah said. "Compared to last year, there are a lot of new people since the last varsity team had more seniors. The whole starting team has improved and focused more relating to last year's qualification as well. Now I play point guard and shooting guard."
Jordan Goheen (11), a power forward who was also on the team last year, spoke about how the CCS matchup system affects the team.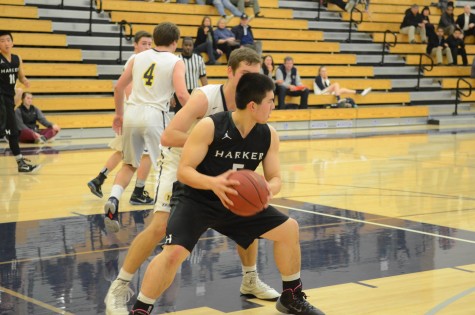 "If we don't do as well in league, then we play a higher seed, which means they're going to be a tougher team, which means they're going to be a tougher matchup for us," Jordan said. "The makeup of the team—the players we have and the types of players we have—has changed a lot between this year and last year, so the style of play that we have is very different. But I'm sure that if we stick to our game plan and continue to work hard on defense, then we're going to make it far."
Dhanush Madabusi, another senior who was on the team last year, discussed how he thinks the team's previous performance will influence their future games.
"It just comes down to game time if we're ready to go, so I think we have a good chance," Dhanush said. "Although our [league] record doesn't show for it, we've had some really good games. We lost to Sacred Heart by just one point. There were a lot of games that were winnable that we lost in the very last minute of the fourth quarter, but when we're on our game, we have good defense and offense. We're definitely a tough team to contend with."
This piece was originally published in the pages of The Winged Post on March 3, 2016.