Science Bowl teams prepare for upcoming competition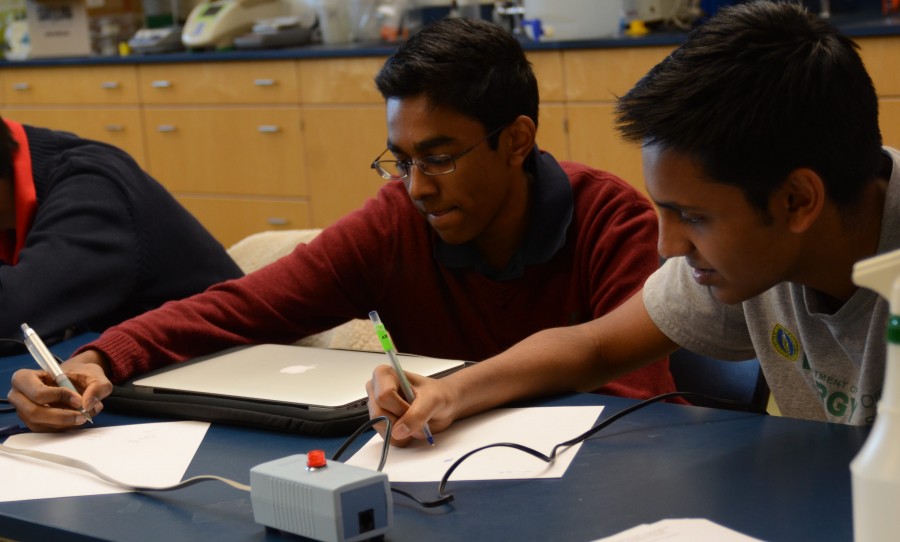 The Upper school Science Bowl teams are currently preparing for their regional competition, which will take place on Saturday, Feb. 6.
Last year, the Harker Upper School team won second place at the regional competition.
If the team places first at the regional level, which has happened three times before in Upper school history, the members will travel to Washington D. C. in late April for the national competition.
Unlike last year, where the space was limited to just the A team, both the A and B teams will compete at regionals this year.
Alexander Young (9), a member of the B team, previously participated in the competition in middle school.
"I joined because it's an interesting way to exercise my science skills and learn new things and associate with other students who are interested in science," he said.
Chemistry teacher Robbie Korin and biology teacher Gary Blickenstaff advise both teams and help them prepare for the Science Bowl.
"We are in one of the toughest regionals. So if we make it out of the regional, we're surely one of the top teams in the nation," Korin said.
The teams have been practicing once a week since the beginning of the school year. As the date of the competition approaches, the A team has begun to practice during long lunches as well.
"I think this year we have a really strong team; we have people with expertise in different fields," Arjun Subramaniam (11) said, "I think that this is probably one of our best chances to qualifying for the national team and this is one of the most competitive regionals and there are so many good schools. So we look forward to competing and I think we have a pretty good shot this year at making it to nationals."
Jonathan Ma, a member of the A team, has been a part of the Science Bowl since middle school.
"We'll be trying to do our best and hopefully snag that regional championship title, Jonathan Ma (12) said. "No matter what, I think it's the process of training, the working hard, studying hard, and competing– that's the truly rewarding part of the process, more so than any award or placing."