Global reset: facing our future
The impact of politics on climate change
2015 was the hottest year and Dec. 2015 the hottest month ever recorded, breaking the previous high temperature records set in 2014, according to the National Oceanic and Atmospheric Association.
Climatologists attribute this temperature change to both greenhouse gas emissions and an unusually strong El Nino.
The 2016 presidential candidates, both Democrats and Republicans, are distinctly divided on the topic of climate change and various issues surrounding it. Points of disagreement arise over the existence of climate change, the causes of it, whether action needs to be taken and what specific plans should be executed.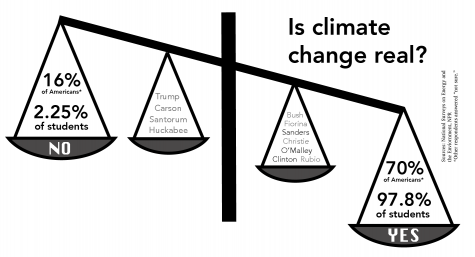 Sahana Srinivasan
Popular opinion and scientific support of climate change has increased in recent years with a greater number of climate change studies. However, since legislature dictates the solutions implemented nationally and globally to solve climate change, politics plays a key role in the future of climate change.
David Reichmuth is a senior engineer at the Union of Concerned Scientists, an organization of scientists and engineers working on practical solutions for issues like climate change using renewable energy.
"I think there is a growing awareness of climate change," Reichmuth said. "Of course, if you look at what's been going on in the national level and [in] the political discourse, it's still very polarized and partisan, but I have a sense that in general, we're looking more towards solutions, which is hopeful."
Leaders from 195 countries met at the 2015 United Nations Climate Change Conference (COP 21) in Dec. 2015 in Paris. According to the European Commission, they signed a deal to implement proposals intended to keep temperature change under two degrees.
A study from the Intergovernmental Panel on Climate Change cited a change of two degrees as the temperature above which consequences range from drought to increased wildfires.
Donald Trump and Ted Cruz, frontrunners for the Republican Party nomination, both believe that climate change is not man-made and have not announced proposals to address climate change. Trump believes climate change is not real, calling it a "hoax" on twitter. Cruz views it as a "pseudoscientific theory," according to an interview with Yahoo News.
Hillary Clinton and Bernie Sanders, current frontrunners in the polls for the Democratic nomination, have announced goals for lowering emissions and switching to alternative energy. Clinton set a goal of producing one-third of U.S. energy using renewable sources by 2027. Sanders aims to cut carbon emissions in the United States by 40 percent by 2030 and 80 percent by 2050.
In Aug. 2015, President Obama announced the Clean Power Plan, which, according to the Environmental Protection Agency (EPA), imposes standards and guidelines to reduce power plant pollution and produce more energy through renewable sources. The goal of the plan is to reduce national carbon dioxide emissions by 32 percent from 2005 by 2030.
"[A] big wedge of emissions comes from electricity, and we're moving pretty quickly on that as well with the state having a renewable portfolio standard, [which] means it will have more solar, more wind and other renewables," Reichmuth said. "At the national level there's the Clean Power Plan from the Obama administration that will also reduce emission from the electric sector."
Local groups are also setting goals for lessening carbon footprints. The Green Team currently posts environmentally friendly tips on their bulletin board in Main and is planning a green challenge.
"[The challenge] is going to be a whole long list of things that we're going to be asking people to [try] to do, so we'll have a lot of suggestions [to save energy] in that," Diana Moss, Spanish teacher and Green Team advisor, said.
The green challenge will take place as part of earth week in the spring.
Additional reporting by Lauren Russell.