Did you know: senior Alisa Wakita's journey through cheerleading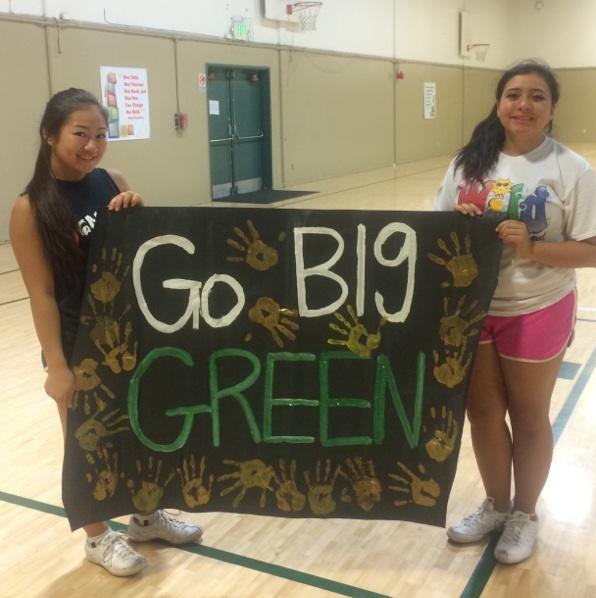 Four years ago, Alisa Wakita became a member of the Harker cheerleading program as one of the few freshman additions to the six-person team. This year as a senior, she is co-captain, using her experience to guide the team of sixteen cheerleaders–nine of which are freshmen– through elaborate routines and cheers.
"When I joined my freshman year, I remember having overwhelming feelings of both anxiousness and eagerness." Alisa said. "I can recall how nervous I was before my first practice, but everyone welcomed me into a warm atmosphere unattainable elsewhere."
Now, she provides that same kind of encouragement for the current freshmen on the team.
"We love Alisa." Cameron Zell (9) said. "She's really helpful. If we have questions, she always answers them. And she's really nice."
Alisa Wakita shares her advice for the freshmen on the team.
When Alisa was thirteen, prior to participating in the Harker cheerleading program, she was a gymnast. According to Alisa, even though gymnastics was not a large commitment for her at the time, it was what first sparked her interest in cheer.
"I really liked gymnastics, so I thought starting cheer would be a great way for me to integrate gymnastics and cheerleading," she said, when asked why she joined cheer in ninth grade.
Since then, Alisa has enhanced her cheerleading abilities.
"[Alisa] is a really good flyer. And she has a really good toe touch," said Claire Newman, a freshman on the team.
In addition to developing her technical skills, Alisa's ability to memorize and execute routines quickly and accurately improved.
"Admittedly it remained difficult for me to memorize the routines, since we always learn it all one day and perfect it the second day," Alisa said. "After repeating this process many times over the years, I can now memorize the dances with ease."
While her skill set expanded, Alisa became an integral part of the team, and her athletic abilities as well as her leadership qualities prompted cheer coach Jill Bettencourt to select her as one of the co-captains of the team.
Becoming captain introduced Alisa to a new set of responsibilities, from being a mentor for her younger teammates to assisting Coach Bettencourt with various tasks.
"I think I have a bigger role now, to watch over the freshmen and underclassmen and to show them what [cheerleading] is about," Alisa said. "I've needed to help out the coach with whatever she needs help with."
Alisa shares these responsibilities with fellow co-captain Elizabeth Edwards. The two have been cheering together since they were freshmen, and by working together over the years, they have built a strong friendship.
"We're really good friends, and I think you can really see that in the way we collaborate to help the team out," Elizabeth said. "Whenever school and cheer get a little overwhelming, I always know Alisa will be there for me, to help me out with cheer and with everything else in my life."
From her time spent as a freshman with little cheer experience to her current role as the skillful co-captain of the team, cheer made an impact on Alisa. Through establishing bonds with her teammates, Alisa created a family made up of people from different grades and age groups.
"Cheer has influenced me these past four years by giving me a warm environment regardless of the ages of the people on the team," Alisa said. "Everyone's a family. We have a lot of fun at practice and I think it really brings us together."
Even after her cheer career at Harker is over, Alisa will continue to abide by all the important lessons that cheerleading has taught her.
"Everything I've learned in cheer– being encouraging, being supportive, knowing when to be serious, knowing when to be sad; those are the main things I'll take away with me."