Synergy at Play
After spending the summer researching drug combinations to battle cancer, juniors Andrew Jin and Steven Wang submitted their work to the Siemens competition. They were one of six teams chosen from California to present at the regional finals and moved on to compete at the national finals.
Their research:
Andrew and Steven conducted their research over the course of last summer. They were particularly interested in researching cancer because it "is probably the main medical problem of the century," according to Steven.
Steven began his summer doing an internship at the City of Hope, a cancer research center in Duarte, California. He was the youngest of the researchers there, working with undergraduate, graduate, PhD students and various professors.
"I guess it was intimidating at first, but I guess you just get used to that," he said. "There were a lot of bonding activities that we did, like we went and watched a movie together as a lab."
On the other hand, Andrew worked mostly at home, developing a computer program that could predict the results that Steven was testing for in the lab. The two researched possible drug combinations to combat cancer.
"In our research, we tried to predict drug pairs [to treat cancer], and then we tested the predictions in the wet lab," Andrew said. "I predicted six drug pairs with my computational analysis, and when Steven tested them, five of them were synergistic, meaning they were effective when combined together. Three of these drugs pairs were novel, they had never been discovered before."
Andrew and Steven plan to continue working on their project until April in preparation for upcoming science fairs. Although they are not yet sure whether or not they will continue their research this summer, they hope to substantiate their findings and perhaps go a new direction, although they have no firm plans yet.
Siemens competition experience:
Most teams that participate in the Siemens competition work in the same lab; however, the project that Andrew and Steven worked on had two distinct parts. Steven did the biological portion at a lab in the City of Hope, while Andrew did the computational portion at home. The students started their project in June and worked for 10 weeks over the summer.
Both agreed that writing their research paper was a valuable experience because they developed a skill they believe is applicable to the real world, especially because they are considering entering the science fields.
"It was a very long process in a short amount of time. The day before we submitted it, we had to pull an all-nighter to finish it," Steven said. "So it is definitely very rewarding, but it was a lot of work."
Andrew and Steven attended the regional finals at the California Institute of Technology on Nov. 16 and were one of six teams presenting their research.
"The Q&A was the most daunting part," Steven said. "The judges know all about your project and are professionals in the field, so you can't really get away by making stuff up on the spot. You really have to know your project well."
They said they were surprised and honored to compete in the national finals in Washington D.C. on Dec. 10, where they won a $40,000 scholarship.
Why research?
Both Andrew and Steven enjoy the problem-solving aspect of science research, calling it an "exciting and fulfilling experience."
"I like the process of coming up with your own idea and implementing it from start to finish," Andrew said. "Along the way, you face many obstacles and challenges, and you have to figure out innovative and creative methods to overcome those obstacles."
He recalls first conducting research with a small project in eighth grade. Likewise, Steven finds the research experience very enriching.
"You are really finding something new that potentially no one has ever found before," he said.
Andrew recommends all students interested in doing research in college to apply to science competitions to get acquainted with the field and learn important skills, such as writing papers, giving oral presentations, and making poster boards.
"I feel like the most that I gained from this experience was stepping in and getting a feel for what academia is really like," he said.
This piece was originally published in the pages of the Winged Post on Jan. 27, 2014.
About the Writers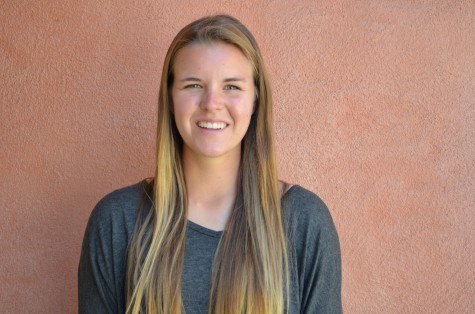 Alyssa Amick, Harker Aquila Editor-in-Chief
Alyssa Amick (12) is the Co- Editor in Chief of Harker Aquila. She has been part of the journalism program since her freshman year. Her favorite part of...