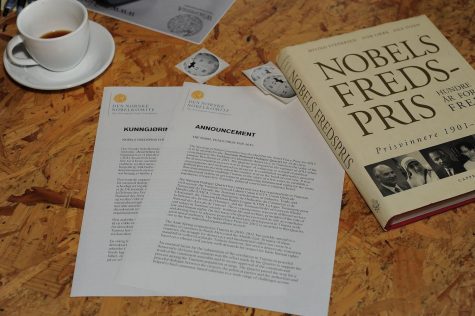 by Jessie Wang and Daniel Wu

October 22, 2018

Filed under STEM, Winged Post
The Nobel Foundation announced the 2018 Nobel Laureates for Physiology or Medicine, Physics, Chemistry, Peace and Economic Sciences during the week of Oct. 1.  The Nobel Prize in Literature was postponed until 2019. Each year, the Nobel Foundation, established in 1900 by Alfred Nobel, grants a No...
by Arushi Saxena, Global Editor

October 17, 2018

Filed under Global, Global Headlines, News, Winged Post
Getty Images Nobel Laureates Awarded The Nobel Prizes in physiology and medicine, physics, chemistry, and economics were announced in the first week of October. This year's Nobel Prize in literature was postponed to next year, following sexual -harassment allegations of the husband of one of the ...