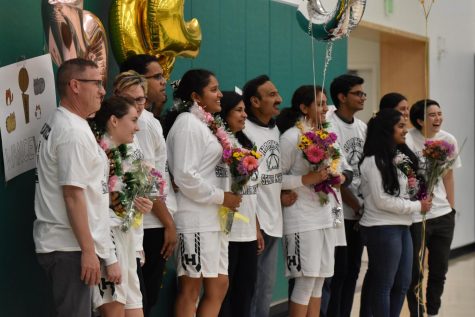 by Muthu Panchanatham, Reporter

January 30, 2019

Filed under Facebook Briefs, Girls Basketball, Online Exclusive, Sports, Winter Sports
The varsity girls basketball team edged out a 44-40 win against the Mercy Burlingame Crusaders as they celebrated their senior night on Tuesday evening. The senior night consisted of a ceremony recognizing the seniors as well as the game itself. Posters were made beforehand by the seniors' fri...
Wednesday, April 10

Varsity Boys Volleyball

Harker 3 - Mountain View 0

Tuesday, April 9

Varsity Girls Lacrosse

Harker 14 - Mercy Burlingame 5

Tuesday, April 9

Varsity Softball

Harker 13 - Notre Dame SJ 5

Tuesday, April 9

Varsity Baseball

Harker 9 - South San Francisco 11

Monday, April 8

Varsity Boys Golf

Harker 199 - Sacred Heart Prep 215
Loading ...