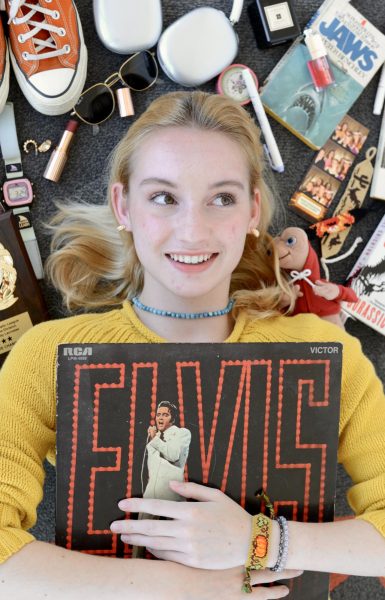 A black and white film flickers, illuminating the room as the sounds of the TV echo softly. Christina Rex (12) lounges on a couch in the living room with her parents, watching the scenes flash across the screen. A film history lover, Christina offers a piece of her endless list of film trivia — just to playfully spite her father, who shares exasperated expressions and reactions.
"I annoy my dad because I know so much about the actual companies and the people that make it," Christina said. "I'll look at something and be like, 'Oh, this was directed by this person' and 'This must have been because of that,' and he's like, 'Oh, my Gosh,' and it's really funny. It's a really nice bonding experience for me and my parents."
Since Christina was young, she and her parents have cherished a family tradition of enjoying movies and history channels such as TMC together and frequently visiting the Rosicrucian Egyptian Museum near their house, pondering the meaning of rows of hieroglyphs and developing a curiosity in humanities.
"Everything around me fostered my love for history, especially my father," Christina said. "We would sit down together and watch history networks, so we ended up getting really close through that. I have a huge connection with history. To me, it feels warm and happy because I associate it so much with my family."
Within the realms of history, Christina particularly finds media history intriguing and attributes this fascination with her parents' deep appreciation for the humanities. Both of her parents assume a distinctive role in shaping her eclectic interests, and together, they weave a compelling narrative of Christina's pursuits.
"My dad is more of a history guy, and my mom is much more of a celebrity follower," Christina said. "She loves old Hollywood actresses. My mom is a celebrity lover, and my dad is a history lover, so I ended up being a perfect mix of both."
Media history not only leaves an imprint on the way Christina dresses and the way she decorates her room but also shapes her life beyond the confines of a room. Immersing herself in the behind-the-scenes of filmmakers' craft and the cinematic creative process swiftly evolved from a mere pursuit to a frequent hobby of Christina.
"My first love of all time is media creation and media history: filmmaking, history, old Hollywood," Christina said. "I'm not a filmmaker myself, but I appreciate the art so much. That's my favorite thing ever — behind the scenes is so interesting, knowing all the facts about how things are filmed, the techniques used and costume design. I love overanalyzing because I really enjoy the concept of filmmaking and everything that goes into it."
Christina dedicates extensive hours learning about different producers and companies and particularly takes interest in American film history. Her intrigue in film history extends far beyond the narrative roots of each film, delighting in research into the production of different movies as well.
"I find the start of a lot of studios, the startup of a lot of filmmakers, the impact films have had, [and] the historical time in which they made them really interesting," Christina said. "[Film] history has the remains of different companies that were making them and the people that were making them. I find it endlessly amazing, how that medium keeps evolving."
While Christina invests substantial time in unraveling the intricacies of the humanities, her zeal for exploration transcends the cinematic realm. Much like her meticulous study of history, Christina approaches lacrosse with a similar commitment to forging connections with teammates and contributing her tenacity on the field. Former lacrosse teammate Jessica Zhou ('23) emphasizes her genuine nature and her ability to fuse both productivity and enjoyment into collaborative efforts.
"Christina is a great person to get to know," Jessica Zhou ('23) said. "She's genuine when you talk to her, when you rant to her or just do anything with her. And when you work together, you can get a lot done, but she also makes it fun. Throughout the season Christina was there for so much — you can always count on her to have your back to really help. When we had team talks, Christina was always there to add something in that was a really good point of wisdom."
Christina's constant accountability illuminates her standout performances during games. Upper School lacrosse coach Lauren Brown commends her for her relentless work ethic and proficiency in gameplay, setting a powerful example for her teammates.
"Christina is very kind to other teammates and works extremely hard," Brown said. "On the field, she's very tenacious. She's someone who leads by example, she's a silent leader. Throughout the season, she got good at defending the ball. She saw opportunities when other people were fully defended and really pulled through for us." 
Still, for Christina, an aspect of lacrosse that arguably surpasses the game itself is the camaraderie within the team. Christina cherishes the strong connections she built and bonds she shares with her teammates.
"[The team] is like a second friend group because everybody loves each other," Christina said. "They're all really funny and play off each other well. It's an amazing community. I get to see people that make me happy every day, and it makes [lacrosse] something I look forward to rather than something that's just another commitment that I have to do." 
Off the field, Christina's vibrant personality comes to the forefront. Close friend Ruby Johnson (12) first encountered Christina during their sophomore orientation after Christina introduced herself to Ruby, and the immediate connection between the two sparked a lasting friendship.
"[Christina's] biggest strength is her personality," Ruby said. "She's incredibly sociable — she can make friends with anyone and can continue to be sociable with them. She always has some interesting perspective on what we're talking about."
Christina approaches relationships with the same sincerity that she brings to her appreciation for humanities. Reflecting on the impact of her parents' influence, she has come to appreciate her parents for introducing her to history, a subject that deepened her connection with her parents while also inspiring her to pursue a path in the humanities, and the empathy that studying the humanities and connecting with lacrosse teammates cultivated.
"For me, history is an amazing way to bond and learn more about your roots and yourself, and I think it's good to try to understand it and to understand a lot of different people," Christina said. "It really gives you empathy for a lot of different situations and opens your eyes."