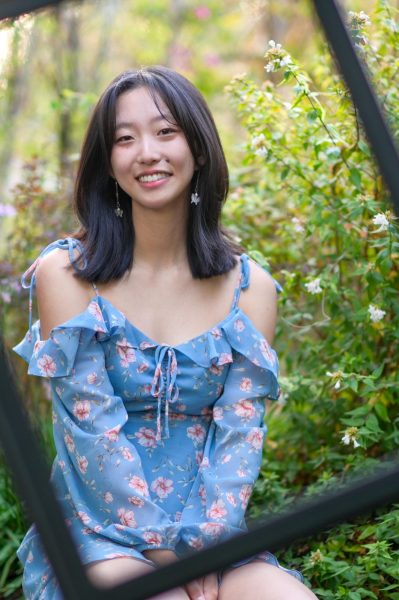 A self-portrait featuring a face covered in butterflies, reflective of self-consciousness regarding one's beauty and appearance. A novel, versatile robot that originally seemed daunting to build yet triumphed as Division Champion in the 2022 VEX Robotics Competition World Championship. A freshly-designed TALON yearbook published at the end of every school year that showcases the hard work of a journalism staff. 
These projects, which are culminations of Claire Su's (12) creativity, innovation and patience, embody Claire's growth as an artist, programmer and leader. For Claire, innovation took the form of creative problem-solving in computer programming.
"When I started doing CS, it showed me how creativity can be involved in STEM because there are so many ways to solve a problem with code," Claire said. "It's crazy how different people's solutions can sometimes be. It also showed me perseverance in problem solving. With coding comes creativity and patience. You learn how to solve problems with what you know."
Innovation drives Claire, and extends to her interests beyond STEM. An artist since childhood, she first put her ideas down onto paper with pencil, portraying incredibly realistic depictions of objects, then ventured into creating art with acrylic paint. As she matured as an artist, she began to face several mental challenges and barriers regarding her art and her source of inspiration.
"It's hard to pour out what's on your mind onto paper," Claire said. "It's also intimidating, because sometimes there's a fear of not creating something the way you imagined it in your head. Towards the end of middle school, I started creating my own pieces from my mind and not by referencing something else, which was a huge learning curve."
Realizing the importance of discovering the artistic methods and techniques that she enjoyed, Claire took a step toward maturing as an artist. For Claire, developing a personal style helped her understand her purpose in creating art.
"Trying is the most important thing," Claire said. "While painting about myself, I found that my style is using bright, prismatic colors. It made me have a deeper love for art than I did before. What motivated me to continue is that, to put it simply, it made me happy. That's what motivates me to do things, because if I'm not doing things that I love, then what am I doing them for?"
Embracing her unique style of painting, Claire more confidently expressed her creativity. Moreover, she recognized that while beginning to take risks is always difficult, the importance lies in overcoming her initial fear.
"I'm not a perfect person," Claire said. "I'm not the prime example of someone who is always taking risks and will explore anything. It's a process to grow from that, but I've grown a lot from who I was in middle school or even in freshman year. Taking risks is part of personal growth, and it's a nice reminder that you're constantly growing and you're constantly changing, and you can strive to be better."
Close friends and family of Claire noticed her increased confidence as a result of her growth over the last few years. During her childhood, Claire grew up as a quieter kid, often hesitant to try new things. Yet, over the course of Claire's development and maturity, sister Kaitlyn Su (11) witnessed Claire's increase in self-confidence.
"One of my English teachers back in middle school told me that humans don't become real humans until they hit high school, because as an elementary and middle schooler, you're walking around life, not knowing what you're doing, so you don't really have a sense of identity," Kaitlyn said. "Now, Claire feels like more of a human to me. She has way more confidence and personality, and she's more outgoing."
To become the person she is today, and to succeed in her goals, from completing her AP Drawing portfolio to succeeding in a robotics tournament, Claire internalized the intrinsic value of working hard and pushing through challenges to accomplish her end goals.
"[Claire's friends] have been watching, and we can see that she's worked really hard," close friend Trisha Iyer (12) said. "She's consistently improving and getting so much more interesting and challenging with her concepts and how she demonstrates ideas."
Claire's maturity also impressed upper school computer science teacher Anu Datar, who taught Claire in her junior year. When seeing Claire in action, Datar recognized Claire's perseverance when programming that, in turn, inspires her peers.
"Claire had a sense of calmness to her," Datar said. "She has the ability to encourage and inspire more women or younger girls to take up computer science and not get a feeling that it's a nerdy or geeky thing to do. When freshmen look at Claire, and they see that someone like Claire could be passionate about programming or robotics, it makes them want to do it. She's an excellent role model."
Claire's assurance helps her find light in difficult situations, a quality that Trisha admires.
"I really appreciated that she always figured out a way to make fun of the worst situations, and stay really optimistic about life," Trisha said. "If I can find one friend like her in college, I'll be really lucky."
With her newfound confidence in innovating freely and confidently, Claire tackles new projects — a new painting or mechanical robot — with resilience.
"'My motto is 'whatever happens was always meant to happen'," Claire said. "I like that motto because it tells you to stop worrying about what's not in your control. It also tells you to trust yourself, or to have confidence in yourself. I had always felt a feeling of inadequacy, like I wasn't good enough to be at this school with this reputation. But this motto helps me trust myself or have confidence in my abilities. If I'm here, I was meant to be here, and I'll make the most of it."