Fans. Literally. Six dancers holding enormous fans splashed with pink, orange and purple enter the stage as instrumental music plays. The names of each album float from the speakers in distorted audio. The dancers gather their fans into a pile, then release to reveal a glittering figure: Taylor Swift, who begins to sing her opening song, "Miss Americana and the Heartbreak Prince." 
The ecstatic shouts of more than 70,000 people (including me) erupt. The first leg of Taylor Swift's The Eras Tour, beginning March in Glendale, Arizona and ending August in Inglewood, California, took the nation by storm with fans scrambling to buy tickets. Fortune estimates that The Eras Tour could generate $4.6 billion in consumer spending in the United States, boosting local economies.
As this was my first time at a concert, I could not have been more excited. Here is my experience at The Eras Tour, from the moment I entered the stadium to the very last song.
Pre-concert
Sequins and fringes everywhere. Rhinestones in hair and glitter on cheeks. Colorful beaded bracelets and the number 13 drawn in chunky letters on hands. Decked in cowboy boots and glittering dresses of every color, fans all made their way towards the entrances of Sofi Stadium in Inglewood, California.
At this point, it's still registering that I'm about to see Taylor Swift perform live. I was surprised to see so many fans going all-out with their Taylor Swift themed costumes, from purple dresses for "Speak Now" to "Who's Taylor Swift Anyway? Ew." t-shirts for "Red." My favorite was a felt traffic light costume with "I," "D", "K" spray-painted over the lights, a reference to a lyric from the song "Death By A Thousand Cuts."
As fans waited for the concert to begin, many traded Taylor Swift-themed friendship bracelets with others, a tradition inspired by a lyric from "You're on Your Own, Kid." Holding a bag full of multicolored hand-made bracelets beaded with song lyrics, one girl gave me a bracelet reading "Drop Everything Now," a line from "Sparks Fly," which I absolutely loved.
Opening Acts
Wearing a flowy off-white dress, indie singer Gracie Abrams performed several songs from her albums "minor" and "Good Riddance." Known for her vulnerable lyrics, especially in her hit song "I miss you, I'm sorry," Abrams captivated the audience with her emotional authenticity. Performing live, Abrams's voice sounded more raw and personal than in her studio recordings, adding to the intimacy of her performance.
Next, HAIM, a pop-rock band consisting of sisters Este, Danielle and Alana Haim took the stage. I hadn't heard much of HAIM's music before the concert, but I immediately loved their spunk and powerful voices. At one point, Danielle Haim even broke a drumstick.
The Eras
Shortly after the opening acts, a clock on the big screen slowly counted down to zero. Fans cheered at the top of their lungs as Swift herself entered onstage. 
Swift set an upbeat mood for the concert with several energetic songs on "Lover." The first album in which she vocalizes her views on feminism and LGBTQ rights, Swift broke her previous silence with the release of powerful, upbeat songs such as "The Man" and "You Need to Calm Down" As she introduced "The Man," a song addressing double standards for men and women, especially in the music industry, Swift kissed her bicep, then donned a glittering blazer. During "You Need to Calm Down", fans around the stadium waved their bracelets, which lit up in a flashing rainbow pattern.
"Are you ready to go back to high school with me?" Swift shouted. Donning a gold fringe dress reminiscent of one she wore during her 2009 and 2010 "Fearless" tour, Swift twirled while holding her guitar just as she had over a decade ago. She sang all the classics from the album: "Fearless," "You Belong With Me," "Love Story." The music video for "You Belong With Me" garnered 1.4 billion views During this song, echoes of fans singing along reverberated throughout the stadium.
Released just five months after its sister album "folklore," "evermore" contains tracks with some of the most poetic, mature lyricism in Swift's career. Climbing over a long table, she sang "tolerate it," with a powerful performance to match the potent, poignant lyrics. Swift also performed "marjorie," a tribute to her late grandmother. Then, on a moss piano, she performed fan-favorite "champagne problems," after which Swift paused to let audience members cheer for over 7 minutes straight.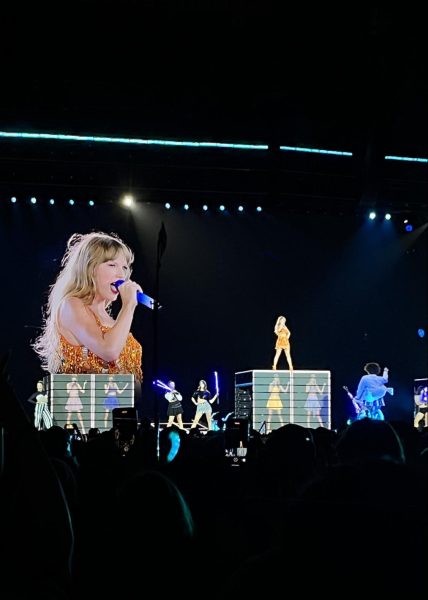 A snake on the big screen hissed, signaling the beginning of the "Reputation" era. "Are you ready for it?" Swift shouted, referencing her song "…Ready For it?" Its gothic, snake-filled aesthetic and references to clashes with celebrities such as Kanye West sparked some controversy. Yet, Swift's experimentation on this album makes it unique and unlike any of her previous music. With bold dance moves to match the magnetic beats and catchy lyrics of "Reputation," particularly during her "Don't Blame Me" performance, this era was one of my favorite parts of the concert. 
I would describe "Speak Now" as Swift's country princess era. Although not as musically sophisticated as some of Swift's later albums in my opinion, "Speak Now" holds its own charm: you can hear the youth in Swift's voice, the innocence in her lyrics. Many of the songs on the album have a fairytale-like feel. Wearing a lavender ball gown, Swift crooned "Enchanted" with the audience chanting along. As she sang the line "Tell them how the crowds went wild" in "Long Live," the crowd roared wildly.
With both upbeat, nostalgic classics like "22" and more vulnerable tracks like "All Too Well," "Red" contains some of Taylor Swift's most memorable songs to date. Songs such as "22" and "I Knew You Were Trouble" felt like a time machine back to the early 2010s. Hearing "All Too Well (10 minute version)" in its entirety allowed me to ride the rollercoaster of emotions that come with a breakup.
Written and released during the pandemic, "folklore" is Swift's most contemplative album and my personal comfort album. While louder, upbeat songs often make for a good performance, Swift mesmerized the audience with the softer, dreamier songs on "folklore." Swift played two of my favorite songs on the album, "august" and "illicit affairs." Soft acoustic strums spiraled into a beautiful transition between them. During "my tears ricochet," a haunting, melancholy song, Swift dramatically knelt to the ground, flinging her flowing dress with her, inspiring TikTok parodies with blankets.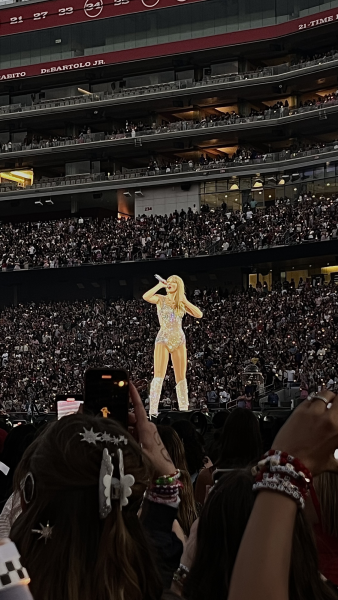 "1989" remains one of Swift's most popular albums, full of pop bangers like "Blank Space" and "Shake it Off" that dominated the radio when I was in elementary school. Reminiscent of her "Blank Space" music video and its performance during the "1989" world tour in 2015, Swift performed the song while swinging glowing blue golf clubs alongside dancers. Beyond the most popular songs on the album, "1989" contains so many more gems I wish she could have fit into the concert, such as "This Love" and "Clean."
Surprise Songs
At each concert, Swift played two unique "surprise songs." These felt more intimate, with Swift appearing at the front of the stage with just a guitar and piano as fans tried to guess the songs. The surprise songs gave Swift the chance to play some of her lesser-known songs, including many of my favorites that did not make the official setlist. These songs, followed by Swift diving into the stage for a costume change, were one of my favorite moments from the concert.
This album blends the captivating beats and edginess of "Reputation" with the sweet, swooning melodies of "Lover," proof that both can exist together. While I enjoyed the performances, I was disappointed that most of my personal favorite songs on this album, including "You're on Your Own, Kid," "Maroon," and "Question…?" weren't played. Only the most radio-popular songs made the setlist. My favorite moment was during "Midnight Rain." As Taylor sang the line "He never thinks of me / Except when I'm on TV," she flipped her hair and stuck her tongue out playfully.
An Unforgettable Night
I will spend the next decade wishing I brought a battery pack to the concert so that I could have recorded every song. Not a minute was boring. As someone whose life spans as long as Taylor Swift's 17-year musical career, hearing songs live that I've listened to since I was a child and meeting the mastermind behind them was like re-experiencing each chapter of my life. With every pose and facial expression revealing her emotion, Swift's live performance proved just as expressive and captivating as her lyrics.
But the magic of The Eras Tour lies not only in the music. Instead, it is the feeling of being surrounded by 70,000 people who all came together for one night, waving light-up bracelets in the sky to the beat.
I will hold on to the memories, and they will hold on to me.