Humans of Harker: Splash of spirit
With an unwavering determination, Sydney Adler leads her team to success
"Eagles on three. One, two, three. Eagles!"
Sydney Adler (12) huddles with her team, rallying her teammates as they prepare for the start of another game. It's Sydney's last home game, and the crowd cheers in celebration, the air electric with anticipation.
As the game begins, Sydney's determination is unwavering. In a carefully calculated move, Sydney releases a perfectly timed pass into the hand of teammate Keren Eisenberg (10) who propels herself into the air, and with a flick of the wrist, the ball soars into the back of the net, hitting the surface of the water with a resounding splash.
The culmination of teamwork and technique, moments of connection and execution like this are what Sydney cherishes in the sport.
Eight years ago, Sydney played water polo for the first time after her father founded the club San Jose Express Water Polo. Initially, Sydney only dabbled in the sport with her father's encouragement, yet as she learned more skills and her team started winning games, her opinion changed. 
"You're going to like something a lot more if you're good at it," Sydney said. "When we started winning, that made me change my idea of it a lot. Realizing that we were finally getting a team together and having water polo friends made me like it a lot more."
The team's improvement didn't happen overnight. Their achievement resulted from countless hours of practice and support from their coaches to play harder and more strategically. For Sydney, the competitive nature of the sport drives her forward.
"When someone else is better than you on your team, and there's competition between your teammates to be the best one on the team, it really encourages you to swim faster, shoot the ball harder or more accurately and put in extra effort at practice to be the best," Sydney said.
When Sydney sets her mind to improvement, she achieves success. It's through the combination of hard work, determination and consistent effort that she paves her own path to her goals. Along the way, she inspires her teammates to play to their own potential. Close friend and water polo teammate Kyra Hawk (12) remembers Sydney's openness to dedicating extra time in the pool to teach her new skills outside regular practices in their sophomore year.
"Sydney was intense, she really liked water polo and she really cared," Kyra said. "She never does anything halfway, and she puts a lot of effort into what she does. She puts everything into it during practice and during games, and she wants everyone in the team to do their best." 
As the captain of the upper school varsity girls water polo team, Sydney led the team to the Central Coast Section (CCS) semifinals in her junior year and the CCS finals in her senior year, setting new Harker records both years. Through every step of the way, she put her all into every practice and game, stepping up and guiding the team with passion, especially in the face of pressure.
Uncompromising in her leadership and determination, Sydney carries her confidence beyond the pool.
"Sydney is a very strong character," close friend Katelyn Abellera (12) said. "I can trust her with anything. If I ask her for an opinion, I know she'll be honest. She's not the type of person to follow the crowd."
Still, Sydney's success is the product of not only her continual drive but also her ability to grow from her own experiences. Her former water polo coach Ted Ujifusa once told her that the path to success lay in learning how to learn. His voice of wisdom continues to influence the way she perceives her journey and navigates through high school and beyond. 
"When you learn how to learn, it's not only in athletics, not only in school, not only in your social life: It applies to everything because it's the process of learning how to learn and figuring out how you learn," Sydney said. "You learn when you're intentional about the work that you do, when you put effort into the work and are mindful about doing the right things."
With wins follow losses, which Sydney has learned to value as opportunities to reflect upon mistakes. Through studying game film and analyzing plays and techniques with her team, Sydney discovers ways to continuously adapt to the game with resilience and an open mind.
"My favorite part is seeing improvement and being able to say, 'Yes, I understand the game better now,' or 'I have a new skill that I can use in the pool,' and then winning by that," Sydney said. "But also hanging out with your team is the number one reason that anyone does a sport. That's also equally as important to me as improvement in winning."
Naturally outgoing and outspoken, Sydney finds joy in uniting her peers and exercising her leadership to do so. To Sydney, representing her class in student council provides a platform for her to do just that — bring her class together through spirit and social activities. In sophomore year, Sydney joined Student Activities Board (SAB) and, in her senior year, served on class council. She fondly remembers her class emerging as spirit champions in their junior year after the spring spirit rally.
"It's fun to hang out with classroom acquaintances that you talk to in class outside of school," Sydney said. "What I saw student council as was an opportunity to get the class to talk to each other and have these hangouts in a casual way."
Sydney leads by doing. With her strong will and independence, she's unafraid to speak up for her beliefs. And at the end of the day, a win over a strong team and a fun spirit night with her class each start as simple goals — goals that Sydney never fails to achieve through her fierce determination and spirit.
"She's the best kind of student to teach because she's never thinking about how other people might respond to her comments," upper school English teacher Brigid Miller said. "It's so refreshing, that confidence, that self-assurance, that critical thinking. She's a leader: she has that self-reliance and isn't governed by what other people think of her."
About the Contributors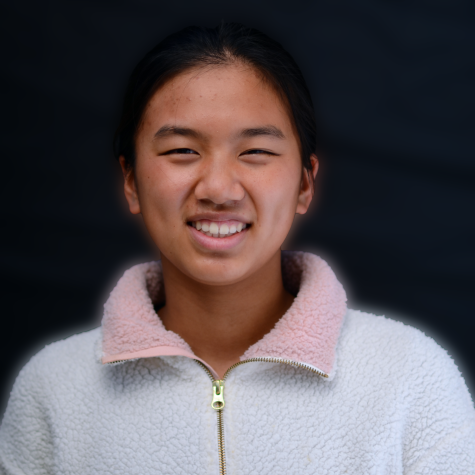 Olivia Xu, Humans of Harker Co-Managing Editor
Olivia Xu (11) is the co-managing editor of Humans of Harker, and this is her third year on staff. She looks forward to celebrating the unique stories...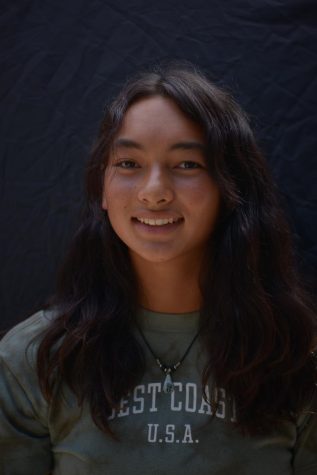 Angelina Burrows, TALON Reporter
Angelina Burrows (10) is a reporter for the TALON Yearbook, and this is her second year on staff. This year, Angelina hopes to build up confidence in her...