Humans of Harker: Playing with perspectives
Zeke Weng approaches life with drive and direction
The crowd watches in anticipation as the football sails over teammates and opponents, eventually landing in the outstretched grip of wide receiver Zeke Weng (12), a blurred figure sporting jersey number nine. Taped hands firmly grasping the ball, Zeke strides into the end zone and elicits deafening applause from his supporters. The unforgettable memory from his junior year homecoming game brings a smile to Zeke's face.
Zeke played football throughout his middle school years and fell in love with every aspect of the sport, from playing to watching to analyzing footage. While the fear of injury held him back from playing in ninth grade, a two-year hiatus from the sport reframed his perspective.
"With quarantine, your life can change in the snap of a second and you want to take any opportunities that you're given," Zeke said. "I liked the sport and a lot of my friends were playing. I was like, 'Why not just give it a chance?' I took a step outside of my box and fell in love with the sport even more." 
Returning to the field with a rediscovered love for the game, Zeke knew he wanted to elevate his team's level of play. To realize this goal, he worked alongside the coaches and other seniors to implement optional hour-long practices before school, which ran from January through the summer. Zeke credits the behind-the-scenes discipline leading up to the season for much of the team's success.
"Another thing that made our senior season more successful is that we already knew the playbook," Zeke said. "We didn't start from scratch. The additional practices also allowed us to put on a lot of weight and muscle and get faster. [The success] was just an accumulation of a full off-season's work."
Zeke understands that those unfamiliar with the inner workings of plays often misunderstand football. Behind the helmets, protective gear and tackles lies a complex and demanding game of strategy, planning and careful execution.
"Often, people think it's just a rough sport where you hit each other over and over," Zeke said. "But there is so much technique and understanding of the game that has to be put into actually winning games. It's understanding what the other person wants to do, what they think you are going to do and adjusting accordingly." 
Appreciating how every aspect of the game comes together empowers Zeke to lead the team by example. Close friend and teammate Dylan Parikh (12) observed Zeke's growth into a leader on the field throughout their years playing together. Despite his lighthearted nature and tendency to crack jokes during practice, Zeke takes his role as co-captain seriously and effectively directs the team's focus. 
"He's really grown to be a weapon on the field," Dylan said. "Over the summer we went through training, and he became confident in his ability to play. He's always joking around, but he also gets serious when it comes time to be serious — he's a true leader."
Another teammate, quarterback Rohan Gorti (12) first met Zeke before fifth grade. Along with being good friends, they played football together for three years prior to entering high school. Rohan reflected on how well Zeke assimilated into the team, naturally becoming a mentor to other players in a year with many freshman recruits. 
"Zeke is a natural leader," Rohan said. "He wasn't the big speech in the locker room kind of guy, but he leads by example and does everything at a hundred percent. He's had his injuries, but I never saw him scared on the field, and that really transferred into his leadership."
Zeke's leadership also shines outside of football. Over quarantine, he found joy in playing basketball and coaching younger players. Whether on the football field or basketball court, Zeke strives to ignite each athlete's love for the sport. From his own experience, he understands that the path to improvement starts with a passion for the sport and comes naturally with practice and time. 
"Instead of being someone's boss or telling them exactly what to do, you should instill a love of the sport so they will improve themselves," Zeke said. "It's really that simple — at the end of the day, anybody can recite facts, but if they don't love the sport there's no point."
Zeke compromises in how he spends his time. While focusing on enjoying the present, he also understands the importance of planning ahead, so he acts with purpose.
"I live my life enjoying the moment while investing into the future," Zeke said. "I only do things with purpose and do things I enjoy. For sports, it isn't just the competitive nature, but the idea of feeling like a part of something whole and loving something to the point where you lose your mind over it."
Over quarantine, Zeke also had the opportunity to reflect on his goals and values and expand his understanding of the world. He found many of his prior conceptions challenged by new perspectives, both philosophical and political. Now, he incorporates reflective time into his daily schedule, utilizing his free time to continue his personal growth. 
"There are so many conflicting ideas that you can never accept that your idea is totally correct," Zeke said. "Muscles build because you break them down and they grow back stronger. Ideas change when you're challenged, and you deconstruct your own perceptions to build new ones."
Close friend Sara Wan (12) first met Zeke at the beginning of ninth grade. From watching him find his goals and values over the four years, Sara admires Zeke's growth as a friend, athlete and student.
"If there's one person that I've seen grow the most in high school, it would be Zeke," Sara said. "As a friend, he's really caring, humorous and always just been there for you. On the football field, he's always pushing himself to work harder and thinking of ways to get better. As a student, he works hard, and he's able to figure out his priorities."
Ultimately, Zeke's focus and determination allow him to succeed. For football, it translated into the role of an admired leader and a reliable player: Zeke ended his senior season with 14 receiving touchdowns, setting a new school record. 
"Zeke has this tenacity to succeed," Rohan said. "It transfers to how much he works in the classroom and on the stuff he loves. When he lines up on the football field specifically, he's an incredibly competitive person and he's not going to let the guy in front of him beat him. If the play goes awry, the first thing I think in my head is: 'Where's number nine?'"
Additional reporting by Tiffany Chang.
About the Contributor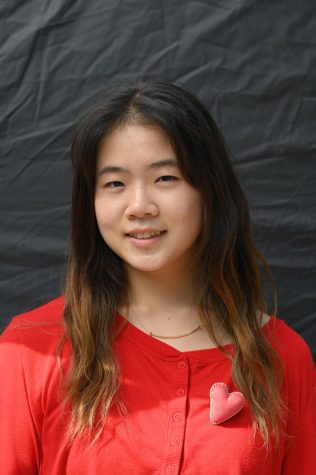 Jessica Tang, Photo Editor
Jessica Tang (12) is the photo editor for Harker Aquila, and this is her third year on staff. This year, Jessica looks forward to using new equipment to...