Humans of Harker: Learning to 'ace' life
Anushka Mehrotra pursues her passions with care and strength
The thud of a tennis ball against the pavement reverberates across the Blackford tennis courts as Anushka Mehrotra (12) competes in a doubles match against the Menlo School tennis team. The intensity with which Anushka and her partner are playing is felt by every spectator — as the two Eagles take on Menlo, a longtime rival of the girls tennis team, spontaneous "oohs" and "ahs" echo through the crowd. Anushka's performance, as well as her standing as captain and leader of the tennis team, is a testament to her dedication to the sport.
"I started playing tennis when I was six years old," Anushka said. "It's been a long time. I like being alone on the court with your thoughts and not having a game clock. You can always come back and win in tennis. There's no time limit. That's what got me really into it, and that's why I chose it over other sports."
Her love for the game and dedication to the sport is apparent to all who watch her play. Close friend Dylan Parikh (12) recalls a Central Coast Section (CCS) doubles match where Anushka and her partner faced a large deficit in a must-win set.
"They were down in the set, and they had to win the set in order to win the game," Dylan said. "She just went on a different level and started playing so well. She came back from that deficit to ultimately win the game and go to the next level of CCS. I think that's indicative of who she is: a very strong person who puts in a lot of effort towards the things that she's focused on."
Beyond excelling as a player on the tennis court, Anushka also strives to serve others as a captain. Reflecting on her high school tennis career, she harkens back to a particular instance when her duty as captain led her to push for change.
"I like doing things for others, and in all the things I do, I try to help others in a certain way," Anushka said. "As a captain, I tried to move picture day to the week after the homecoming dance because everyone was like, 'It's on the same day as the dance, I don't have enough time to get ready.' It's the little things that I do for other people and the fulfillment they get — that's what makes being a captain worth it."
Anushka shows similar care and empathy as a coach for middle and lower school tennis players and in her relationships with her friends. Aria Jain (12) remembers when Anushka helped her through a tough time with something as simple as fast food.
"My favorite thing about her is she's very aware of how people around her are feeling," Aria said. "She introduced me to the McDonald's spicy chicken nugget. I'm not the type of person to go and experiment with that, but she had me try it. Now, every time I go there, I get that spicy chicken nugget. That's indicative of Anushka. She always tries to help people, and when she sees that someone's down, she consciously asks how you are and if you need anything."
Upper school mathematics teacher Caren Furtado, who taught Anushka calculus during her junior year, reflected on Anushka's growth and dedication to the class.
"When Anushka started in calculus, her progress was very rapid," Furtado said. "When she first came in, she was nervous and quiet and unsure. However, some switch flipped, and she was so determined to do well. I remember this class where I noticed that things have changed, and she did very, very well."
Anushka's fighting spirit comes from within. Faced with the challenge of balancing a multitude of commitments, she remains determined to pursue what she is truly passionate about, drawing strength from a love for what she does rather than external pressure.
"Something that I've learned over the past four years is to look at things because you're passionate about them and not because of what they mean for your future," Anushka said. "I pursue extracurriculars that I want to pursue because I'm passionate about them."
With her high school playing career over, Anushka looks to the future, coaching dozens of youth players at the camps and clinics run at the Blackford courts. When she reflects on what she hopes to teach others and what shaped her high school career, she holds true to a lesson her father taught her.
"There is a phrase my dad has been telling me ever since I was a little girl: you can do whatever you want," Anushka said. "That's a phrase I live by. As I've grown up, I've learned that you shouldn't be held down by limitations. You can do things you're passionate about, you can do things you truly want to do and you shouldn't be held down by external factors."
About the Contributors
Gabe Sachse, Assistant Sports Editor
Gabe Sachse (10) is an assistant sports editor for Harker Aquila and the Winged Post, and this is his second year on staff. This year, Gabe wishes to write...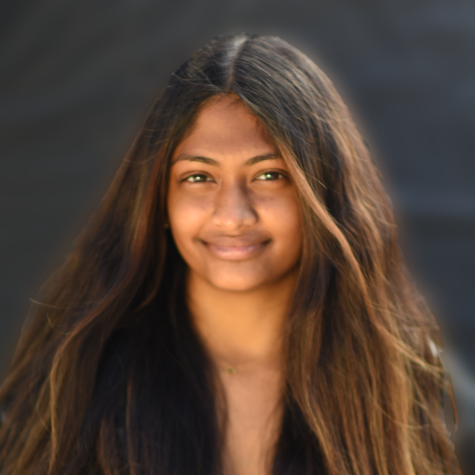 Smrithi Sambamurthy, TALON Sports Editor
Smrithi Sambamurthy (12) is the sports editor of the TALON Yearbook, and this is her fourth year on staff. Smrithi aims to create fascinating graphics...