Humans of Harker: Positive nihilism
By exploring new avenues with an open mind, Richard Zhang gains new perspectives on life
Colorful, lively fish dart around in a jungle of vibrant coral and rocks, their vivid hues accentuated by the sunbeams shining through the water. Among the endless sea of exhibits the aquarium has to offer, seven-year-old Richard Zhang (12) wanders from tank to tank, captivated by the magnificent creatures within. 
"My whole motivation to explore things came out of going to the aquarium as a little kid and reading every single sign about all the different fish and different animals there," Richard said. "It was mainly because the fish were pretty, but I somehow managed to read every single article I could about them."
Though his interests have fluctuated over the years, Richard never lost the insatiable love of learning he had as a child. As he grew older, he continued to branch out and challenge himself in new ways, music being one area he delved into.
Richard's music journey began with his first piano lesson as a child. Although learning the instrument proved challenging at first, he discovered the sense of satisfaction and fulfillment that came from creating music after attending an introductory music production class.
This initial spark of curiosity inspired Richard to pursue music more earnestly throughout middle school and high school: he started learning music theory in eighth grade and took several music composition classes in high school. Seeking to expand his horizons, Richard explored a wide variety of musical genres from ballad to orchestral, electronic to big band. He draws inspiration from almost anything, whether it be songs he has listened to or even a throwaway joke — for example, rhyming "Dr. Hart" with "Bonaparte."
"When you're thinking of a pun and you're thinking about anything you can put in it, the creativity expands," Richard said. "But sometimes you don't need inspiration because you just put down an idea that sounds cool."
Former instrumental music teacher Dr. David Hart, who taught Richard in his AP Music Theory class and orchestra, praised his enthusiasm and dedication to exploring new interests. Even during the pandemic, Richard's curiosity in music shone through, in his uniquely humorous compositions inside of class and thoughtful discussions outside of class.
"Richard is someone who creates his own scene," Dr. Hart said. "When he has a passion, like composition or music, he tries to bring people together through that. It wasn't just that he was so intellectually fun to be around and had great humor and connectivity, but he would feature other people so it was never just him by himself." 
Seeking to deepen his involvement with music at Harker in his junior year, Richard intended to join one of the school's instrumental groups. While he had originally planned to join Lab Band as a pianist, Richard jokingly mentioned to Dr. Hart that it would be funny to play the oboe in orchestra because of its French name, "hautbois."
"What's always stood out to me is his willingness to try something new — the oboe was not easy," Dr. Hart said. "His junior year, he joined the orchestra after I told him that I thought it would be really fun to have him in a music group. He was so talented. I encouraged him to play the oboe because Richard learns things so quickly. I knew that his musicianship could help lead him, and his great work ethic would help him learn quickly."
Playing the oboe, an instrument known for being one of the more difficult woodwinds to learn, was not the only leap of faith that Richard undertook in his high school journey. During sophomore year, he jumped at the chance to perform in the Student Directed Showcase (SDS), despite having no prior experience with theater. Since then, he has participated in every SDS production.
"I realized that trying those improvisation games at first was stressful, but then [I learned] to embrace that and have a baseline of preparedness to be able to go in and just figure it out," Richard said. "That was one of the things that changed me mentally."
To increase community spirit at Harker, Richard formed the Music Creation Club in his junior year, intending to foster a collaborative environment for learning about the process of making music. Originally, the idea for the club came to him in his freshman year, when he began informally teaching peers how to read sheet music. He gradually felt inspired to reach out to other students at school to form a community of musicians, among them the club's co-founder Shayla He (11). 
"He's someone who really works hard at his craft, and the reason that he contacted me was to learn more about music, learn about the industry and how to make music in general," Shayla said. "He's courageous in that respect, being able to just talk to anyone and reach out first." 
Richard's thoughtfulness and loyalty stand out to close friend Anthony Zhao (12), who has known him since kindergarten. Throughout the years, the two have formed a tight-knit bond, especially through shared passions like music.
"He's an incredibly thoughtful person," Anthony said. "Richard has always been that friend where no matter the time or distance, you know he's always going to be there for you. That's something that's really stuck with me."
Despite the inherent intimidation that comes with exploring activities outside of his comfort zone, Richard welcomes the challenge with open arms and embraces the unknown. By pursuing newfound interests with his unique mindset, Richard gains a wide range of one-of-a-kind experiences, in turn evolving into a more well-rounded and dynamic individual.
"If life is meaningless, why not just try something crazy? It's this positive nihilism perspective: if the world means nothing, then you could do something out of it," Richard said. "What am I missing? It's all out there, so maybe, I'll try something just to gain a little more perspective in that area."
About the Contributor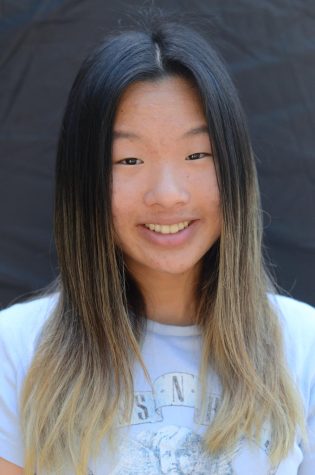 Tiffany Chang, Humans of Harker Editor-in-Chief
Tiffany Chang (12) is the editor-in-chief of Humans of Harker, and this is her fourth year on staff. She's looking forward to telling the story of the...