Humans of Harker: Score big
Indigo Lee explores his creative skills through business while deriving his work ethic from water polo
One app. Endless possibilities. Indigo Lee (12) recalls the moment his father recommended that he download Robinhood, an investment app. He was given 100 dollars to experiment with on the app. After losing nearly all of it, he realized that he needed to learn more about how to invest. What started as a way to make money to buy a new bike quickly developed into a deep interest and understanding of investing.
Before joining Harker in third grade, Indigo grew up surrounded by creative individuals at his previous elementary school, and he later applied these skills to other aspects of his life. 
"A lot of my creative, imaginative thinking has developed from that elementary school," Indigo said. "I was immersed in this group of kids that all had acute creative skills, which helped me develop this creativity and desire to pursue business."
Indigo's interest in business first sprouted in middle school, when he began trading stocks and investing on Robinhood. With the guidance of his father, he gained a better understanding of the field of business, which later prompted him to join DECA and found the investment club. Both activities nurtured his talents and allowed him to grow as a budding entrepreneur. 
Indigo's creativity aids him as he traverses through the deep and dense world of business. Years of trading stocks, competing and researching have provided him with invaluable experience. While the journey to gain new knowledge is long and tough, Indigo recognizes that determination will ultimately lead him to success.
"It's really challenging to go out on your own on the weekends and just research economics because it gets boring," Indigo said. "One of the things that's helped me do that is understanding that it's a vast field, but the more effort I put in to understand what's going on, the better."
Upper school history teacher Dr. Chris Gatto, who first met Indigo when he was a junior, commended Indigo for his strong desire to learn and his abilities to succeed in the classroom. In particular, he recalls Indigo's vibrant personality and inquisitive nature. 
"He is very enthusiastic about learning and very outgoing and affable," Dr. Gatto said. "He's very easy to talk to and extroverted. He's always active in discussions and has a lot of friends, and he's passionate about the material and intellectually curious."
In addition to his innovative thinking, Indigo's friends recognize his determination as a prominent facet of his personality. Close friend Michelle Dorfman (12), who met Indigo in freshman year during advisory, applauded his persistence and ability to excel in all aspects of his life.
"His determination is something I really admire about him," Michelle said. "He's very effective at balancing school and an incredible social life. Last year, he was playing for three water polo clubs at the same time, so his determination is really admirable."
With his persistent nature, Indigo has also carved a path to becoming one of Harker's strongest water polo players. After joining a new club team in high school, Indigo improved after being inspired by his new teammates and qualified for the Olympic Development Program, a program that selects and trains skilled athletes from across the nation to represent USA Water Polo.
Indigo credits water polo as an activity that transformed him into a goal-oriented and tenacious person. Early wakeups for practice have helped him develop perseverance as he chases his goals. 
"I've had a lot of 6 a.m. wakeups, which is really tough to battle — you're doing something you really don't want to do, but in the end, you know it'll help with something else," Indigo said. "Water polo has really helped me form this work ethic that's powerful enough to accomplish my goals."
Though he balances many commitments, Indigo still finds time to spend with people he cares for. Close friend Carol Wininger (12), who befriended Indigo after the pandemic, admires his easygoing and extroverted personality. She specifically noted his natural ability to make others feel included and appreciated.
"He can make anyone feel comfortable in a conversation or just by being around him," Carol said. "I've seen my more introverted friends open up to him. Also, I feel like when he values someone, he's always down to have those deeper conversations." 
Whether he is researching economics or training in the pool, Indigo remains committed to his goals as he heads into the future. When asked what qualities he hopes to take with him beyond high school, one word comes to mind.
"Resilience," Indigo said. "I have an excellent desire to learn, and even if learning gets hard, I push through it. Especially when I get to college and things are new, I definitely hope I will carry some of my high school discipline."
About the Contributors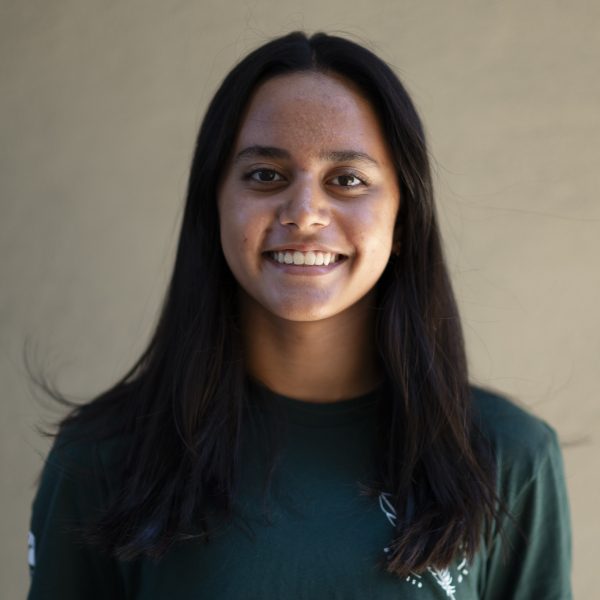 Janam Chahal, Reporter
Janam Chahal (10) is a reporter for Harker Aquila, and this is her second year on staff. This year, she hopes to write articles on a variety of topics...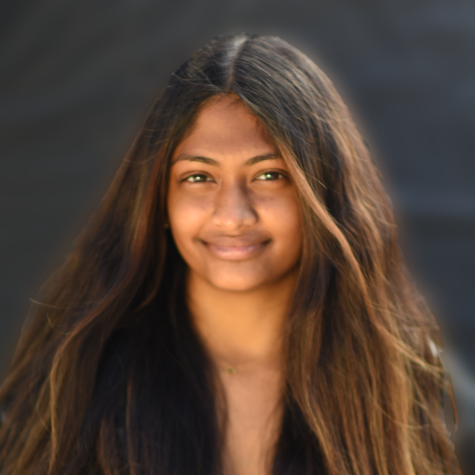 Smrithi Sambamurthy, TALON Sports Editor
Smrithi Sambamurthy (12) is the sports editor of the TALON Yearbook, and this is her fourth year on staff. Smrithi aims to create fascinating graphics...