Humans of Harker: Canter and convince
Carol Wininger applies lessons from horseback riding and debate to life
Alongside her fellow debaters, Carol Wininger (12) gathers around a computer in the middle of a conference room. As announcers on the other side of the screen read out names, the team waits in anticipation to find out who will progress to the national tournament as finalists. A moment of silence permeates the room before applause for Carol's team erupts amongst the debaters. She turns to her partner in excitement at their success: they had worked for years to make this dream a reality.
Carol first tried her hand at debate and public speaking in fifth grade, when she still lived in China with her family. Through joining debate, she hoped to work on her public speaking skills while trying out something new. After she moved to California, debate served as an anchoring activity between the two locations, providing a sense of familiarity in an area new to her.
After settling in at Harker and finding her place on the debate team, Carol faced a new challenge: transitioning from the junior varsity level to the varsity level.
"After two years of debate, you have to start going to varsity tournaments," Carol said. "I was so used to doing well at junior varsity that I felt like I plateaued after. It took a little bit of a push and some faith to put two more years of practice in, and then it started taking off."
Through her debate journey, Carol grew to recognize the importance of teamwork. Prior to joining debate, she had preferred working independently in academic settings. However, years of debating with a team instilled in Carol the importance of relying on teammates for success.
"With debate, it's impossible to work by yourself," Carol said. "You have a partner, so you're forced to work with them. The only way for you to enjoy and get the most out of the activity is to work on your own skills, work on your team skills and understand that when things get rough, it's okay to be vulnerable, trust your team and fall back on them."
As she developed her public speaking skills, Carol received invaluable support from older students and mentors. She navigated tough situations with their guidance, and once she became the varsity debate team's co-captain, she strived to provide younger debaters with the same level of support. Upper school debate coach Greg Achten has watched Carol grow as a debater since she was in middle school, and commended her leadership skills and support of the younger generation of debaters.
"She's a really talented competitor, but she's also just a great team leader," Achten said. "If I'm worried about interactions between students in a particular situation, I can always trust that Carol will help those students navigate them. She's done really great work with the younger students on the team and has just been a fantastic team captain and leader."
Sasha Masson (11) first met Carol at a debate tournament last year and has since come to know Carol on a personal level. Through their interactions, Sasha has experienced firsthand the support that Carol brings to the debate team. 
"Carol is able to help so many people that I don't think even she realizes it," Sasha said. "Just by being there for people and listening to them, Carol has helped a lot of people on the debate team. She takes the time to listen to every freshman, to have a conversation with them and to reassure them before they go into a debate round, and that's an admirable quality that I hope to have one day."
Outside of debate, Carol continues to expand her worldview and relationships with others through horseback riding. She found her love for the sport when she successfully completed her first jump on a horse, feeling a rush of adrenaline and a sense of accomplishment.
"It felt like all the work I'd put in for many years came to fruition because there's so much balance and unspoken communication you have to have with an animal that has total control over the situation," Carol said. "That first jump was emotional for me. I realized that the only way to be successful and enjoy it is to find this balance of maintaining and letting go of control."
Since then, Carol has undergone rigorous training to develop the mental and physical skills required for successful horseback riding.
Carol's persistence and determination in horseback riding also extend beyond the arena. Close friend Athena Wu (12), who first met Carol in sixth grade, recognized her unyielding perseverance in every situation.
"She's really determined," Athena said. "She always does the right thing, even if it's the harder thing to do, and she will not give up. If she wants to accomplish something, she will definitely go and do it."
Over the years, Carol has carried lessons she has gathered from horseback riding into her everyday life. The balance of maintaining control and letting go while horseback riding influences how she approaches relationships, allowing her to navigate personal interactions with a greater sense of ease.
"A large part of horseback riding isn't verbal communication — it's through the way your hands are placed or where your weight is," Carol said. "That's helped me really connect with people better, because I realize how just being there or even your energy around someone matters so much. Now, I try to bring positive energy into spaces because I've realized that it has a big effect on other people."
About the Contributor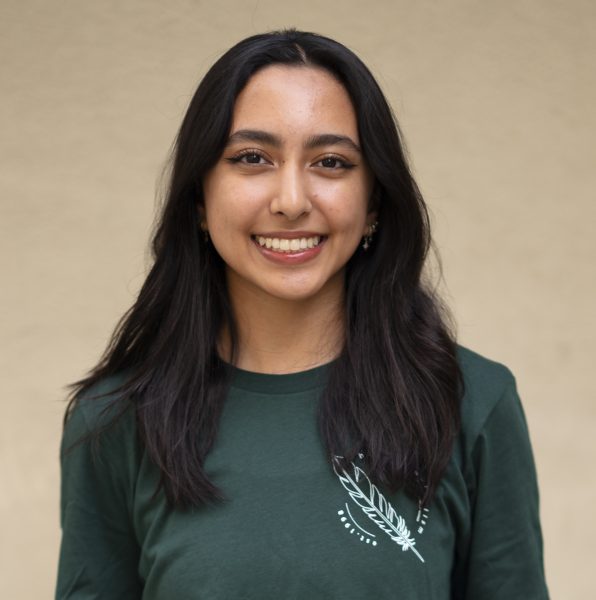 Shareen Chahal, Winged Post Co-Managing Editor
Shareen Chahal (12) is a co-managing editor for the Winged Post, and this is her third year on staff. This year, Shareen hopes to extend her coverage to...