AP Art Exhibitions showcase works by 22 students
Nichols Atrium is typically an echoey cavern inhabited by backpacks, fish and the occasional robotics student. Yet over a rainy weekend, tan partitions half a story high begin to populate the area, a labyrinth of beige and wheels. The days pass, and students lugging artwork flood the atrium. Every night, the walls of Nichols go to sleep carrying more art than they woke up with. 
The Advanced Placement (AP) Art Exhibitions opened last Monday, featuring four to five pieces of artwork each from the 22 AP Studio Art students. The exhibited works are part of the students' Sustained Investigation portfolios, a 15-image component of the final AP submission.
Students began installing their work last week in the Nichols building, with 3-D and 2-D work occupying the majority of the downstairs floor and walls and 2-D work hosted in the upstairs walls. A reception with snacks was held during long lunch on Thursday, inviting students, faculty, and parents of art students to view the exhibitions formally.
Featured work spanned three categories: AP Drawing, AP 2-D Art and Design and AP 3-D Art and Design.
In AP Drawing, taught by upper school visual arts teacher Pilar Aguero-Esparza, were the works of sophomore Eva Li, juniors Emily McCartney, Claire Su and Brittany Tsui and senior Claire Chen.
AP 2-D splits into two classes by medium: Wet Media and Digital. Wet Media, which includes paints and inks, is taught by Aguero-Esparza and featured juniors Maya Cheshire, Laurel Davies and Angelina Hu and seniors Ally Lee and Avery Olson. 
Digital, which ranges from digital illustrations on applications to photography, is taught by upper school Visual Arts Department Chair Josh Martinez and showcased the works of juniors Iris Fu, Julie Shi, Maryam Zehra and Sania Gupta and seniors Vasudha Subramanian, Carlo Banzon and Lakshmi Mulgund.
In AP 3-D, taught by upper school visual arts teacher Brian Caponi, were pieces by juniors Ceren Erdogan, Ruby Johnson, Kathryn Russell, Alena Suleiman and Annabel Yang.
AP 3-D student Ceren commented on the value of a school-wide exhibition, as well as her own experience with peer feedback.
"I think the art show is a really unique and useful opportunity for those of us in art classes since it allows us to perceive our work from the perspective of an onlooker or spectator," Ceren said. "Also for my work specifically, because I explored [work] with interactions with its viewers and how artwork can relay experiences."
Artists began their sustained investigations with ideation and discussions with their advisors. To draw out the student's topics, teachers used their own unique tactics. Martinez, for example, gave every student a sketchbook with the instruction to fill pages every week. Many students also created inspiration layouts, either in physical scrapbooks or digitally.
Often, students create what is familiar. Family, horror, body image, dreams, injustice. In the words of Aguero-Esparza, the AP "is a process that helps [students] identify their way of working more than anything."
AP Drawing student Eva chose the topic of horror for her investigation. Much of her previous work was defined by rigid constraints, so she wanted to try something different.
"I hope people enjoy my art," Eva said. "I want it to impact them. Whether I'm introducing them to the gorier and non-traditional side of art, or if they just like my work, I'm happy."
The exhibits remained on display until Friday. Upcoming initiatives by the Art Department include the remaining Honors Directed Portfolios (HDP).
About the Contributors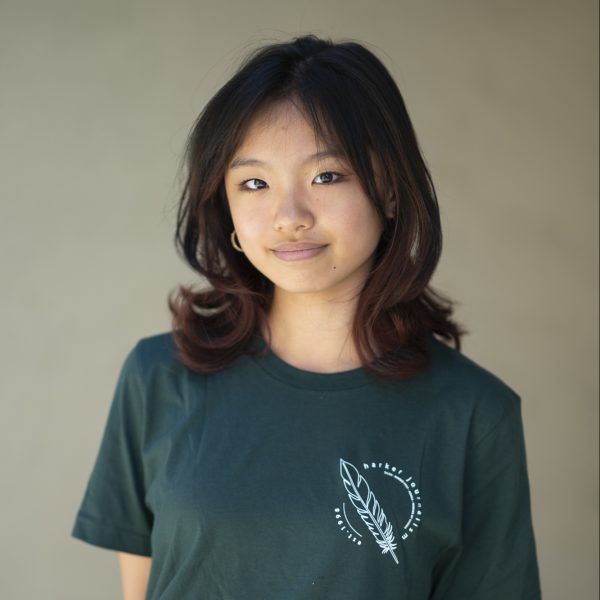 Alison Yang, Co-A&E and Lifestyle Editor
Alison Yang (11) is the co-arts and entertainment and lifestyle editor for Harker Aquila and the Winged Post, and this is her third year on staff. Alison...
Alena Suleiman, Aquila Co-Editor-in-Chief
Alena Suleiman (12) is the co-editor-in-chief of Harker Aquila, and this is her fourth year on staff. Alena wishes to interact with new people and work...