Humans of Harker: Swishes and sells
Grace Hoang nets her business sales
The game clock ticks, another second gone. Grace Hoang (12) takes control of the ball, eyes darting around, searching for an opening. Spotting three defenders in her path, she makes a quick decision, passing the ball to an open teammate in the corner. In a blur of motion, Grace completes the game-saving assist, bringing the game to a tie.
From basketball to business, Grace involves herself in many activities around campus. She began playing basketball in fifth grade, originally picking it up alongside her childhood friends. 
"We all founded this team together to play club basketball," Grace said. "My friend's [father] was the coach. We all started from having zero skills, but we did it together."
Entering high school, Grace continued to pursue her love for basketball. Balancing daily practices and games with her academic schedule proved challenging, forcing her to develop her time management skills. Through basketball, she has also been able to forge strong bonds with her peers.
"Getting physical exercise is important, but the people made it even better," Grace said. "Some of my best friends are on the team, and I wouldn't have met them if I didn't play, so that definitely made it worth it for me."
One of Grace's fondest memories from playing basketball was a trip to LA with her friends for a tournament. Sharing a hotel room with six people per bed, the team spent their time bonding over meals and hanging out. For Grace, the relationships she has built with her fellow players have been a significant source of motivation, inspiring her continued involvement with the sport over the years.
Co-captain of the varsity girls basketball team and close friend Leisha Devisetti (12) met Grace in freshman year when they both tried out for the basketball team. From playing basketball together and sharing an economics class, Leisha has observed Grace's talent for bringing people together through humor and laughter.
"One thing that she really brings to people is the fact that she's really funny all the time," Leisha said. "That's what people love about her — that she always makes everyone laugh. She makes basketball and economics really fun."
Grace experiences a sense of liberation on the basketball court. To alleviate her stress, she takes a lighthearted approach to the game and focuses on having fun in the moment.
"I would say that basketball's a break from school and stress," Grace said. "When I'm in a game, I feel excited and happy to be playing with my team. It's definitely something I look forward to — playing games. It's adrenaline inducing."
Whether it's basketball or entrepreneurship, Grace believes in putting her full effort into whatever pursuit she's working on. In the realm of business, she dedicates herself wholeheartedly to both class and DECA.
Grace originally started DECA in sophomore year with the encouragement of her father, and asked Annmaria Antony (12) to be her partner. As Grace's basketball teammate, DECA partner and close friend, Annmaria noted qualities in Grace that make her stand out from the crowd.
"She's always been the person who adds that creative flourish for us," Annmaria said. "You have to add in your own touch and your own ideas that are beyond what DECA asks you, and she's always been that person who's been more creative."
Grace fondly recalls the experience of advancing to DECA internationals with Annmaria during their junior year and eventually winning first place. The two friends had dedicated themselves to rigorous preparation, waking up at 5 a.m. to complete practice tests and role plays in anticipation of upcoming competitions.
"We definitely felt like the pressure was on," Grace said. "We really, really, really wanted to win. Getting to go up on stage and get a trophy, and also just seeing all the DECA kids there, was a really cool experience."
Through her journey with DECA, Grace has developed many valuable skills, including the ability to be able to speak with confidence about any topic. 
"With most of these topics, they're telling you to create strategies to help a business, and I don't know anything about that," Grace said. "But being able to speak as if you know what you're talking about is a super useful skill. In general, when you're talking to adults, it's really important to come across as if you know what you're talking about."
Upper school business teacher Michael Acheatel met Grace through DECA, and started working more closely with her after she took his Business Incubator class as a junior. He described Grace as someone who brings seriousness, passion and commitment to the classroom, but also her light-hearted nature.
"I just think Grace is really well-rounded, so when you put her in any kind of environment, she can hold her own because she has a wide range of skill sets," Acheatel said. "You see that in terms of her various roles on campus, which include being a leader on the basketball team and DECA. You can tell that she wears a lot of different hats."
Reflecting on her experiences with business, Grace finds that one of the most fulfilling aspects of it is the strong relationships she has developed with her teachers and partners, including Acheatel and upper school business teacher Patrick Kelly. While she finds the concepts of marketing, entrepreneurship, finance and management fascinating, she particularly cherishes the community that comes with business.
"For me, the most rewarding part was just figuring out that business is what I want to do with my life," Grace said. "Mr. Acheatel and Mr. Kelly showed me how cool business could be and that it's what I want to do in the future."
About the Contributors
Katie Tcheng, TALON Reporter
Katie Tcheng (10) is a reporter for the TALON Yearbook, and this is her second year on staff. This year, Katie wants to take photos for more events and...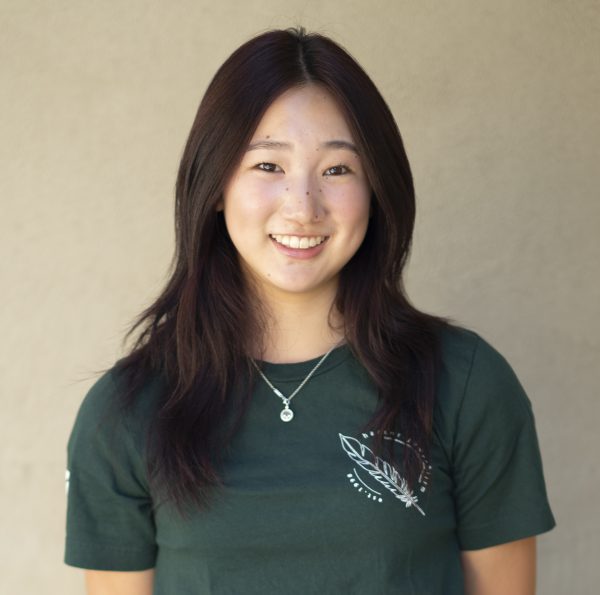 Gemma Chan, TALON Co-Sports Editor
Gemma Chan (11) is the co-sports editor for the TALON Yearbook, and this is her third year on staff. This year, Gemma hopes to improve her comfort in her...