Humans of Harker: A crown for a cause
Annmaria Antony chases her passions through every walk of life
An off-the-shoulder, silver Terani Couture gown drapes down to Annmaria Antony's (12) feet, adorned with shimmering sequins and sparkles. Thin, light gray feathers line the bottom of the dress, lending a touch of grace and sophistication to her outfit. 
"California, how do you feel about people who disrespect pageantry?" 
Upon hearing the question, Annmaria replies with an answer. 
"Times have changed and pageantry has too, but people associate pageants from what they were a century ago," Annmaria said. "We can all benefit from understanding where their opinions come from and utilize criticism to reform pageantry for the better."
At that moment, she did not know that her articulate response would bring her one step closer to winning the title of Teen Miss California Earth. Growing up watching the Miss Universe and Miss World pageants, she felt pride in seeing other Indian American women, including Ashwarya Rai, win such prestigious contests. Given the underrepresentation of people of color in pageantry, she admires the accomplishments of Indian women.
"Having those role models really inspired me to keep going," Annmaria said. "When I first started competing, I don't think there was another Indian person who personally competed against me when I went for Miss California."
The lack of representation for people of color roots itself in the history of pageantry: many chose not to compete at all, and if they did, they rarely earned titles. So, inspired by her mother, who competed in pageantry growing up, Annmaria joined the contest vying for a title not only for herself, but for a larger community of underrepresented girls in pageantry. Breaking the old trend, Annmaria became the first Indian American to win Teen Miss California Earth in 2021. 
Still, her first time entering a pageant came with its own challenges. 
"At first, I was really intimidated because a lot of the girls that do pageantry have a lot of experience with it," Annmaria said. "A lot of my friends I've made through pageantry go to Milan Fashion Week or New York Fashion Week all the time, so they're really used to walking in heels and doing things like that, and I wasn't."
In this unfamiliar setting, Annmaria met a community of girls who welcomed her with open arms. They showed Annmaria the true excitement of pageantry, while sharing a similar commitment to community service. 
As an organization centering around environmental service, the Miss Earth contest furthered Annmaria's interest in women's health. After learning about the disparity in healthcare for women in Uganda, Annmaria contributed to a women and children's hospital in Budaka, a small village in the eastern region of the country. She later traveled to Uganda to see the hospital and witness the injustices in the country's healthcare system firsthand, deepening her desire to promote women's health.
"It opened my eyes to the fact that we are so lucky to live where we live," Annmaria said. "You can't just turn away a woman at a health center or hospital because they're a woman, right? But in developing countries, when there's a lack of infrastructure and a lack of facilities to treat people, women are turned away because they're told that their pain is psychosomatic or just in their head in order to prioritize male patients. I didn't even know that could be possible until I traveled to Uganda."
Annmaria continues her community service through Girl Scouts, and she currently represents the program at the United Nations (UN). At conventions, she actively advocates for female health by describing her own experiences with building the hospital. Speaking at the UN allows her to discuss new policies with international representatives and broaden the scope of her impact. 
One encounter in particular moved Annmaria: towards the end of her speech to the other UN representatives, a young girl, whose family originally resided in the village of Budaka, approached Annmaria to express appreciation for her work.
"She [said], 'Thank you for what you did. Your nonprofit really helped our village,'" Annmaria said. "It was such an inspiring, heartwarming moment because the odds of seeing someone here that's from that village is just so small. The fact that she was there in the audience and she got to hear what I had to say was just such an amazing experience that changed my life."
For Annmaria, seeing the tangible impacts of her efforts continues to empower her in community service. 
Upper school business teacher Micheal Acheatel recognized Annmaria's strong passion for self-growth that drives her through her endeavors. After meeting her through DECA, Acheatel began working more closely with her in junior year in the Business Incubator courses.
"I got to know her on a deeper level in terms of what she's truly motivated by," Acheatel said. "She really cares about growth and getting better and learning and improving and being the best version of herself that she can."
Close friend Grace Hoang (12), who often bonds with Annmaria over their love for movies and exploring new restaurants, admires her dedication and work ethic.
"She can do so well in school, but also have so much fun at the same time," Grace said. "I don't know anybody else that has that kind of balance." 
In the classroom, Annmaria's ability to have fun and enjoy the process of learning cultivates a positive environment. Close friend Leisha Devisetti (12) praised Annmaria's ability to light up the room with her presence. 
"She always makes people laugh around her, and she's really funny," Leisha said. "She does a lot. She talks about her life experiences, and they're nice to learn from and also to laugh at."
Regardless of the context, Annmaria's pursuit of excellence has led her to many meaningful experiences that she holds close to her heart. To this day, she still contacts and supports the girls she met through pageantry, considering them some of her closest friends. Her dedication to community service has brought about tangible improvements in the lives of women in Uganda, making her efforts worthwhile.
"Doing what I love made [high school] so worth the experience," Annmaria said. "I never felt like I was pushing myself to do it; I always felt I genuinely wanted to do it. That's something I want to keep doing as I get older. I don't want to be stuck doing things that I don't like, and I want to keep going in the areas I'm passionate about."
About the Contributors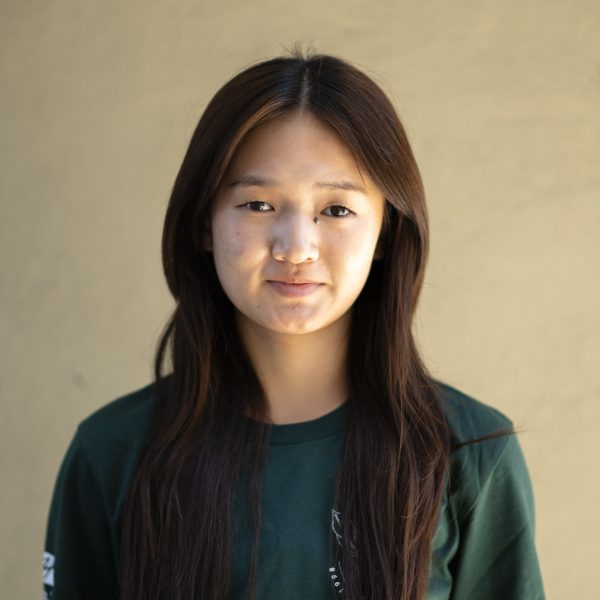 Charlize Wang, Reporter
Charlize Wang (11) is a reporter for Harker Aquila, and this is her second year on staff. This year, Charlize hopes to improve her journalistic writing...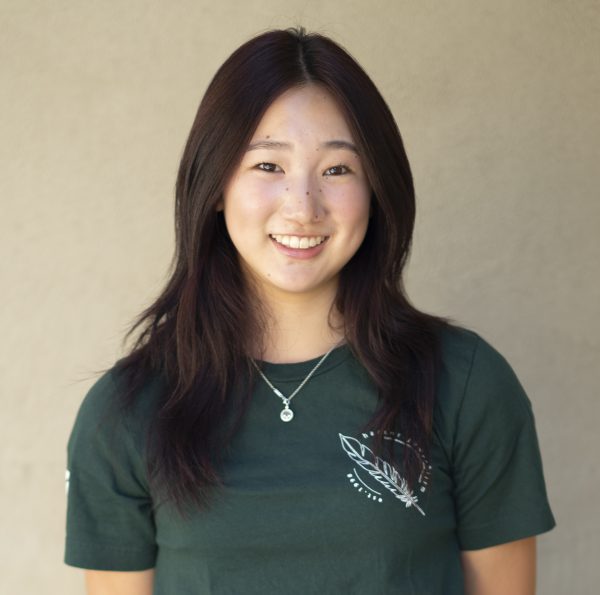 Gemma Chan, TALON Co-Sports Editor
Gemma Chan (11) is the co-sports editor for the TALON Yearbook, and this is her third year on staff. This year, Gemma hopes to improve her comfort in her...