Humans of Harker: Chords of a community
Sophia Bronder-Chang exudes a contagious positivity
Bright stage lights illuminate the Patil Theater during the upper school orchestra's holiday concert and the first cello string reverberates, filling the room with a melodious tune. Sophia Bronder-Chang (12) steals a glance at her orchestra stand partner, exchanging a sparkling look of anticipation. Surrounded by old and new friends alike, she feels her nerves dissipate and her smile broaden.
Sophia started her instrumental journey as a pianist, but at age 6, found herself entranced by the sound of the cello during a recital. She began to closely observe and listen to cellists, yearning to play the instrument herself. Despite initial resistance from her parents, her pleas for cello lessons eventually prevailed.
While learning the ins and outs of a new instrument and mastering the delicate techniques of the cello proved difficult, Sophia's persistence carried her over hurdles along the way, and her determination allowed her to improve her skills rapidly. Close friend and stand partner Abby Tcheng (12) commended Sophia's work ethic, which has undoubtedly shaped her into the cellist she is today. 
"She's very resilient," Abby said. "If something doesn't go her way, she doesn't let it get to her. She bounces back really easily. Her resilience also transfers onto other people, and I can see that with the friend groups she's in."
In lower school, Sophia immediately jumped at the opportunity to join the orchestra, seeing it as a chance to expand her interests and excited by the idea of performing music. After spending years playing with both the middle school and high school orchestras, Sophia has found a strong support system within the music community.
"Since I joined orchestra, I have become friends with people I maybe wouldn't become friends with, which is really crazy to think about," Sophia said. "I met one of my best friends because we were assigned to be buddies because she also plays cello." 
Orchestra has provided a space for Sophia to comfortably be herself. The supportive environment has accepted her during both her quieter moments and those where her charismatic and outgoing side shines through. As Sophia develops bonds with her orchestra peers, she also recognizes her duty as an upperclassman to be an approachable mentor to younger students.
"I try to wave to underclassmen and say 'hi' to them as much as possible because when I was a freshman, I was scared of the seniors in my section, and I don't want that to happen," Sophia said. "I want to be friendly, and I want to be welcoming. One of my goals is just to try to get to know everyone in the section."
Sophia's passion for performing doesn't stop at orchestra. She also shines on stage through dance, having performed in the upper school dance production for the past four years.
"I am really happy to be able to perform my hard work to the people I know and love, so [the dance show] is a very rewarding process for me," Sophia said. "I definitely feel very happy, and I can't stop smiling." 
Sophia has discovered that dance provides her with an uplifting escape from her academic studies. Over the past two years, she has immersed herself in the world of student-choreographed routines, finding a community of like-minded peers to practice with. She loves the relaxing yet invigorating experience of learning new choreography, practicing her leaps and tilt jumps and exploring the beautiful variety of dance.
"Her passions [in dance] go beyond just a thing she does every year," close friend Harper Brada (12) said. "She clearly likes it, and she does it in other fun, more personal ways, too."
Sophia's mindset of resilience stretches far beyond just performing arts. When she started high school, juggling classes, extracurriculars and a social life challenged her. Yet, after recognizing her limits and prioritizing her happiness, Sophia has learned to establish a healthy balance. Now, she supports those facing similar challenges, offering a source of joy and laughter to those around her. Close friend Makayla Aguilar-Zuniga (12) values the uplifting conversations she shares with Sophia. 
"Whenever I'm telling her about any of my troubles, she always finds a good solution that would work for me," Makayla said. "She is really positive. With her, I can talk about everything."
While performing in front of large audiences in the arts and in the classroom used to be nerve-wracking for Sophia, she has found confidence in self-expression through her high school journey. Upper school psychology teacher Dr. Julie Turchin, who taught Sophia for two years, has observed her transformation from reserved to poised and articulate. 
"She has become more confident and less shy than she was over time," Dr. Turchin said. "I know that she was really nervous to present in front of a group last year, and then this year, students have to lead discussion groups with their peers as part of the class, and she rocked it."
By building friendships and spreading kindness throughout the school, Sophia aspires to leave a lasting positive legacy at Harker. Whether performing in the Patil Theater or interacting with other students in the classroom, she radiates an infectious energy that is both effervescent and optimistic.
"I want to be remembered as someone who had a positive impact on the community, and I want to make people feel as welcome as possible," Sophia said. "In orchestra, I want others to feel comfortable and know they can be themselves. I want the underclassmen to know that it's great to be yourself."
Additional reporting by Tiffany Chang and Sabrina Zhu.
About the Contributors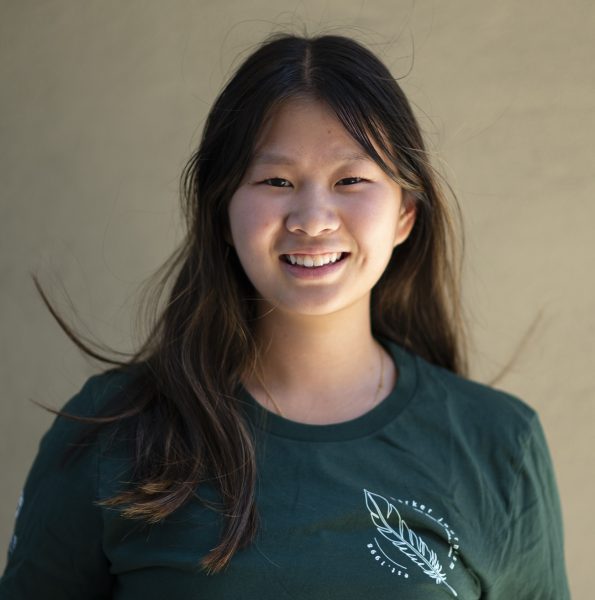 Tiffany Zhu, Reporter
Tiffany Zhu (10) is a reporter for Harker Aquila, and this is her second year on staff. This year, Tiffany hopes to meet more members of the Harker and...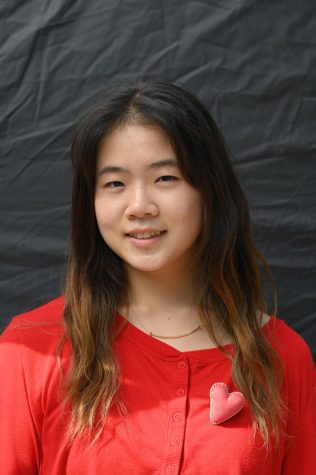 Jessica Tang, Photo Editor
Jessica Tang (12) is the photo editor for Harker Aquila, and this is her third year on staff. This year, Jessica looks forward to using new equipment to...