Humans of Harker: Directing change
Aastha Mangla sparks community impact through fearless leadership
The Athletic Center buzzes with the energetic ambiance typical of any school meeting. Muted conversations descend down the bleachers as students wait for the next speaker to approach the stage. Near the front of the bleachers, Aastha Mangla (12) accepts the microphone and walks to the center of the room. Hundreds of expectant faces stare down at her. Whispers continue. But when Aastha opens her mouth to speak, the entire room falls silent. 
Aastha's voice travels throughout the layers of students and faculty facing her, never breaking once. She speaks on behalf of the Gender and Sexuality Alliance (GSA) and shares her experiences of grappling with her own identity. When she concludes her speech, the audience erupts into unified applause, and she breathes a sigh of relief, returning to her spot on the bleachers with a grin on her face.
Moments earlier, Aastha stood outside of the Athletic Center's glass doors, furiously typing on her phone as students swarmed past her. She recalls her reluctance to speak in front of the entire school on National Coming Out Day. Prior to her speech, she had contemplated whether she had the courage to go through with it. It was words of reassurance from her mother, she remembers, that encouraged her to push past her nerves.
 "'Remember, this isn't for you; this is for other people.' It changed my perspective a lot in things that I did because I would get nervous about things," Aastha said. "I'm the one who needs to be vulnerable so that others can [be vulnerable]. After I heard that, I was able to deliver the speech, and other people were emailing me or telling me that my speech helped a lot."
Witnessing her mother's efforts to include female voices in the work sector inspired Aastha to engage in community service, albeit spontaneously at first. She took on the role of GSA President in her junior year without much deliberation but has realized the impact of simple but significant initiatives on fostering inclusivity among students. For instance, the implementation of pronoun forms, gender-neutral bathrooms and a revised dress code has made a noticeable difference in students' sense of belonging.  
"I heard so many tragic stories of how unincluded people felt," Aastha said. "Hearing those stories makes me want to do something because I'm in that position where I can do something. I also saw that growth where people will start talking about the positive experiences on campus after I implemented these changes. I'm lucky because I get to not only make changes as GSA President, but I also get to talk to the people I'm making changes for regularly."
Of course, in all of these projects, Aastha garners the support of her fellow GSA members and friends. Close friend Shreya Balakrishnan (12) considers Aastha's friendliness and confidence among her most admirable traits.
"[Aastha is] really charismatic, and she makes everyone like her," Shreya said. "I don't think I know a single person who has a bad thing to say about her because whenever she talks, you're very intrigued and drawn to her energy."
Based on her accomplishments, one's first impression of Aastha might be that of a natural leader, but Aastha actually attributes much of her confidence to her experience with acting, a hobby she picked up in middle school. Participating in theater taught Aastha a lesson that has stayed with her to this day: the importance of fearlessness. 
"There's always a point in someone's theater life where they realize that people don't like people who are really reserved in their acting," Aastha said. "You have to put it all out there. You have to be unafraid to look stupid. That realization was pretty important for me because now I'm not afraid to just do things."
Now, Aastha's confidence propels her in all areas of her life. It carries her through her ambitious goals in GSA and even in everyday situations, such as her math class. Upper school math teacher Caren Furtado fondly looks back on Aastha's unrestrained approach to solving math problems. 
"When we would solve problems, more students would tend to wait to say, 'Okay, what are the steps?' Aastha has never been like that," Furtado said. "She would always say, 'Okay, so we've learned this before. Can I use what we've done before and figure out what to do next?' It was so consistent with her. She was willing to try something new based on what she already knows. She's not afraid of being wrong."
When Aastha became a Student Directed Showcase (SDS) Director in her senior year, she admittedly felt a sense of inexperience and doubt while making decisions. After all, directing a play was different from any other form of leadership she had previously undertaken. Throughout the process, she did stick to a primary goal of catering to her cast, which paid off. 
"I felt like I made the right decision choosing a play that makes it more fun for my actors rather than more fun for the audience because at the end of the day, I cared a lot more about my actors," Aastha said. "Getting that gratitude from them, like the letters and all, felt very meaningful. It felt more meaningful than any audience compliment I got."
Although working in group settings cultivates Aastha's empathy for those around her, her carefree nature and humor persist in all settings, whether it be laughing with her cast or conversing with friends. Close friend Lucy Feng, who portrayed Germaine in Aastha's SDS play, "Steve Martin's "Picasso at the Lapin Agile," treasures the frequent yet entertaining conversations she has with Aastha under the stairs of the Rothschild Performing Arts Center.
"We never get bored of each other, which I hope continues," Lucy said. "It's such a nice feeling to be with someone, and you haven't run out of conversation because there's always something to talk about. Usually we just like to talk about very mundane things. Aastha has this wonderful knack of turning anything into something much funnier than it actually is."
Another tool Aastha used to build her play was her prior experience in art. Art has always enamored her, but during middle school, she began to feel constrained by others' expectations that she would pursue a career in art. Entering high school, she engaged less in art, but it eventually reemerged in her other passions, and she learned to relinquish the restrictions she had previously imposed on herself.  
For example, Aastha developed a passion for biology in her junior year, as it allowed her to delve into questions surrounding gender identity. Her study of human anatomy within biology has also helped with her art, providing her with a deeper understanding of the human form.
"Biology is art backwards, where it's like you're seeing the full piece and you're trying to find all the different elements that contribute to it," Aastha said. "I think that's what drew me to biology. It was a way to help people that wasn't necessarily through my own creative vision."
At the intersection of Aastha's interests in biology, art, theater and community service is her dedication to her projects and to herself. Regardless of her tasks' individual significance, Aastha treats each one like a journey with no bounds. 
"I want to be remembered as someone who, every time they were given a job to do or a role to fulfill, always did more than just that role," Aastha said. "In a lot of the things that I do, I'm very passionate about them, and so I'm always expanding on the duties I already have. I'm always trying to do more than what's strictly given to me because I feel like it just makes life more interesting."
About the Contributor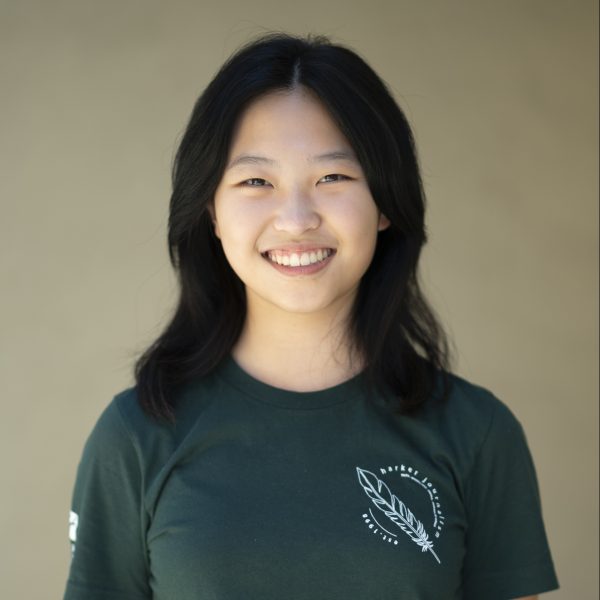 Desiree Luo, Aquila Co-Managing Editor
Desiree Luo (12) is a co-managing editor for Harker Aquila, and this is her fourth year on staff. This year, Desiree hopes to interview new sources and...