Trip down memory lane: Nostalgia-themed Hoscars return for fifth annual run
Spotlight. To thunderous applause and a dramatic backing track, on saunters Gordon Chen (12) carrying Kris Estrada (12) to the center of the stage.
And so begins the fifth annual Hoscars performances, held in the Patil Theater during a special schedule on Feb. 3. Upperclassmen attended the first performance at 11:10 a.m. followed by the underclassmen's viewing at 12:25 p.m.
The show began with Lucy Feng (12) and Miki Mitarai (11) singing "Ain't No Mountain High Enough" with Nina Franz (12) on the electric guitar. Dancing to "Manwa Laage" and "Morni Banke," upper school computer science teacher Anu Datar, Ananya Pradhan (9), Saanvi Bhargava (10) and Reshma Kosaraju (11) followed them in pink skirts bursting with sparkle. 
Up next were two original compositions, the first performed by frosh Timothy Deng, Helen Gu, Simon Kirjner, Yash Sachdeva, Vinayak Sinha and Albert Yao. Opening with Helen and Simon's vocals, the song featured Albert's rapping and culminated in a guitar solo by Yash and the entire ensemble singing together.
"I made the song on my computer," Albert said. "We had a couple of rehearsals, maybe three hours total. The performance was pretty good; everyone did their parts pretty well." 
The audience commended the skill demonstrated by the young performers. Audience member Jasmine Ishikawa (11) praised the talented performances.
"I loved the talent and originality that went behind each act," Jasmine said. "I especially loved all of the different original pieces we all got to hear, and I especially hope the group of freshmen continue working together, they're doing great." 
Harker's Music Creation Club composed the second original piece, performed by Kaiyue Guan (10), Shayla He (11), Hita Thota (12) and Anthony Zhao (12). Clad in all-black, the performers began with the latter trio's vocals and Kaiyue on the piano. He then took center stage to perform his self-composed rap before returning to the keyboard, concluding the song to resounding applause. 
"I've never performed in front of the school like that before," Hita said. "I was really nervous for the first performance because my friends were in the audience, but I feel that doing it gave me confidence for the second performance, especially since this is one of the first times I've sung in front of a crowd."
The second act commenced with seniors Alexander Lan and Jacob Huang as the emcees. They introduced Tiana Salvi (10), who performed a self-choreographed hip-hop style dance solo to "Wish I Never" by Kehlani, skipping along the stage in red converse. 
"It was really nerve-wracking, both performing for the upper and underclassmen, because I did it solo," Tiana said. "Even though I messed up a bit in both of them, it was a pretty fun experience."
A cappella group Signature stood in a semicircle facing the crowd, performing "White Winter Hymnal," strong vocals blending with Sawyer Lai's (12) bongos. Ipsita Mandal (11) then played Ludovico Einaudi's "Nuvole Bianche" on the piano, the rhythm rolling in waves of crescendo and diminuendo across the crowd. 
"This was a piece that I'd been practicing for a while, just for fun," Ipsita said. "It's very different to other Baroque pieces, so playing this was kind of like a break. I thought that this would be a very nice piece to play [at Hoscars] because it's very flowy, calm and peaceful."
John Cracraft (12) and Zubin Khera (12) emceed before the next act, introducing seniors Kris Estrada, Samvita Gautham, Jacob Huang, Alan Jiang and Sawyer Lai as another a cappella performance, singing "Rather Be." 
Sophomores Yasmin Sundarsanam and Maya Affaki followed with their dance in blue-gray dresses to the song "Falling Apart." Their synchronization enchanted the audience along with their emotional choreography.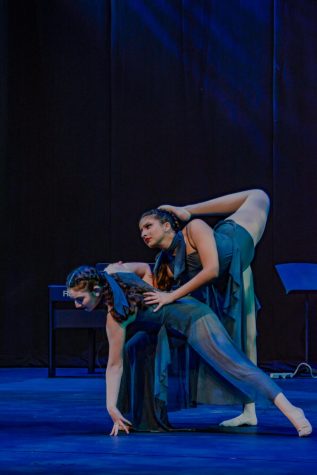 "We've been dancing together for a while, so it was really easy to choreograph and dance together [for Hoscars]," Yasmin said. "The performances went really well for us. Our second one was definitely better because we had gotten into the groove of things more."
Shayla and Lucy returned to the stage, beginning their song with a soulful duet, soon joined by Ian Ogden (11). Banter between emcees Alan Jiang and Zubin Khera opened the fourth and final act.
Sonia Yu (10) takes the stage, dressed in a green top and sheer black pants. Her routine displayed her flexibility and strength as a dancer, as she finished the routine with an aerial that she'd been working for since middle school, having finally gotten it near the end of 2022.
Ishan Mysore (9) performed "Lieder ohne Worte 30-1" on the piano, the soothing and slightly melancholic tune washing over the crowd. Audience member Elena Weng (10) admires the bravery it takes for her fellow musicians to play their instruments on stage.
"I was really impressed by all the other musicians that performed today," Elena said. "It's really difficult going onstage in front of a crowd, and it's probably even worse knowing that your classmates and friends are there watching you. It takes a lot of courage and I admire that."
Anwen Hao (10) then danced a ballet routine to a variation of "La Sylphide," with  graceful movements across the stage. 
"It's always nice to be on stage and perform and act out the characters, because the variation I performed is from a larger story," Anwen said. "It's also nice to see the community get a chance to appreciate a different style of art."
The lights changed to pink and yellow as seniors Namrata Karra, Aria Jain, and Samvita Gautham performed a medley of "Say You Won't Let Go" and "Tu Jaane Na". Transitioning seamlessly between the pop and Bollywood songs, their performance concluded with the two melodies layered one atop the other.
As the curtains drew back, an uproar from the crowd swept across the theater as the members of the audience recognized their friends as various characters posed after the painting "A Sunday Afternoon on the Island of La Grande Jatte" by Georges Seurat. The AP Art History students, taught by upper school history teacher Donna Gilbert, composed their annual tableaux vivant, to much laughter and applause. 
The show concluded with all the performers filing out onto the stage and taking their bows as the audience gave them one final round of applause. And throughout both shows, the tireless efforts of the tech crew helped the performances run smoothly. 
Alice Tao (11), a member of the tech crew for Hoscars, speaks on how rewarding, though stressful, the process of running the show was. 
"The most stressful part is the fact that we only had one tech rehearsal and not all the performers could attend it," Alice said. "We were figuring mic handoffs out on the spot. Luckily, we didn't actually have many technical difficulties. Except [the piano audio malfunction] during the performance for the junior and senior class. But it actually went okay, because people laughed it off."
Only through the continued work of Harker community members, both onstage and behind the scenes are the Hoscars able to continue from year to year, as a celebration of schoolwide talent in the performing arts of both faculty and students. 
"It was really amazing to see all the different talents everyone had from singing to original compositions and dances," Ipsita said. "There were lots of people that I had classes with, both in my grade and the lower and upper classes. Seeing the entire school come together for something like this was a really great experience."
A previous version of this article did not include descriptions about acts from Sonia Yu (10) and Ishan Mysore (9). The article has been updated on Feb. 23, 2023 to correct this error. 
About the Contributors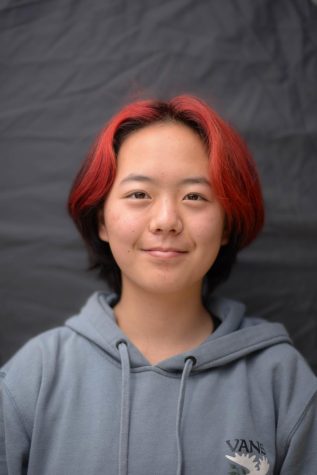 Jessica Wang, Assistant Opinions Editor
Jessica Wang (10) is an assistant opinions editor for Harker Aquila and the Winged Post, and this is her second year on staff. This year, Jessica hopes...
Alison Yang, Assistant A&E and Lifestyle Editor
Alison Yang is an assistant A&E and lifestyle editor for Harker Aquila and the Winged Post, and this is her second year on staff. This year, Alison...