Humans of Harker: Pointe perfect
Anja Ree builds community through dance and spirit
The panels of mirrors in upper school performing arts director Laura Lang-Ree's room sparkle under the afternoon sun, reflecting the energetic movements of dozens of seniors. With Celine Dion's "My Heart Will Go On" blasting, the students master a three-step turn, though they can't help but let out some lighthearted laughs as a few struggle with the choreography. Anja Ree (12), who leads this after school rehearsal for the annual homecoming lip sync, giggles alongside them. Although the dancers in the lip sync may not be able to do a grand jeté, Anja understands that the joy of class spirit is like no other, and this choreography holds a special value in her heart.
Anja leapt into the world of dance when she was just three years old, quickly falling in love with pirouettes, sautes and choreography. Throughout her time with her outside studio, Anja built up her skills as a versatile dancer, constantly pushing herself to improve and explore with pointe routines, contemporary styles and more. Upon joining Harker in ninth grade, she instantly knew she wanted to rehearse with Harker Dance Company (HDC), the upper school's all-girls dance team, where she has since found a wonderful community of fellow performers.
"I still remember when I first came to Harker's Open House, seeing HDC perform and [thinking] that I want to be part of that," Anja said. "Immediately, I was set on it. So then, I worked all of freshman year to get on that team. [Over the years, I've realized] that HDC is a really good sisterhood, for sure. I feel like we've always got each other's backs."
As a ninth grader, Anja initially struggled to find her place in the team, feeling excited but also overwhelmed by the talented dancers around her. However, she developed strong relationships with her teammates, and these friendships, as well as the constant support of upper school dance teacher Rachelle Haun, helped her gain confidence. 
Now, as the captain of HDC, Anja appreciates her experiences as a ninth grader and aims to inspire younger dancers through kindness and firm leadership. Striving to get to know each of her teammates on a personal level, Anja places high value in fostering communities within her team and routines.
"One of the skills we learn in choreography is that we always have to highlight each individual dancer," Anja said. "The only way you can do that is to really get to know your dancers. You can't just understand surface level things behind each person — you have to really talk to people in order to get to know them and build that trust."
Beyond her amiability, Anja's strengths as a leader mean she's organized and prepared, and she provides unwavering support to her teammates, whether in their regular rehearsals or ahead of schoolwide performances. Sonia Yu (10), who has danced with Anja on HDC for almost two years, noted her diligence to her role as captain and as a mentor.
"She's a really good leader for HDC," Sonia said. "She's inspiring. She's able to guide the team and give pep talks before performances, she knows the choreography, and she's able to answer any questions that [other dancers] may have."
As Anja gained confidence in herself and her abilities on HDC, she also sought to solidify her own artistic style. She began to view dance as a form of independent expression, and this desire pushed her to choreograph for the annual upper school dance production in her junior year. For the 2022 production, themed "Blast from the Past," Anja collaborated with Eileen Ma (12) on the contemporary routine "Wonderwall." In the most recent show, "Better 2gether," Anja challenged herself to choreograph "Young and Beautiful," which featured pointe dancers and showcased her talent as a versatile artist.
"At this point, my choreography is just a reflection of my abilities in dance, and it's my creative outlet and my way to express myself," Anja said. "Through choreography, I have been able to see dance as less of a sport and more of an art form, which I think is really nice. That's helped me develop a new appreciation for dance."
Haun recognizes Anja's growing love of choreography and admires the way in which Anja's personal breakthroughs in confidence manifest in her dancing.
"[Anja's] choreography is absolutely beautiful," Haun said. "She's so much more confident, and I feel like that's reflected in her dancing as well. She has just bloomed into her own person, happier with herself and it's visible from the outside."
As a choreographer, Anja understands that not everyone has a strong background in dance, but she still believes that they should all be able to enjoy the experience of performing. In order to share her passion for dance with other students, Anja has led the class lip sync and spirit dance ever since ninth grade, helping her fellow classmates unwind and building a sense of community within her class.
"At school, we all have tests, and we're all comparing ourselves constantly," Anja said. "We have all these different measures of comparison that we use against each other. But when it comes to spirit, I feel like it really unifies the classes together in a way that no other discipline can do. Spirit is the one time we can come together and celebrate high school."
From practicing lifts and stunts to choosing the most fitting Taylor Swift song to dressing up as Harley Quinn, Anja has poured hours and hours of work into ensuring the success of these spirit dances, and her dedication is apparent to her friends.
"Anja is extremely passionate and ambitious," close friend Samvita Gautham (12) said. "If she sets her eyes on a specific goal, I guarantee that she will achieve it, no matter how much time or how much effort it takes. She also supports you to do the exact same thing, so she encourages and pushes [her friends] to reach for their goals."
At the start of her senior year, Anja took on a larger role in the Harker Spirit Leadership Team (HSLT), currently serving as community events secretary. She hopes to continue to minimize stress in her classmates' school lives by organizing festive spirit activities, and she ultimately wishes that her efforts in dance inspire more students to explore performing arts and to break down the barriers surrounding dance.
"One of my main goals while I've been at Harker is to really expand dance as much as possible," Anja said. "That's what I value with spirit dance so much: it allows anyone to do dance. It allows me to share my talent for dance with others, and I love doing that. So I would say [what I'd like to leave behind] is just opening performing arts to more students and bringing more opportunities."
About the Contributor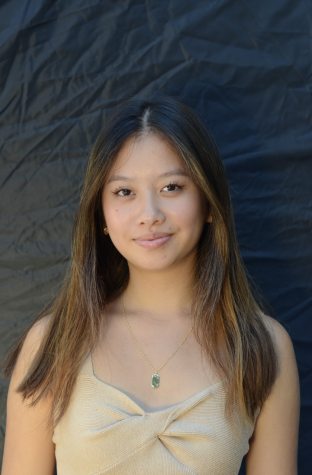 Sabrina Zhu, Winged Post Co-Editor-in-Chief
Sabrina Zhu (12) is the co-editor-in-chief of the Winged Post, and this is her fourth year on staff. Sabrina hopes to capture more campus life through...