Humans of Harker: Jazz it up
Rahul Santhanam takes a proactive approach to music and learning
The Duke of Illyria, Orsino, once proclaimed, "If music be the food of love, play on." Rahul Santhanam (12) mirrors this sentiment as a saxophone player in the upper school Jazz Band, enriching the ensemble with his mellow, rich sound. 
Rahul's saxophone journey began in his lower school years and has since flourished. Jazz Band performs annually at the upper school Homecoming game, a highlight Rahul fondly recalls. Having previously performed for smaller audiences, typically consisting of only parents of the players, Rahul cherished the opportunity to broaden his horizons during his first Homecoming performance in ninth grade.
"Homecoming is one of things I used to go to as just an observer," Rahul said. "Actually playing in it was a whole other [experience], which was very fun. Every year, we play songs like 'Uptown Funk,' 'Skyfall,' and a decent amount of eighties tunes and rock. Playing in it helped me get out of my comfort zone, because as a ninth grader playing for the entire school, it's intimidating."
Rahul views his musical endeavors as a rich terrain for personal growth and self-discovery, with each song he learns offering new insights. Despite his extensive experience playing the saxophone, he embraces the idea that there will always be another song for him to discover and bring to life.
"Saxophone allows me to play music that I wouldn't have seen otherwise," Rahul said. "Playing from jazz composers that I've never heard of, like Charlie Parker or Miles Davis, is interesting and fun."
Rahul extends this same love of exploration to his personal life, frequently engaging in debates with his peers. Though he only formally participated in debate in middle school, he continues to cultivate his passion for civil discourse to this day. Whether the topic of conversation is lighthearted or serious, Rahul finds himself able to jump in regardless.
"Any process of introspection challenges what you already hold to be true," Rahul said. "For example, you can argue whether global warming is a threat to human civilization or whether we're going to get killed by asteroids. Or you can figure out what moral philosophy you believe in, like in the trolley problem: would you pull the lever and kill two people or let three die?"
Rahul's intellectual curiosity does not go unnoticed by those around him. Upper school economics teacher Sam Lepler reflected on Rahul's growth as a person in his classroom. 
"When he first started, he was a little bit more shy, a little bit more hesitant," Lepler said. "He always did well, but I watched him develop confidence in himself, in his curiosity, in his intelligence, in his ability to come up with good questions, in his confidence in his questions and in his comments." 
Rahul does not shy away from expressing his thoughts and perspectives with his classmates, lending his inquisitive nature to enliven classroom discussions. 
"He brings a real curiosity [to the classroom]," Lepler said. "He's not afraid to participate. If he's curious, he doesn't sit in the corner and hold that to himself. He'll bring up interesting examples, interesting questions and interesting counterexamples. He pushes everybody; he pushes the whole class toward a higher level of excellence and a higher level of application."
Close friend Dyllan Han (12) observed similar qualities in Rahul as Lepler did. Having known Rahul since their middle school days, Dyllan also commented on his learning-oriented disposition.
"Rahul genuinely learns things and goes far deeper into it than other people do," Dyllan said. "He does this without consideration for whether the information actually has utility to whether this information is actually going to be helpful or useful, or if it's going to make him look interesting. I don't think he cares about any of that. He learns for the sake of learning."
Rahul translates his energetic approach to learning into his personal relationships. Close friend Athreya Daniel (12) attested to Rahul's outgoing personality and persistent quest for knowledge.
"He's super energetic," Athreya said. "He's always looking to make connections with people in the hallways as they're walking by. He's also a very strong debater and understands things very well."
In his daily life, Rahul strives to proactively shape his future. Recognizing the constant input-output cycle of his daily interactions, Rahul works to combat it by seeking out and considering diverse perspectives.
"Most people's thoughts or actions are, at a subconscious level, driven by other people," Rahul said. "Take, for example, human language: most of the phrases that people say, for instance, are not necessarily original thoughts but rather just memorized lines of input. Taking a break and going out of your way to understand different viewpoints shakes you out of your comfort zone, and that helps you decide what you want to do for yourself."
About the Contributor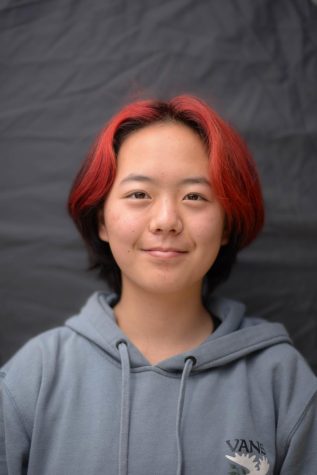 Jessica Wang, Assistant Opinions Editor
Jessica Wang (10) is an assistant opinions editor for Harker Aquila and the Winged Post, and this is her second year on staff. This year, Jessica hopes...