Humans of Harker: Fusion of styles
Nupur Gupta finds her style and confidence in dance
Silence and darkness fill the Patil Theater as the audience quietly waits in anticipation for the next routine in the upper school's 2023 Dance Production. Suddenly, Macklemore's "Can't Hold Us" starts to play, and bright spotlights illuminate the dancers, who wear black lettered hoodies and cargo pants. Among them is Nupur Gupta (12), who matches the rhythm of her fellow dancers while exuding a uniquely radiant energy.
Nupur's affection for dance took root in first grade. Amazed by a clip she watched of ballet, she decided to try out ballet classes at a studio. Her passion for movement led her to experiment with other styles of dance, such as jazz, tap and even acrobatics. It wasn't until she came to Harker in sixth grade that she truly started to define her own distinctive technique.
"When I came to Harker and I did some hip hop classes here, I started to create my own style," Nupur said. "I'd say my style is very much a mix of so many other styles rather than just doing jazz, just doing contemporary, just ballet or just hip hop. Combining everything into one and doing something completely new, different — that's what I was hoping to achieve."
Nupur's passion for dance stems from the freedom it provides for self-expression. For the 2022 Dance Production, Nupur helped choreograph one of the dances, drawing on themes of self-growth and resilience and using blindfolds as props. She noted how choreography allowed her to connect with people in ways that are unimaginable through any other medium.
"That's really the beauty of dance: choreography," Nupur said. "You can do any story and reach so many different people through this art form, which is beautiful. It's entertaining, but it also has a lot of meaning."
Beyond her love of dancing, Nupur revels in the spotlight. Her confidence, combined with the exhilaration she experiences on stage, provides a spectacle for any audience watching her. The opportunity to express herself artistically continues to draw her towards dance and performance.
"When you're on stage, everyone is watching you, everyone's eyes are on you and you are center stage," Nupur said. "You are what's happening. It's exhilarating. It feels freeing. It's like the entire stage is yours. You have all this energy that's just waiting to come out. And once it comes out, it feels amazing afterwards."
Close friend Harper Brada (12), who's known Nupur since middle school, noted how her confidence allowed her to stand out among other high schoolers.
"I do want to stress that her confidence is remarkable," Harper said. "It really does stand out to me because there's a range of high schoolers that are confident or less confident, but [she's] definitely, exceptionally confident."
Throughout her dance journey, Nupur has come to realize the value of collaboration while choreographing with her peers. While she maintains her own creative vision, she combines her own ideas with those around her to create something even more breathtaking.
"With collaboration, you can expand your insight, you can expand your own knowledge," Nupur said. "Sometimes the coolest ideas come from pooling ideas from different people together. Your peers are your biggest tool. They have their own experiences that they can draw from, and they're just a good tool to collaborate with and to learn from."
Along with collaboration, Nupur appreciates the connections she forms with her audience through dance. In every piece she choreographs, Nupur uses her artistic vision to uncover the deeper meaning behind each choice she makes.
"Being able to reach so many people through this abstract form of art that carries so much meaning is important," Nupur said. "There's always a meaning to everything. No dance is meaningless. It's about finding that deeper meaning that makes a dance memorable." 
Sonya He (12), who became friends with Nupur during middle school, reflects on how Nupur's enthusiasm for all she does translates to a personal level.
"[For] Spanish culture night, she invited me to do a partner dance for that," Sonya said. "It was so much fun because she was really encouraging me to step out of my comfort zone and perform for the crowd, which I had never done before. She's just super supportive the entire way."
Ultimately, Nupur treasures dance as an outlet for her creative and artistic expression. Throughout high school and beyond, she hopes to encourage others to pursue their dreams to the fullest, wherever they may lead.
"I want to be the kind of leader that people look up to," Nupur said. "I want to be a leader for people, whether it be in dance or outside of dance. I hope that future generations, when they see the amount of work that I've put into [Dance Club], can be inspired by that to also pursue their passions with so much energy."
About the Contributor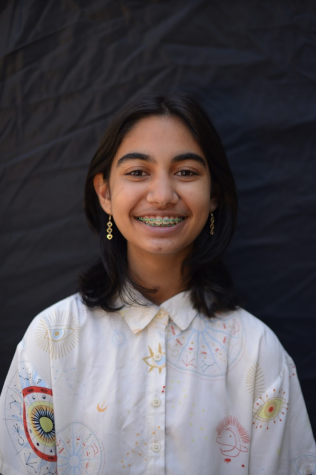 Aishani Singh, Assistant Multimedia Editor
Aishani Singh (10) is an assistant multimedia editor for Harker Aquila and the Winged Post, and this is her second year on staff. This year, Aishani wishes...